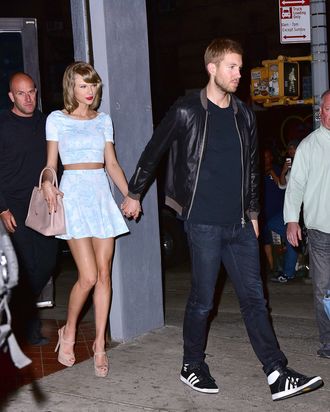 Photo: James Devaney/Getty Images
Last night, news broke that Taylor Swift and Calvin Harris have called it quits. Of course, many theories have begun to emerge about why this Aryan power couple decided to break things off.
Us Weekly thinks Harris initiated the breakup with Swift. And a source tells E! News that Harris "liked how innocent Taylor was and that she had a good caring heart. Taylor's heart was more in it than he was. He started to lose interest over the past few months, but really tried to not just break up."
But "Page Six" says things were over between the couple after Swift attended the Met Gala alone and hung out all night with Tom Hiddleston.
Some people think that this breakup is just another example of a longstanding pattern of Swift attempting to assassinate her boyfriends when she grows tired of them. Less than two weeks ago, Harris was involved in a violent car crash (and, if you recall, it was rumored that Harry Styles was injured in a snowmobile accident while vacationing with Swift not long before they stopped dating).
Realistically, it has been two years since 1989 came out, and Swift has released a new album every two years for the last decade. Which to say, this breakup has arrived right on schedule.