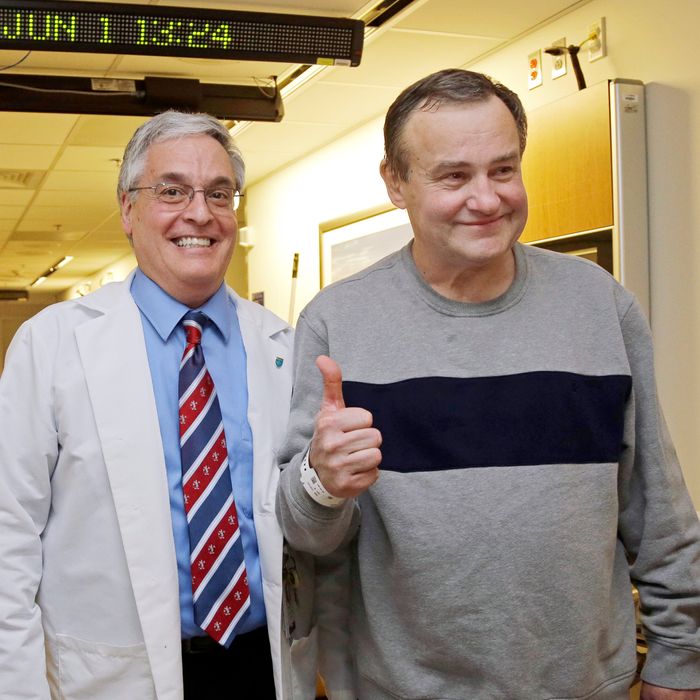 Thomas Manning (right) with Mass General nurse Anthony DiGiovine.
Photo: Elise Amendola/AP
Penile-cancer survivor Thomas Manning received the country's first penis transplant in a 15-hour surgery on May 8 and 9, and, yesterday, he was released from Massachusetts General Hospital with no signs of organ rejection.
The 64-year-old had much of his penis amputated in 2012 after doctors discovered an aggressive cancer. Surgeons at Mass General as well as Johns Hopkins are committed to performing transplants as an experiment to see if they should be offered to cancer survivors and accident victims as well as veterans who sustained pelvic injuries. Suicide rates are high among the latter group, who often feel like they have no hope of intimacy and often have to urinate sitting down. (Doctors aren't currently considering the surgery for transgender men, but the question will certainly arise if experiments prove successful.)
Manning said he wanted to openly discuss his cancer, amputation, and transplant in an effort to bring penile injuries out of the shadows, but this openness means his progress — he can pee standing up again, but sensation and sexual function will take longer — will be chronicled by the media with varying levels of esteem.
Quality-of-life transplants involving hands, faces, and, now, reproductive organs are a new frontier of medicine. In February, doctors at the Cleveland Clinic transplanted a uterus from a deceased donor to a 26-year-old woman who was born without one. But the recipient, Lindsey McFarland, developed an infection and the organ had to be removed less than two weeks later.
The fact that Manning was released from the hospital is a great sign. He still has dozens of stitches and swelling and he'll see doctors twice a week to check for signs of rejection. Here's hoping that he and his new member can resume a normal life after the media circus is over.