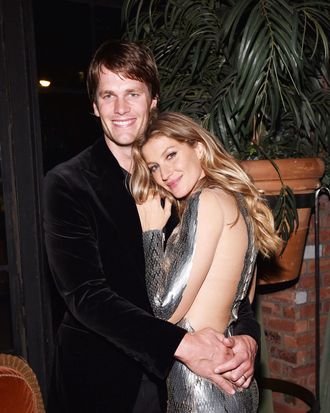 Photo: Bryan Bedder/Getty Images
Tom Brady, professional football player, and Gisele Bündchen, model and yoga enthusiast, are very into wellness. Are you surprised? Me too! Instead of stuffing their faces with McDonalds, the couple who best epitomize the platonic ideal of physical health are in fact the platonic ideal of physical health. Appearance is reality!
According to their chef, Alan Campbell, here is what these two personal friends of Donald Trump eat: "80 percent … vegetables … and whole grains: brown rice, quinoa, millet, beans. The other 20 percent is lean meats: grass-fed organic steak, duck every now and then, and chicken."
But what don't they eat, you ask? Chef Alan is even more expansive here: "No white sugar. No white flour. No MSG … [no] iodized salt … no tomatoes, peppers, mushrooms, or eggplants … I'm very cautious about tomatoes. They cause inflammation."
Anyway, their diet caused a mild "scandale" when Campbell was interviewed by Boston.com — a website that is literally devoted to Tom Brady at the exclusion of all else (except for priests and different ways to cook scrod). Everyone thought it was too rigid! But of course, I saw it as a challenge. As a Rhode Island woman, I read Boston.com all the time, even though Rhode Island is both cooler and warmer, so I have been waiting for Tom and Gisele's diet to become common knowledge for years, ever since I started dieting as my job. And that day finally arrived! Vive la France!
Preparation:
The day before I go on this diet, I eat a lot of eggplant parmesan and go shopping for millions of vegetables, even ones I've never bought before, like red cabbage. I also read many long and thorough articles on Boston.com just to brush up on current events (sample: "12 Actors Who Should Play Tom Brady"). Very informative!
Day 1: 
Tom Brady has never had a cup of coffee in his life! Never! In his life! He's just "never tried it." Is that why he's so handsome? He even looks good in a driving cap, which no one does, not even the editors of Boston.com or the citizens of Boston, try as they might to make it happen.
So one of the first challenges on this diet is to give up coffee, the light of my life and the fire of my loins. I have never actually done this before. When I wake in the morning, I feel the familiar ache in my head that tells me I need caffeine. But instead of responding to it like a drone who is controlled by an overlord, I just let it settle into an intense and unusual headache that never goes away.
Thus, instead of my habitual extra-extra-iced coffee from Dunkin', I start my day with a green juice from Juice Press, a very expensive store near my office that only serves juice. Green juice is apparently one of Tom Brady's 2-year-old daughter's favorite foods. (Who would play her in the movie? Mary Kate Olsen?) Look at this picture for proof!
After several hours of work, I am starved and go to get vegetable soup — a paltry lunch, but a Gisele favorite. Look at this picture for proof! 
This family really does advertise their consumption of healthy foods. Not only do their chefs give interviews to the clamoring and desperate reporters of Boston.com (who otherwise would be writing this article or this article ), they also do their own marketing. On Gisele's Instagram there are millions of pictures of her doing yoga on a huge tree, or drinking out of a coconut, or kickboxing. I wonder what the point of it all is. I guess I will never know!
Finally, for dinner, I decide to make what Campbell once described to Boston.com as "comfort food." It's a "quinoa dish with wilted greens [and] garlic toasted in coconut oil. And … this cashew sauce with lime curry, lemongrass, and a little bit of ginger."
Although this is not what I thought comfort food was, it is delicious (I make the cashew sauce, which goes great with quinoa). I am not even hungry at the end of it, although I still have a headache.
Days 2 and 3:
Being without coffee is hard. It reminds me of when I took a duck boat tour of Boston: One only feels worse the longer the ordeal goes on.
You know, Tom Brady wasn't always the health nut he is today. For years, he just lived his life, being handsome and successful and playing golf with "incredible businessmen" whom he really likes a lot! As he got older, however, he decided he wanted to play football until some advanced age, like 107. Enter legendary Patriot Willie McGinest (who played in the NFL for 14 years), who told Tom about a "doctor" named Alex Guerrero whom he credited with lengthening his career. So now Tom goes to this doctor (he's not a doctor) and is his disciple. Guerrero advocates an unorthodox training program that combines a strict diet and an exercise regime that focuses on muscle pliability. In an article in the New York Times detailing his miracles, Guerrero honestly sounds a lot like St. Francis of Assisi. He heals calf injuries with only the touch of his hand, and he makes ice cream out of avocado. All he has not done is tamed a ferocious wolf.
Bostonmagazine.com later posted a large article about how this doctor is a quack, but honestly, I think they are just jealous of his proximity.
At one point during the week my mother and sister came to visit me and wanted to go to Umami Burger. This was terrible torture for me, because Umami Burger is my all-time favorite restaurant! There is really nothing worse than just eating a plain meat patty at Umami, but I did it in a spasm of the self-denial and journalistic integrity I am famous for.
During the summertime, Tom and Gisele "love" raw lasagna, and so eventually, I take a trip to Candle 79 on the Upper East Side, the only place I could find when I typed "raw lasagna" into Yelp. It's a pretty fun restaurant, and raw lasagna is just a piece of a zucchini with some pesto and cashew cheese on it. It's not even heated up! It's just, like, a salad.
Day 4: 
After a weekend of vacation, during which I ate two hot fudge sundaes, I am back to start afresh. To finish this diet, I will eat like like Tom and Gisele do when they are on vacation in Costa Rica. I am so excited! Maybe they will be more fun on vacation.
According to their private chef in Costa Rica, Joanne Gerrard Young, this does not seem to be the case. In an interview with the website Well and Good, she described the Bradys' vacation diet as an "80/20 raw diet, with big colorful salads and lots of fresh veggies."
But do they eat hot fudge sundaes?
"They didn't want to do desserts anymore," said Joanne. Apparently, they only like raw vegan deserts now.
Luckily, Joanne published several vacation recipes for your average cook to try at home.
I started my day off with a Joanne-designed smoothie which included various fruits and supplements. It was only passable, like every smoothie I've ever had. Still, it had fruit, which was a big luxury. I thought about taking a picture of it, but where would I put it? I still don't have the password to my Instagram, because I lost it.
I was busy all day and missed lunch (which is incredibly unusual for me), so by dinnertime I was absolutely ravenous.
All told, I made several dishes for dinner and they were all unsuccessful in different ways. Joanne's Swiss Chard Summer Rolls were just a series of chopped vegetables held together by Swiss Chard. Joanne's Pineapple Cucumber Gazpacho was ruined by my pineapple allergy (I swapped in watermelon, mistake). Joanne's Creamy Coconut noodles were pretty soupy and flavorless, and Joanne's Coconut Mango Cream Pie wasn't ready until the next morning. This was pretty unhealthy for the Brady family, too. Look at all the fruit these foods contain!  Still, I went to bed so hungry I had a pain in my stomach the next morning. I felt like Tom Brady's dad, also named Tom Brady, who once said, "Sometimes we'll go over to Tom and Gisele's house for dinner … and then I'll say afterward, 'Where are we going for dinner?'"
In conclusion, living like Tom and Gisele is hard. You have to live in Boston and you have to eat nothing. You have to do yoga in a tree, you have to take pictures of yourself doing yoga in a tree, you have to wear Uggs everywhere because it's so cold, like a wind tunnel, and also because you are an Uggs spokesman. But the benefits are also manifold: your house is awesome, you look like gods, St. Francis of Assisi is your personal trainer, and most importantly, Boston.com loves you!  This was the top story two days ago!