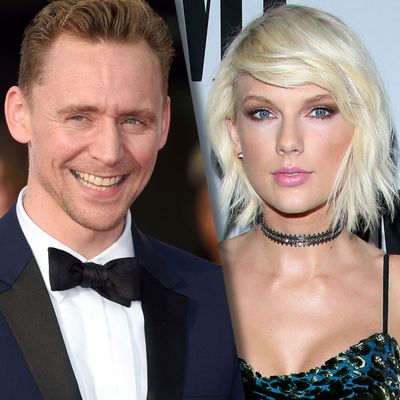 Photo: Karwai Tang/Mark Davis/WireImage/Getty Images
Another day, another milestone in Taylor Swift and Tom Hiddleston's inexorable march to eternal WASP-y love.
Just days after Swift introduced Hiddles to her parents in Nashville, where they enjoyed a fancy dinner that might have included Gulf Red Snapper and (debatably enjoyed) a Selena Gomez concert, they hopped on her private jet to pop in on Tom's mum in the UK.
Two very respectable English websites, the Sun and the Daily Mail, have posted photos and breathless details of their visit, such as the fact that Swift had five bodyguards with her, and that they rented a very fancy Jag that's not dissimilar to the kind of fancy car that James Bond might drive, if he didn't usually drive Aston Martins. The three were photographed walking around Suffolk and strolling on Aldeburgh beach.
Then they probably went home and watched Hiddleston's star turn in High-Rise, based on the novel by acclaimed writer J.G. Ballard. It's Tom's mom's favorite movie of his, although Taylor generally prefers his performance in Terence Davies's underrated Deep Blue Sea. Just kidding. Everyone knows that Deep Blue Sea is boring as hell.