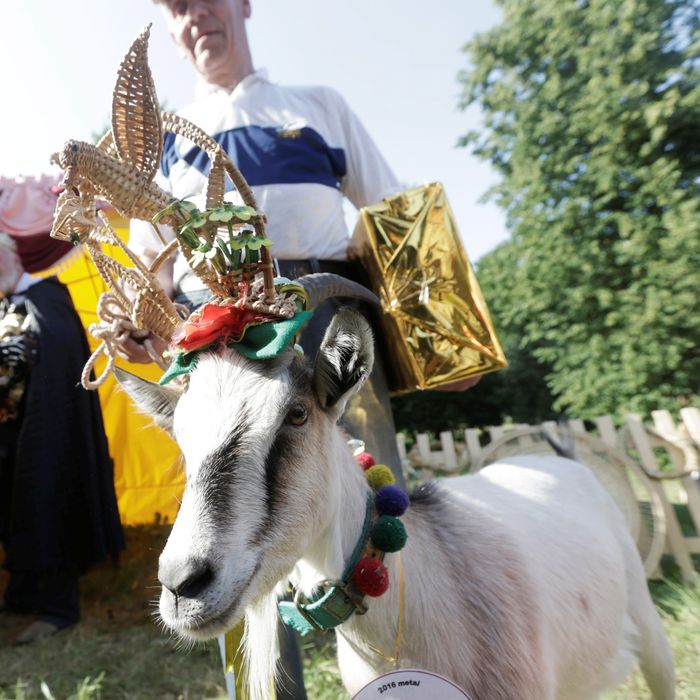 Demyte, Lithuania's Next Top Goat
Photo: Ints Kalnins / Reuters
If you've ever watched a beauty pageant and thought, "I wish this had less female objectification and more goats," well, Lithuania has exactly what you're looking for.
The village of Ramygala held its seventh annual Top Goat beauty pageant on Sunday. As one local wearing a crown explained to the BBC, "We'll select the nicest goat, the goat with the nicest skin and it will be crowned with a crown that is not worse than mine."
Six highly attractive goats competed for the title of the most beautiful goat, though, according to Reuters, "several contestants stubbornly refused to walk and were instead carried by their owners."
The honor of Top Goat went to Demyte ("Little Spot"), a 16-month-old female goat. Still, like all beauty pageants, this was not without behind-the-scenes drama. Demyte's owner, veterinarian Ferdinandas Petkevicius, told Reuters, "The only thing we didn't do to prepare the goat for the pageant is we didn't polish its nails, because we thought of it too late."
Congratulations to Demyte for overcoming that obstacle and going on to win her crown.