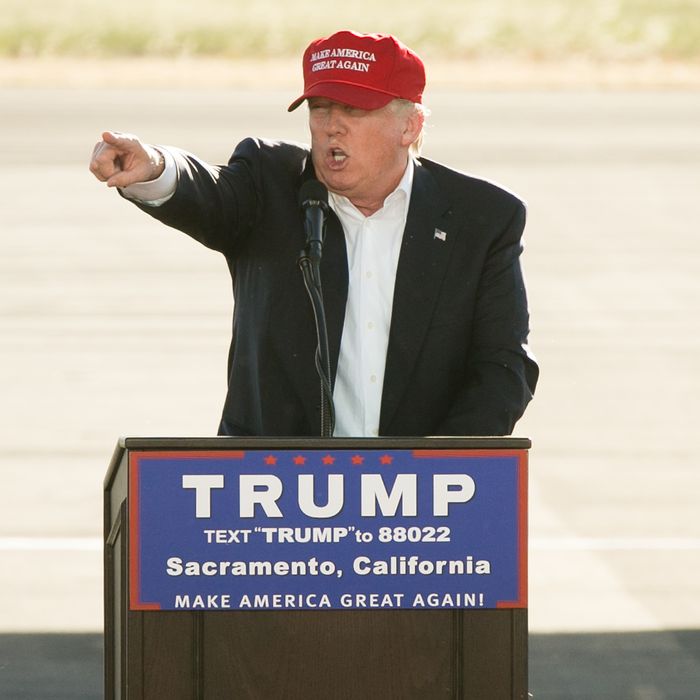 Photo: Elijah Nouvelage/2016 Getty Images
The news that Donald Trump's campaign staff is approximately 75 percent men was disheartening but not surprising, so it's not exactly a shock that Trump is underpaying his female staffers to boot.
The Boston Globe took a close look at the April payroll for both Trump's and Hillary Clinton's campaigns and found that the gender wage gap for Trump's staffers is slightly larger than the national gender wage gap, with his male staffers bringing in about $6,100 in April, compared to $4,500 for female staffers. (The Globe estimates that 28 percent of his staff is comprised of women, whereas a Huffington Post article in May put it at 25 percent. Either way, it's fairly dismal.) That's a 35 percent wage gap!
Nationally, women make $.79 to every dollar a man makes, and that doesn't even take into account the racial pay gap. Trump's staff is also overwhelmingly white; as per the Globe, "only about 9 percent of his team are minorities, compared with nearly a third of Clinton's staff." If Trump thinks that letting women work is dangerous, shouldn't they actually get paid more? Oh, wait … That's not exactly what he meant.
Although Clinton staffers were paid less overall, it's more evenly divided, with 53 percent female staffers and a smaller gender pay gap. Meanwhile, all of the top earners on Bernie Sanders's staff are dudes, so I guess there are more ways than one to feel the Bern.