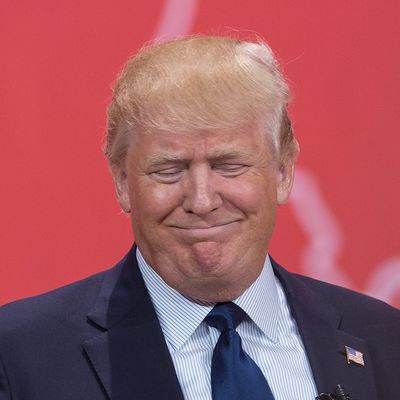 Photo: Nicholas Kamm/Getty Images
Donald Trump sure is fond of his 1990 cover for Playboy. It's featured in a prominent eye-level spot on his office wall, and he's even signed at least one copy of it for a fan while campaigning.
There's a lot going on here, but let's start with the fact that the man alongside Trump giving a thumbs-up is Jerry Falwell Jr., the son of the late Jerry Falwell, the famous televangelist who established the conservative Liberty University. And to the right of the group shot is none other than Trump's 1990 Playboy cover. Maybe it was Trump's idea to include the Playboy cover (like he did in Megyn Kelly's photo)?
Shortly after Falwell's innocent tweet, right-wing blogs critiqued the posting. Twitter also (naturally) had plenty of thoughts on the odd pairing.
But it didn't stop there. No, as a reporter at BuzzFeed pointed out, the model on the Playboy cover with Trump is now serving jail time for involvement in a drug-smuggling ring.
Falwell's father was particularly critical of sex outside of marriage and was fiercely homophobic. His son Jerry endorsed Trump earlier this year. That hasn't changed the fact that plenty of Evangelicals still feel iffy about Trump, especially about his sexual past.
It's hard to imagine they would be giving a thumbs-up in this scenario.