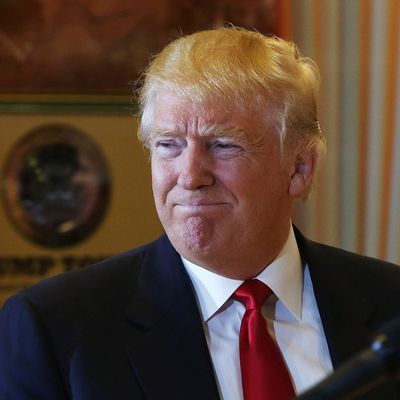 Donald Trump
Photo: Spencer Platt/Getty Images
Last week, NBC republished a 2004 Dateline interview in which presumptive Republican presidential nominee Donald Trump called pregnancy an "inconvenience" to businesses. On Wednesday afternoon, ABC News turned the clock back to 1994 to bring us Trump's thoughts on wives who work. Spoiler: They're incredibly regressive.
In a Primetime Live interview that aired in March 1994, Trump attributed the failure of his marriage to Ivana Trump to her coming to work at Trump Castle Casino, saying, "I think that putting a wife to work is a very dangerous thing." It was dangerous, of course, because he didn't like Ivana acting assertively in the office.  
Ivana would get angry at somebody over the telephone, all of a sudden, who was at the casino, and she'd start shouting. And I'd say, "I don't want my wife shouting at somebody like that, I really don't want that."

And a softness disappeared. There was a great softness to Ivana, and she still has that softness, but during this period of time, she became an executive not a wife.
Ah, yes, how dare women contain multitudes.
At the time of this interview, he was still married to Marla Maples and wasn't a fan of her working either.
I have days where I think it's great. And then I have days where, if I come home — and I don't want to sound too much like a chauvinist — but when I come home and dinner's not ready, I go through the roof.
Add another one to the list.