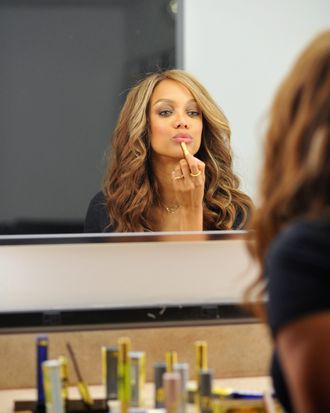 Tyra Banks applying lipstick from her Tyra Beauty line.
Photo: Tim Boyles/Getty Images
When I was 10, a friend invited me to her mom's Mary Kay party. Our overseer gave me a mirror and told me to hold it at arm's length. "No one's ever going to get closer to your face than that," she said. This is absurd, and I think I knew that even back then, but it's stuck with me — just like the entire afternoon of playing with those pale pink tubes of lipsticks, mascaras, and lotions.
I thought this memory would be a quaint relic of my childhood, like "Elvira, Mistress of the Dark." But then along came Tyra Beauty: a Mary Kay for millennials presided over by Tyra Banks herself. I couldn't resist the opportunity to try it for myself, so I signed up as a Beautytainer — a member of Tyra's sales force.
Every new Beautytainer is assigned to an established Beautytainer's crew. My head Beautytainer is named LeeAnne. She lives in New Hampshire and used to sell nutritional supplements, but then she saw an ad for Tyra Beauty and thought that sounded like more fun. The ads do sound fun:
Ready for an opportunity that combines beauty and business? Where you set the hours, on your own terms? Join our Crew of bonafide entrepreneurs — we call them Beautytainers, independent sales reps who make money through sharing the TYRA Beauty movement.
"I was the third-ever person to sign up," LeeAnne says. She's already reached Platinum level, which meant she got to have dinner with Tyra. "She's very down-to-earth," LeeAnne says. "When she has the microphone, she's on, but when she's sitting there at the dinner table, she's sweet. You see her shy side, and that's surprising. I'm like, 'I think I just fell in love with you even more.'"
The official history of Tyra Beauty says Banks started the company after going to Harvard Business School. She says she wanted to educate herself as much as she could to help her Beautytainers rack up what she calls "Bank$igns." Banks doesn't have an MBA, though. What she went through at Harvard was the school's non-degree granting course called the "Owner/President Management Program."
To be an active Beautytainer, I needed to sell $150 of products the first month — or buy $150 in products myself that I can then show potential buyers (the brand doesn't give free samples to start with). I also had to pay $59 to enroll. After I'd paid my fees and ordered the products LeeAnne suggested — the 6-Minute TyOver kit, the Smize eye shadow palette, the Stick with Me makeup setting spritz, the Oops eyeliner, and the Ménage À Brow ("All amazing," LeeAnne says) — I'd spent $231.30.
But spending money was only temporary: If I sold $150 in products a month, I'd make 25% commission, which is only $37.50. But if I sold $500, I'd get an additional 5%, and if I hit $1,000, I'd get an additional 10%. I'd make even more if I enrolled another Beautytainer — 3% of that person's sales. From there, the more you sell and recruit, the more Bank$igns you get until you reach Diamond Beautytainer, the highest level, which comes with so many perks that it feels like Tyra's just blowing her ANTM fortune. I already felt rich.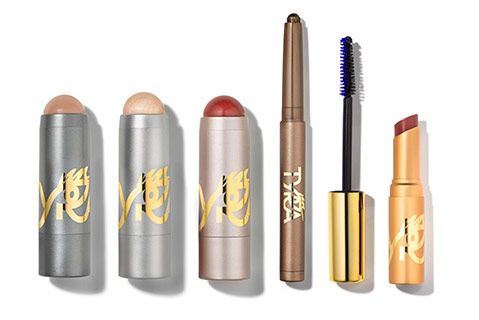 She also wants to talk about the haters. She seems to be referencing a Broadly story a few weeks earlier that depicted Tyra Beauty as part of a larger pattern of Banks taking financial advantage of young women. (An expert on multi-level marketing told reporter Emalie Marthe that young women are targeted by these businesses because they're more likely to believe they really will get rich when they sign up). "Despite the evidence of shady business practices and exploitation of her employees, young and vulnerable women keep flocking to Banks for her promise of quick fame and 'fierceness,'" Marthe wrote.
Critics say these kind of multi-level marketing businesses are little more than legal pyramid schemes. The problem with the kind of company where you can earn more by enlisting others than by selling the products is that the money tends to go to the people at the top who are convincing others to join, not to those actually selling. Research published by critics of the direct-sales industry found that up to 99 percent of reps don't earn any income at all.
Anita Krpata, Tyra Beauty's general manager, says Tyra is not running a pyramid scheme and refutes the idea that the best way to be a successful Beautytainer is by having others do your work for you. LeeAnne agrees, saying the best part of the job is seeing others succeed. "I love helping women make money," she tells me. "I love it."
"Recently, I've seen press, and wanted to take a minute to share my life lessons to help put it in perspective for you guys, so you can understand more of Tyra Beauty and our strategy but how to navigate your own careers as CEOs and winners," Tyra tells us on the call. "A lot of that stuff people write is a lie. There have been times when I have been in bed in LA, like about to go asleep, and have read on the internet that I'm at a club in Paris on Champs-Élysées and cheating on my man."
In sum: "Your CEO just happens to be a public figure, and it's a positive but at the same time, whew."
Tyra Beauty's Oops Liners are pretty cool, with black liquid eyeliner on one side and an eraser on the other (to get rid of bleeds and crooked handiwork). But I'm not sure why anyone would want to buy them from me instead of online. "The advantage is the customer service," LeeAnne tells me. "Your friends are going to take your word more than someone else's. When you go to a great restaurant, you tell people they should go there, but you don't get anything from it. Direct selling is basically the same thing. You're sharing your love for the products and what they do, but you're also making money."
LeeAnne tells me to make a list of all of the friends and family I could possibly sell to. First up is my mom. There's no shame in going after low-hanging fruit.
I hit her up at Thanksgiving. "What makeup do you use, Mom?" I ask, while refilling her glass of champagne. "Is there anything you don't like?"
"This is kind of dopey," she says, sliding a small disc of nameless gold eye shadow over to me.
I have just the thing! I pull out Tyra's Eyes in a Stick in Once You Go Brown — it looks like a chestnut magic marker — and swipe it across the lower lid of her left eye. "Check out the difference," I say triumphantly. We both admire my work, and I've made my first sale — Mom even agrees to buy a second color at 50 percent off. Her total comes to $36, which means I make $9. (In December, I receive the products back; my mom didn't like them and re-gifted them to me for Christmas.)
Hoping to step up my game, I invite five friends over for a TyOver party. I prep by buying makeup sponges, tissues, disposable mascara wands, and twice as much wine and snacks as six people can consume. I print out a picture of my favorite Tyra (as Zoe in "Coyote Ugly"), plus one of a girl's face that shows them how to apply the makeup trio of Light in a Stick, Sculpt in a Stick, and Cheek in a Stick. I scrawl "You Look Fierce" in hot pink lipstick on the mirror above my vanity.
Selling makeup to your friends is weird. At first it's like when everyone at a party is afraid to take the first chip, us all standing there looking at the Smoky Smize palette like we'd never seen eye shadow before. Then Erica picks up the three sticks and begins contouring her face as expertly as any Kardashian. Everyone else joins in.
Their assessments of their TyOvers are mixed. The eye pencil and the mascara are hits — and Erica's contouring really does look great — but Amanda thinks the face makeup is "too shiny" and Marisa calls the brow gel "terrifyingly intense." They buy a few items: an Eyes in a Stick, a Light in a Stick, and the Stick with Me makeup setting spritz, earning me $18.75 in commission for the night.
All told, I've made $27.75 for my first month as a Beautytainer. I suppose I could keep going and try to make back the rest of my initial investment, but I'm not going to. I'll just use the products I have left myself. (Sorry, LeeAnne.)
Tyra believes makeup is the great equalizer. I don't, but I also don't hate what she's trying to do with her products. They don't take a lot of time to apply and they're more fun than a lot of what's in Sephora. I don't think selling her makeup, however, is as good for Beautytainers as it is for Tyra. But if you don't believe me and want to try to make some Bank$igns yourself, I have a few tubes of Smack My Fat Lash I can sell you.