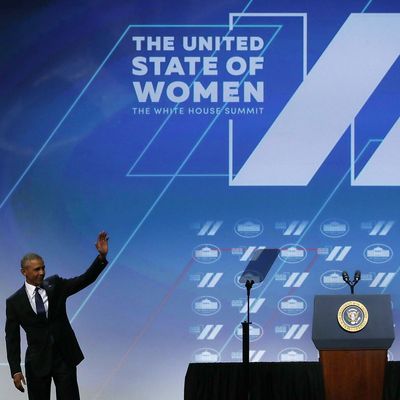 Obama speaking at the United State of Women.
Photo: Alex Wong/Getty Images
At the blow-out bar in D.C. at 7 a.m., a woman waiting to get her hair dried complimented me on my culottes, saying that she hoped I would "wear them in good health." A weird thing to say to someone, but it put me in a good mood all the same. Ah, to be a woman in America, hair smelling like cheap coconut tanning oil and wearing culottes in good health.
I swished away from the libation-themed blowout bar and headed to the D.C. Convention Center for the fourth women's empowerment–themed event (and counting) I'd been to in as many months, thinking about how choices like getting one's hair dried and buying clothes that yield compliments are part of the American woman's supposedly ideal experience. We don't have comprehensive maternity leave, equal pay, affordable childcare, or freedom from sexual violence, but a nice woman will wash and dry your hair for you if you pay her.
The United State of Women (a phrase I keep tripping over no matter how hard I try to master its clunky syntax) was a two-day summit intended to put a positive punctuation mark at the end of Barack Obama's presidency, which began in 2009 with a law supporting women's right to fair pay. Here, speakers, actors, policymakers, politicians, and the three best acronyms before BYOB — POTUS, FLOTUS, and VP — were to speak on all the ways America either fails or favors women. After a heartbreaking week that reminded us of the privileged stronghold men still have on our culture, a big party to say "You go, girl" felt poorly timed.
But, then again, do these things ever feel timely? The women's conference is an interesting breed: It exists more for networking and connecting, sharing stories and secrets, and contemplating the slog that is life as a woman than it does for concrete steps in the direction of liberation for the second sex. Rome wasn't built in a convention center over two days, after all.
The primary callback throughout the USOW conference was, "When women succeed, the world succeeds." The phrase was repeated so often and by so many speakers that I wished I'd brought a flask from which to swig from each time. But by day's end, I was hearing it in my head as "When the world fails women, the world fails." That felt a greater comfort after a deranged man with an assault rifle killed 49 gay Latinos and allies, and a convicted felon got off with a three-month jail sentence for raping an unconscious woman behind a dumpster. Say it with me: When the world fails women, the world fails. Swig.
The pace and politics of the event were the same as the other three I'd been to this year: several main speakers, breakout sessions for smaller talks, and the occasional entertaining activity in between. (The most memorable thing I learned about was the all-women mariachi band Flor de Toalache's Nirvana cover. An absolute delight.) Joe Biden spent nearly an hour of the first plenary session on violence against women vacillating between Amtrak Joe–style anecdotes from women who had been assaulted, and shouting things like, "It is rape. Full stop." Biden's speech ran more than twice as long as scheduled, delaying the rest of the day, and it came off like preaching to the choir: A room full of women's-rights advocates aren't exactly the people who need to know that sex without consent is rape. Maybe he should try this routine during halftime at the Super Bowl instead.
A host of famous women appeared, shuffling and shortening according to Biden's overstep. Cecile Richards, president of the Planned Parenthood Federation, spoke on why it's essential that transgender people be able to access health care, no matter where they live. Angela Blackwell, founder and president of research organization PolicyLink, talked about the alarming ways black girls are discouraged from participating in school. Patricia Arquette spoke, less impassioned than at the Oscars, of getting women equal pay. In line waiting to grab a seat for Obama between sessions, I chatted with Lilly Ledbetter, who told me women need to do their homework on what their jobs pay. I met Onetha McKnight, an airport worker in Philadelphia, who was in town to advocate for raising the minimum wage. An insistence that we begin valuing "women's work" prevailed: One organization, slyly named Careforce One, uses the arts to imagine careworkers as superheroes.
Unsurprisingly, it was Barack Obama who brought down the house during his speech, not only by chuckling to himself at the upside of the White House's paid family leave policy — "I love babies!" he said. "I love when they come into the Oval Office. They make me feel good." — but with his assertion, less bombastic than his VP's, of feminist principles. "We need equal pay for equal work. We need affordable childcare. We've got to raise the minimum wage. We need paid maternity leave and paid paternity leave, too." When he left the stage, he received an uproarious standing ovation. I was on my feet without even realizing it.
Because of Biden's schedule-hijacking, the day was running long, and my train back to New York (to a life where I do not wear culottes and do not have a blowout) was scheduled to depart before the end of the day. This meant that I'd miss the main event, Michelle Obama and Oprah, the one thing that would have made the day feel more grounded, less like a ticker-tape parade for a championship we hadn't won. I did feel lucky to catch Marley Dias, the 11-year-old girl who started a donation campaign for books about black girls. Dias, who's now collected more than 7,000 books, emphasized that gender equality requires diversity. Like many of the youth speakers throughout the day, Dias's remarks made clear that the younger generations really are a thousand steps ahead of us all. Referencing Sasha and Malia during his speech, Obama showed the same: "They think discrimination is for losers. They think it's weird that we haven't already had a woman president." Indeed.
On the train home, I ate the individually packaged container of hummus and pretzels doled out to attendees of the conference and mused over how daunting it can feel to be a woman in the world. The convention center was like a bubble, one that felt so delicate that just a wisp of Trump's cotton candy hair could burst it. No matter how many times we repeat, "When women succeed, the world succeeds," the world continues to fail us in so many ways. A convention can't fix that, but at least it can remind us how far we have to go.