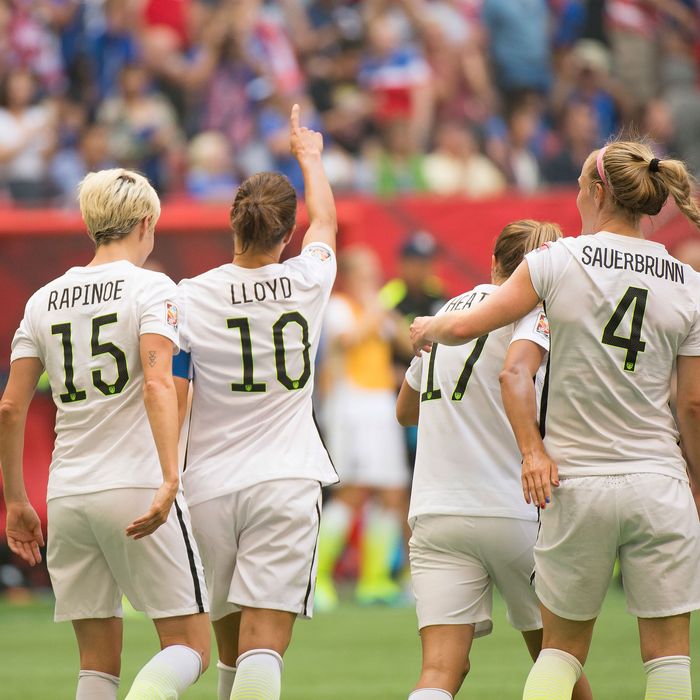 USWNT.
Photo: Christopher Morris/Getty Images
Despite their pleas, the U.S. women's national soccer team (USWNT) has been barred from striking by a judge who ruled on Friday that the presence of a previous agreement with a no-strike clause makes their decision impermissible.
This means that the USWNT, who have been embroiled in a springtime full of legitimate complaints of pay disparity, discrimination, and poor field conditions, will be headed to Rio instead of protesting these issues. U.S. District Judge Sharon Johnson Coleman heard arguments this week by the players' union and the U.S. Soccer Federation, but ultimately determined that the USWNT was still bound by a no-strike clause:
In her 13-page ruling, Coleman said the union didn't convince her that terms of an earlier collective bargaining agreement — including a no-strike clause — did not carry over when the sides signed a memorandum of understanding seeking to clarify contractual terms in 2013. Coleman was dismissive of union arguments that a no-strike provision should have been spelled out explicitly in the memorandum.
Last week, the USWNT was backed by a Senate committee of 22 Democrats who signed a nonbinding resolution in support of their discrimination complaint. The players' union and the U.S. Soccer Federation now have until a new December 31 deadline to determine a striking clause or not. If no conclusion is reached, the players will be permitted to strike.
But the question remains: Will the U.S. Soccer Federation resolve the pay disparity issue before the USWNT travels to Rio? The clock is ticking.