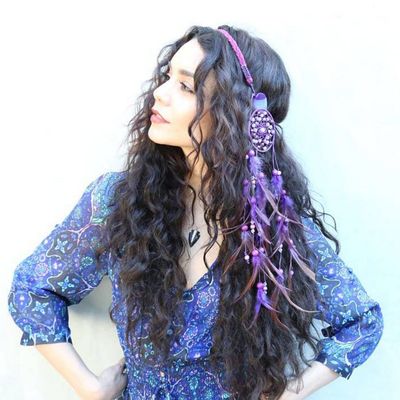 Vanessa Hudgens.
Photo: vanessahudgens/Instagram
Vanessa Hudgens, the reigning queen of Coachella and absolutely nothing else, has finally gone and done it. After flirting with Native American headdresses, face paint, bindis, and many, many flower crowns, she decided to put a dreamcatcher on her head.
Hudgens posted a photo of this imaginative new look on Instagram yesterday with the caption, "Chin up, Princess … Or the crown slips [crown emoji] #monday." This, as "Page Six" reports, angered some commenters, one of whom asked, "Why are you like this???"
Hudgens responded by posting another photo of herself wearing a dreamcatcher on her head. (Caption: "No Monday blues here [blue heart emoji]".)
Why Vanessa Hudgens is like this remains a mystery.