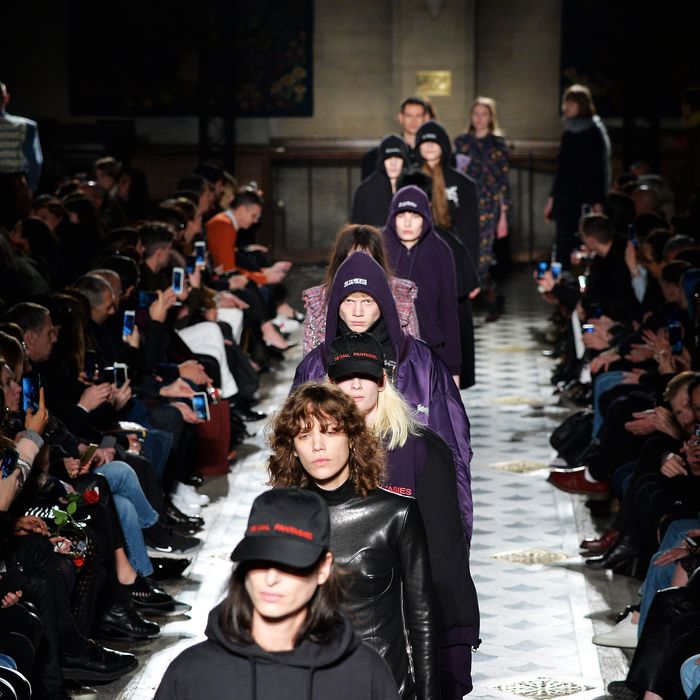 The Vetements fall 2016 collection at Paris Fashion Week.
Photo: Kristy Sparow/Getty Images
Next Sunday, when Vetements holds its spring show in Paris — at the Galeries Lafayette department store — the cultish brand will have a little help from its friends. Eighteen different brands, ranging from Levi's and Hanes to Manolo Blahnik and Juicy Couture, will produce the entire Vetements collection. That's right: Instead of collaborating with one company on one product — the tried-and-true pattern of the fashion industry — Vetements has rounded up a multinational gang of megabrands.
The gang analogy is fitting. Vetements is the work of a semi-anonymous group of designers led by Demna Gvasalia. Its shows, held (so far) in a seedy bar, a Chinese restaurant, and a church, feel like a guerrilla raid on Bergdorf Goodman. Jeans are recut. Trench coats blown out of proportion. Stilettos trashed and given new heels that resemble BIC lighters. It's high fashion with an aggressive street bent. And while Vetements isn't the first label to gain attention by mutating classics, Gvasalia and his team have a knack for the unexpected.
He says the idea of collaborating with multiple brands grew out of his experience producing Vetements' jeans in Italian factories. Jeans were the first product that put the label on people's radar, and somehow, in Gvasalia's view, they never looked like Levi's — "100 percent authentic."
"That's when I began thinking that the ideal situation would be to work with manufacturers who specialize in each category — whether it's jeans, T-shirt, bomber jacket," he says, by phone from Paris. "Of course, we didn't have a reputation to be able to approach these people." That changed almost overnight. In mid-February, when Gvasalia and his brother, Guram, who manages the business, decided to advance Vetements' show date — to July instead of late September — Demna thought it would be easier to deal with the shorter production time if they had multiple collaborators. In actuality, it proved to be a logistical headache, with the companies working in different parts of the world and nearly all of them used to much longer times to develop a new product. Undaunted, Guram began contacting them in early March.
The process of identifying potential partners was straightforward. "We really thought about each garment," Gvasalia says. "What is the first brand that comes to mind when we think about, for example, workwear pants? So we went to Carhartt." He went down his list, eventually getting Eastpak, Canada Goose, Lucchese, Mackintosh, Dr. Martens, Reebok, Church's, Alpha Industries, Champion, Kawasaki, Schott, Comme des Garçons, and Brioni, among others.
"The idea was always to take the iconic, the most recognizable product from their brand, and put it into a Vetements frame, whether in terms of shape or construction," Gvasalia says. The Vetements team supplied all of the designs, using authentic materials from the brands, and the brands' factories — from China to the United States — handled manufacturing. (Vetements will oversee distribution to stores, with some retailers — unspecified at the moment — offering the complete collection.) Although there were some face-to-face meetings, much of the communication was done by email and video conferencing.
Also, given the sheer number of collaborators, Gvasalia and his team decided this was not a moment to reinvent Vetements' look. They stuck with shapes and silhouettes that people already recognize, like the oversize hoodies and bombers. "For me, it's a kind of season which is the end of one chapter for the brand and the beginning of another," he says.
Gvasalia recalls his initial meeting with Manolo Blahnik in London: "I told Mr. Blahnik, 'Well, we're going to destroy the shoes. Are you okay with that?' And he said, 'Well, I love that. Please, please, please, destroy them.'" (By email, Blahnik says he was delighted to be involved: "What they are doing is very clever and new.")
With Juicy Couture, the iconic element was its baby-hued, velour sportswear. "I love the comfort of it and the trashiness of it," Gvasalia says. "But then we wanted to do something elegant with it, so we made evening dresses."
With Brioni, inevitably, it was the tailored jacket. Recalling his visit to the Brioni factory, where he watched garments being stitched by hand, Gvasalia reveals that his idea was to have the layers of jacket glued together so that, in effect, it became a one-layer garment. "I really wanted to go against their traditions and rules," he says, adding that the folks at Brioni told him that, out of the 220 steps to make a jacket, 80 of those steps are ironing. "I said, 'Okay, let's do a jacket that completely eliminates the ironing steps.' Of course, they were at first a bit shocked, but they did it. As a result, the classic Brioni jacket looks like Vetements. For me, that was the challenge with every product."
And despite any doubts about "gluing" a Brioni jacket, Justin O'Shea, the company's creative director, reports that the "tailors really enjoyed and relished the opportunity to work outside their comfort zone."
For many of the collaborators, that seems to be the prime reward. For others, though, like Levi's, it was a chance to match kindred spirits on an unfettered creative level. Almost a year ago, Jonathan Cheung, Levi's chief of design, received a note from Bart Sights, head of the company's Eureka Lab, saying, "Damn, we should work with these guys." Both men had noticed that Vetements was reworking Levi's. So when Guram contacted the jeans-maker, Cheung said yes.
Asked if it was difficult for Levi's to deal with Vetements' extreme shapes, Cheung, in an email, characterizes the process as "challenging and fun." He adds, "There's something about the authenticity of Levi's that grounds the eccentricity of Demna's work with cut and proportion. A yin to a yang. I think that's what makes Vetements accessible. Demna plays with familiarity, authenticity, and twists it. If he used a weird (and we love weird!) fabric and cut it in a weird way, that would be too much. So our 'realness' is what makes his take on denim work."
For Gvasalia, the reward was working with companies that brought generations of know-how to the table — and on relatively short notice. "When we saw the first prototypes coming in, for example, from Alpha Industries — the bomber jackets — they were perfect," he says. "To me, that's something we could never have done, even with the best factories in Italy, because they don't have a hand for that. Alpha has done bomber jacket for years. They supply the army." As Angelyn Fernandez, Alpha's vice-president of production and merchandising, explains when asked about Vetements' idiosyncratic fit: "We knew this would be different than what we do, but not completely out of our range. Alpha Industries has been making MA-1 bomber jackets for 50 years, and at one point we offered up to size 8XL, so the sizing and fit wasn't difficult. We just knew to expect the unexpected with [Vetements], and we are very happy with the results."
The paradox of Vetements' multiple collaborations is that they have yielded so much information at a moment when the very notion of collaboration has worn thin. As Gvasalia tells me near the end of our conversation, "We realized that the horizon of technical possibilities for design are much larger when you work with people who have this kind of know-how. That's why I said to Guram that it's going to be very hard for us next season to go back to our factories in Italy. We're going to be so frustrated. For example, the way Schott makes biker jackets — no factory can do that. We've been looking for the perfect biker leather for two and a half years now, and we're always compromising because something is never 100 percent."
He pauses. "I can tell you that when I received the first swatch of leather from Schott, it was perfect."
Although Jason Schott, whose great-grandfather is widely credited with inventing the motorcycle jacket, says that some of his production people initially questioned whether it was worthwhile to invest so much energy in making the Vetements pieces, they were inspired by the designs.
"You won't see me wearing any of these pieces," the executive admits, "but I have thoroughly enjoyed the process of developing them. We have learned some new tricks that could benefit our factory for future designs, and we would definitely consider working with them again."
In fact, Gvasalia hopes that some of the relationships will be ongoing.