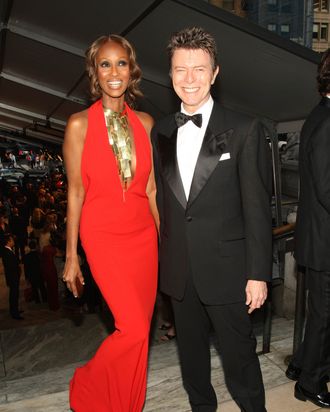 Iman and David Bowie at the CFDA Awards in 2007.
Photo: Evan Agostini/Getty ImagesGetty Images for CFDA
Fashion chameleon David Bowie was posthumously honored at the CFDA Awards on Monday with the organization's Board of Directors Tribute. Tilda Swinton accepted the award at Iman's request, reading a letter to Bowie that read, in part: "We want to tell you that we miss you, but how very happy we all are that you came by. And that we're getting used to resting on your stardust in your absence." Michael C. Hall performed a medley of the late rocker's songs accompanied by models in Ziggy Stardust–esque finery.
The Cut asked attendees what Bowie might have worn to the ceremony, had he been there himself. Of course, they imagined all kinds of inventive designs and nostalgic throwbacks. Read on for quotes from Lena Dunham, Laverne Cox, Vera Wang, Ilana Glazer, and more.
Samira Wiley, actress
"A beautifully tailored suit and his beautiful energy. That's what he wore at the end."
Alexa Chung, model
"I would have really liked him to come back full Ziggy Stardust, and really show us how it's fuckin' done."
Ilana Glazer, actress
"Oh my god. I would hope a floor-length cape with a train."
Gigi Burris, milliner, and Zosia Mamet, actress
Z.M.: Maybe naked? It's like, how do you up yourself?
G.B.: Maybe a Swarovski-studded platform shoe …
Z.M.: And naked.
G.B.: And nothing else. And maybe one of these. [Points to Zosia's headscarf, made by Gigi Burris.]
Z.M.: Exactly.
Lena Dunham, actress
"He would have worn what my friend Zosia Mamet is wearing, a long black dress and a red head scarf. I looked at her and I was like, you're channeling full Bowie, you're honoring him to the max. But what was so amazing about David Bowie was, like, you'd think he was going to come dressed in some insane look, and he'd come dressed like a professor. You just never knew what he was going to bring."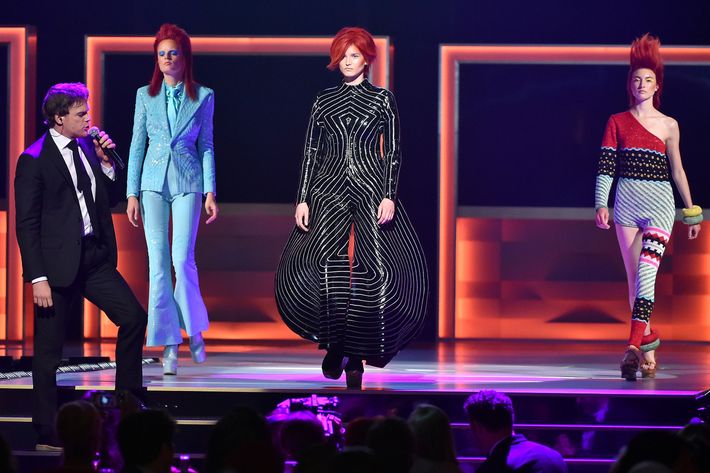 Laverne Cox, actress
"Oh, whatever he wanted. What era of David Bowie? It depends. I love that '70s sort of David Bowie Ziggy Stardust period. It was pretty epic."
Betsey Johnson, fashion designer
"I think he would have worn Cab Calloway — very cool, very slinky, very drippy. I saw him in concert looking like that, and to me, that's Bowie. It would just be one of those long, drippy jackets and a pair of pleated baggy pants, you know: soft, gorgeous, in very pale yellow with an electric-purple-something underneath."
Joel McHale, comedian
"I would hope he'd wear his outfit from The Hunger 'cause that was really cool. The young version, not before he got old. Or maybe that Labyrinth outfit, at the end."
Jenni Konner, director-writer-producer, and Clare Vivier, bag designer
J.K.: The fabulous jumpsuit. That would have been the greatest.
C.V.: I think he would have worn something as a tribute to Prince.
J.K.: Oh, totally, that's brilliant. I bet you're right, he would have worn something fabulous and purple.