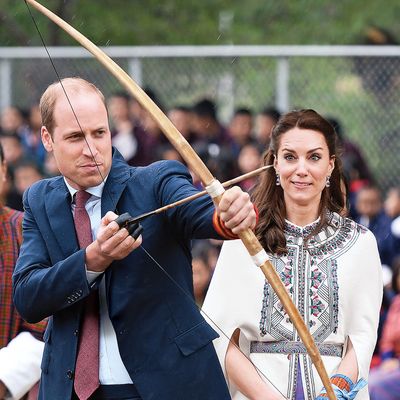 The Duke and Duchess of Cambridge.
Photo: James Whatling/Splash News
Before Britain shocked the world (and to some extent itself) by voting to secede from the E.U., the biggest story making headlines in the U.K. was Queen Elizabeth II's 90th-birthday festivities. In England, the royal family enjoys a very high (76 percent) approval rating, but the Queen stays out of politics as best she can — a Sun report that she favored "Brexit" was met with an official complaint by the palace. But other royals around the world (there are 45 sovereign monarchies remaining) are less measured: For instance, in Bangkok, where criticizing the king to a friend in a taxi can land you in jail, the ailing monarch makes no mystery of his political views (in 2006, he sided with the military's ouster of prime minister Thaksin Shinawatra). All this is to say that the world's royal families lead very different lives. Whenever the princess of Morocco so much as attends an event in Rabat it's headline-making news, while in Copenhagen it wouldn't be unheard of to bump into the beloved Crown Princess Mary pedaling her children on her cargo bike along the Nyhavn.
They Star in 18th-Century Farces in Oslo
Crown Prince Haakon and Crown Princess Mette-Marit go on $300,000 yacht trips.
Last August, the prince and princess took a trip through northern Norway aboard the Mia Elise, which reportedly cost nearly $300,000 a week to rent. While it was later revealed that the family didn't pay and were guests of a friend, there was much public outcry and one of the country's leading newspapers published an editorial calling for the dissolution of the monarchy.
Princess Märtha Louise can communicate with angels.
Haakon's sister, the co-founder of Oslo-based self-help school Soulspring, has faced ridicule for stating that she has psychic powers and can communicate with angels. In October, her husband, Ari Behn, made his acting debut in an 18th-century farce, Jeppe på Bjerget (Jeppe on the Mountain).
Approval of royals: 70%
They Shop at Lululemon in London
They look on in horror at their husbands (see above).
Not unlike how much of the world is currently looking at the U.K.
The queen gets woken by bagpipes in London and Balmoral.
According to the queen's former private secretary Sir Kenneth Scott, writing in Vanity Fair, the queen is woken up by a bagpiper playing outside her window. A typical day includes answering letters, holding investitures (conferring knighthoods and decorations), taking meetings with her senior staff members, and meeting with ambassadors and colonels for which she allots exactly 20 minutes each (apparently she has a very strong body clock, and can sense when precisely 20 minutes have passed). Once a week she meets with the prime minister.
William is a part-time air-ambulance pilot.
And he has faced criticism for the relative lack of official engagements he's carried out. In mid-June, however, he made history by appearing on the cover of the LGBT magazine Attitude. (The response was mostly positive, but some found it hypocritical given the fact that so many Commonwealth nations are anti-gay.)
Kate does her own shopping.
She likes the Lululemon Athletica in Chelsea.
Prince Charles watercolors.
In addition to overseeing the Prince's Charities, Charles spends a lot of time with a paintbrush. He's made £2 million selling his paintings, all of which has gone toward his foundation.
Harry's still finding himself.
It's been reported that he'd like to get into rugby coaching. Though he's still single, his wilder days seem to be behind him, according to Camilla Tominey, royal editor of the Sunday Express, and he mostly frequents spots owned by his friends, like Cross Keys pub in Chelsea. "It's a quiet gastropub where if he came in with a baseball cap, probably no one would notice him." Tominey adds, "He'll also go to a ski-chalet-type place called Bodo's Schloss, a haunt for posh people, who can re-create the magic of being in Verbier."
The most popular royal in Britain.
Harry, according to a recent survey in The Evening Standard; he got 70 percent of the vote.
Approval of royals: 76%
They Let Their Princesses Out in Public in Rabat, Morocco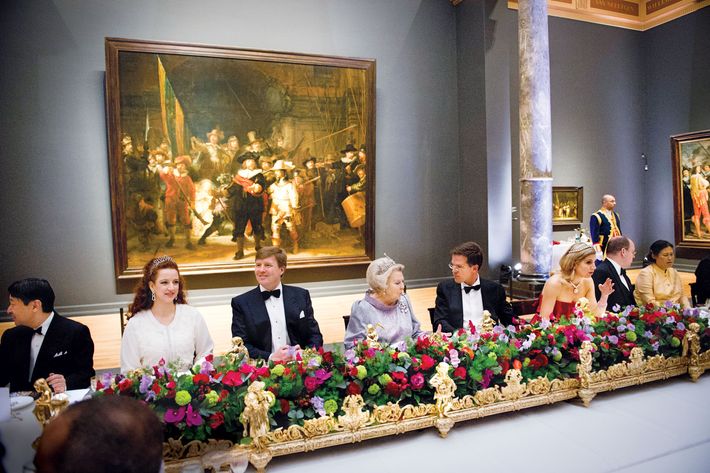 Morocco's First Lady, Princess Lalla Salma, went to a Giacometti exhibit.
The wife of King Mohammed VI was born a commoner (her father was a teacher), trained as a computer engineer, and has been breaking with tradition ever since she married the king in 2002. While custom had previously dictated that kings' wives be kept hidden from the public, she's been seen attending an exhibit of works by Giacometti in Rabat, vacationing with her kids in Dakhla, and appearing at the opening of the World Sacred Music Festival in Fez with Sheikha Mozah of Qatar this past May.
Her husband, King Mohammed VI, is enlightened, but not that enlightened.
He's come under criticism for being slow to enact all the pro-democracy reforms he promised during Arab Spring protests in 2011. Equally troubling are reports of arrests of journalists, dissidents, and activists who have spoken out against the regime.
They See Woody Allen Movies in Madrid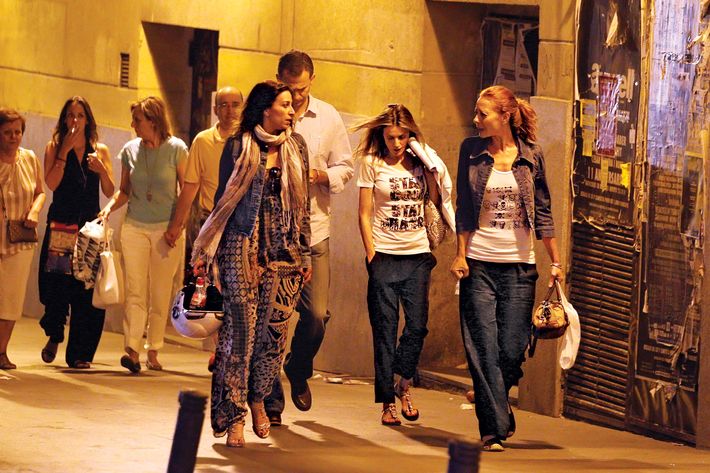 The relatively new king and queen (scandal-ridden King Juan Carlos I abdicated in 2014) are often spotted in Madrid's "Brooklyn."
"Instead of sticking to the posher neighborhood of Barrio Salamanca, Queen Letizia likes getting dinner in the hip neighborhood Malasaña," says Mercedes Urrea, director of Hola.com. "Letizia and King Felipe also love going to the movies." Last September, they saw Woody Allen's The Irrational Man.
They leave the palace with their children dressed in matching outfits.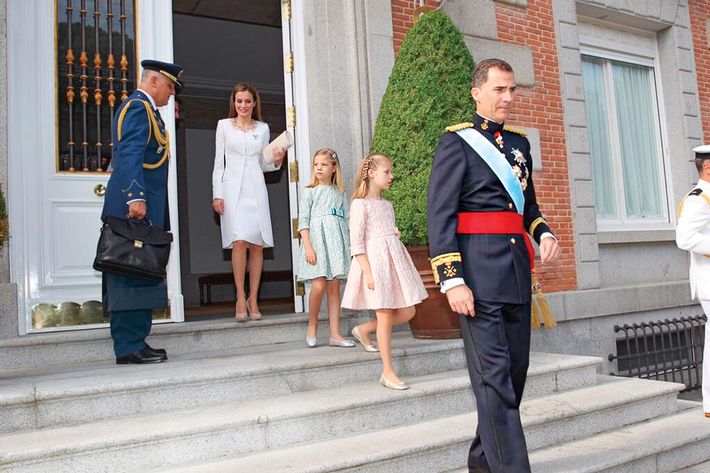 King Juan Carlos I is often spotted at lunch.
"Since he's abdicated, he goes out to lunch most days," Urrea says. He likes the upscale tapas bars Laredo and Casa Lucio.
And Infanta Cristina can be seen in court.
King Felipe's middle sister, Infanta Cristina, and her husband, Iñaki Urdangarin, have been indicted on tax fraud and embezzlement. The case is expected to wrap up June 30, and while it's unlikely Cristina will face prison, her husband could spend up to 19 years behind bars.
Approval of royals: 61.5%
They Open Boutiques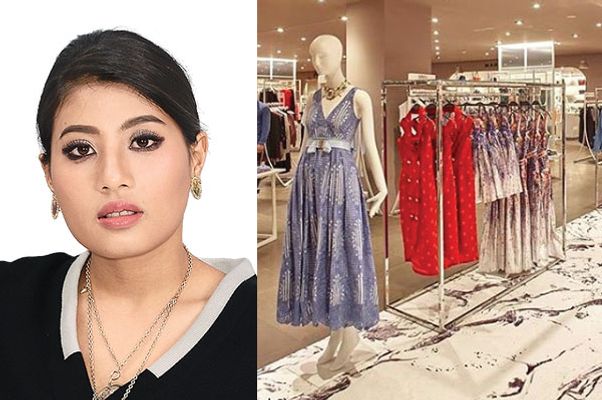 The royal: Princess Sirivannavari Nariratana of Thailand
The boutique:  Sirivannavari Bangkok
Location: Bangkok
Top sellers: A billowy "tulip dress" featuring an Impressionist-inspired floral pattern and a structured white blazer with gold hardware (prices available upon request).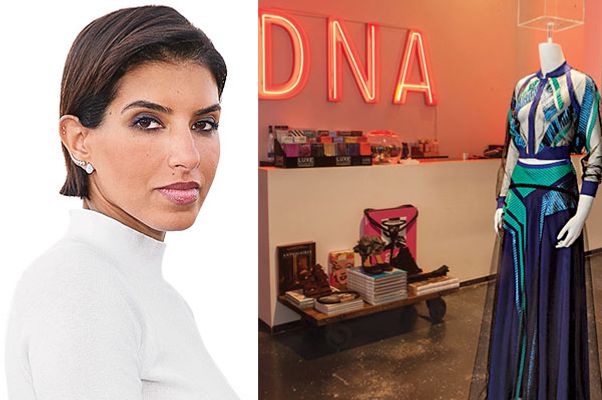 The royal: Princess Deena Abdulaziz of Saudi Arabia
The boutique:  D'NA
Location: Online at dnachic.com
Top sellers: The Anndra Neen silver Sofiko bag ($493), the Idonthaveasister Cloud necklace ($344), and the Alexander Lewis "Habibae" printed cashmere sweatshirt ($602).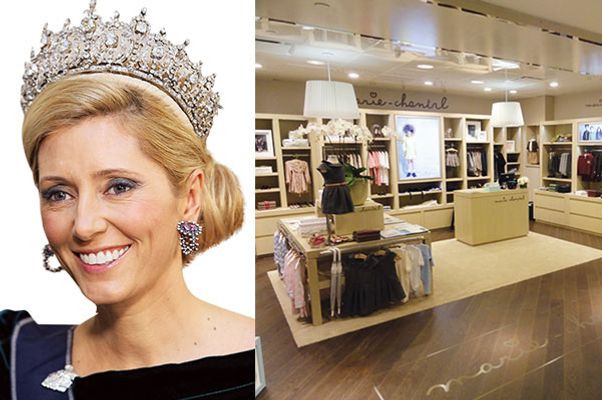 The royal: Princess Marie-Chantal of Greece
The boutique:  Marie-Chantal
Location: London
Top sellers: The Gold Angel Wing onesie ($89), a short-sleeved red flower-print dress ($151), and a silk girls' blouse ($159).
They Throw Anti-Royalists in Jail in Bangkok
Due to strict lèse-majesté laws, anyone who speaks out against the Thai royal family can be sent to jail (recent cases include someone who wrote anti-monarchy graffiti in a bathroom and another who spoke ill of the monarchy to a taxi passenger). On King's Day, also known as the birthday of ailing king Bhumibol Adulyadej, Thais gather to light candles and pay homage to the king. Crown Prince Maha Vajiralongkorn is thought to be a little less saintly. Known as a high-flying playboy, he was famously caught on video reportedly throwing a birthday party at the Thai Royal Palace in Bangkok for his poodle, Foo Foo, with his wife, the Princess Srirasmi, who was wearing nothing but a G-string. Meanwhile, Vajiralongkorn's daughter, Princess Sirivannavari Nariratana, is often photographed front row at Paris Fashion Week and designs an eponymous clothing line (see above). This month, she's featured on the cover of Vogue Thailand.
They Smoke 60 Cigarettes a Day in Copenhagen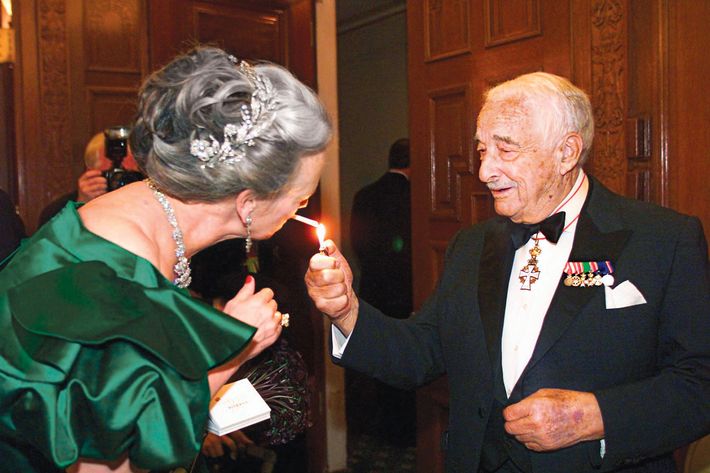 Queen Margrethe II, 76, who's reigned for 44 years, is known as "The Ashtray Queen."
She's been criticized many times over the years by the foreign press (Danes don't seem to mind) for her habit, especially for lighting up near her grandkids. In addition to smoking three packs a day, she paints, and devotes one day a week to her hobby. In 2012, she had a show of her work, "The Essence of Colour," at the Arken Museum of Modern Art. She also recently (and controversially) spoke out on immigration, telling a Danish newspaper that immigrants "cannot expect that their old societal models can just be carried on in our country."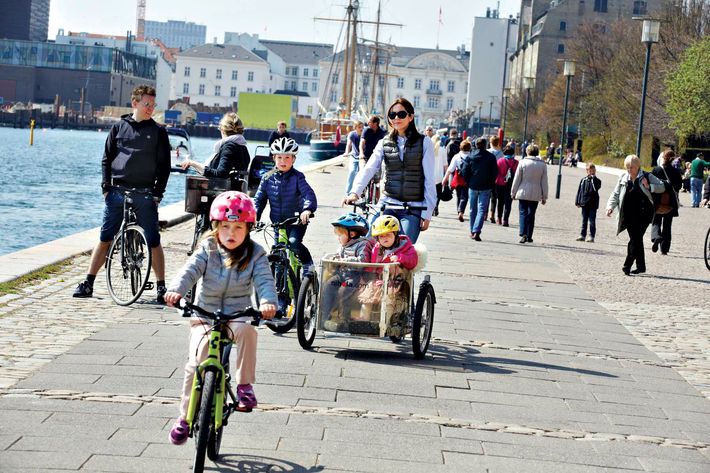 Crown Princess Mary loves her cargo bike.
The princess (a former Microsoft project consultant from Australia who met Crown Prince Frederik at a restaurant in Sydney at the 2000 Olympic Games) is frequently spotted biking around Copenhagen, toting her kids from Amalienborg Palace to school. In May, she made headlines by giving a passionate speech calling for LGBT equality. She's wildly popular, and in a 2015 poll among Danes was named the most admired woman in the world.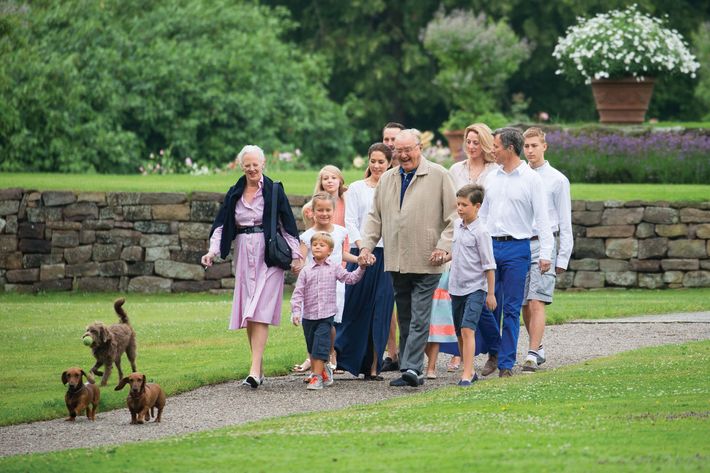 Other Royals in the Tabloids
Is Princess Maria-Olympia dating Prince Harry? Did Prince Aziz al Saud destroy an L.A. party house?
Saudi Arabia
Prince Aziz al Saud is being sued by the owner of a Hollywood Hills mansion the Saudi royal rented for $100,000 a month after he and his guests trashed the place during a wild, 800-person party to celebrate his graduation from Pepperdine University that allegedly featured strippers, cocaine, and guests peeing on neighboring properties. The 29-year-old prince is being accused of causing over $300,000 in damage, for which he has yet to pay.
Swaziland
Princess Sikhanyiso is a onetime rapper who went by her nickname "Pashu" and was recently in the local news for expressing concerns about giving condoms to young people as a way to prevent the transmission of HIV. An outspoken proponent of abstinence, Sikhanyiso has led the "reed dance" at the annual "celebration of chastity" many times over the past several years.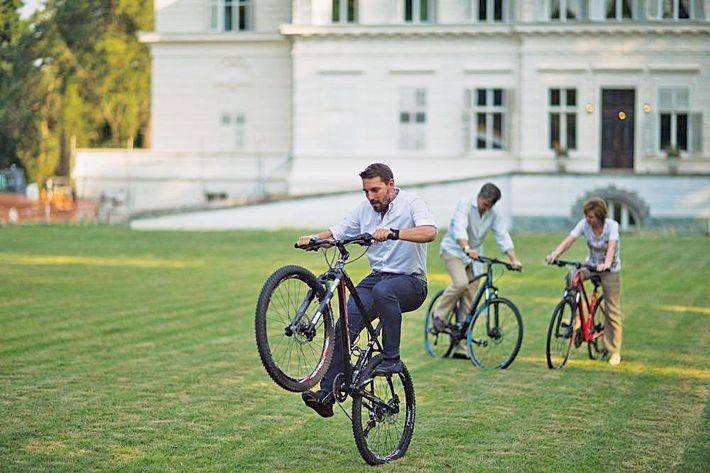 Romania
Last August, King Michael of Romania issued an unexpected notice that his grandson, Nicholas Medforth-Mills, would no longer be part of the succession to the throne. News outlets wondered whether it was the result of Medforth-Mills's having gotten a woman pregnant a few months prior, or a power play by relatives who didn't want to see the family inheritance in his hands. There has also been speculation that the king did not approve of some of Nicholas's "undignified behaviors," including participation in a bike race and complaining that he couldn't order pizza delivery to the royal palace.
Greece
Princess Maria-Olympia of Greece and Denmark, who recently moved to Manhattan to attend Parsons, participated in what has become a European-aristocracy rite of passage: fending off rumors in the press that she was dating Prince Harry.
Dubai
Last fall, it was reported that Sheikh Rashid, the eldest son of Dubai's ruler, Sheikh Mohammed bin Rashid Al Maktoum, had died at 33 of a heart attack. Immediately, skeptics cited a series of diplomatic cables released by WikiLeaks that mentioned that back in 2008, the young sheikh had allegedly murdered an aide in his father's office and was stripped of his order in succession; apparently, he spent his last years in and out of rehab battling a drug addiction.
Princes Among Us
Royals who live in New York include: Princess Beatrice of York, Princess Maria-Olympia of Greece and Denmark, and her uncle Prince Philippos of Greece and Denmark.
Additional reporting by Alexandria Symonds
This article appears in the June 27, 2016 issue of New York Magazine.