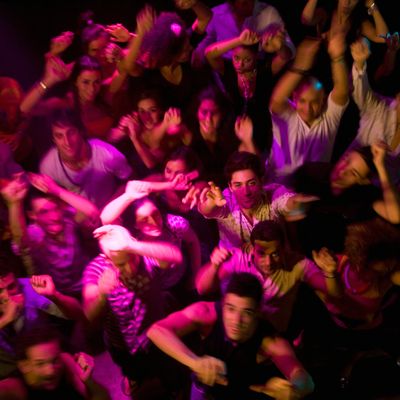 Photo: John Lund/Getty Images
The best time at Pulse was always from 2 to 2:30 a.m. Right after last call, but before the bar closed. This is when people got most comfortable. Some were wrapping up conversations with people and exchanging contact information, while others danced on top of the go-go dancer platforms shouting the lyrics to some power ballad, or made out with the person that became their date for the night.
The shots that left 49 people dead and dozens more injured in Pulse over the weekend began ringing at 2:02 a.m.
I found out there was something wrong at around 3:30 a.m. when I checked my Snapchat stories from my apartment in Brooklyn. My stomach dropped. It was Saturday night, I knew people who went on Saturday nights. I texted my friend Anthony, a Pulse regular, and when he confirmed that he was safe, I broke down crying. His confirmation made it real. There was something wrong, at a place that I love.
Words like "carnage," "slaughter," "casualties" were used to refer to people that I know, people that I saw out all the time, people that I have probably looked around at in a room and felt happy.
Hostages were hiding in the women's bathroom. The same bathroom where I had thrown up on my 19th birthday. The same bathroom where I made out with a Disney cast member. There were dead bodies on my dance floor. There were people bleeding next to the bushes that our drunk friends used to fall into, laughing.
There was terror in a place that felt like home.
The first time I went to Pulse was seven years ago this week. I had just graduated from high school; it was a Wednesday night and my best friend Anthony and I made plans to go. We picked up our friend Jon and drove an hour to Orlando, grabbed Lee, someone I had just met at college orientation the day before, shared a couple cans of a new drink called Four Loko, and had one of the best nights of our lives.
In high school, Pulse was a promise. I was a queer teenager in suburban Central Florida, quietly and uncomfortably waiting out the duration of my pre-college days while my older friends, both gay and straight, brought back tales of going to Pulse like it was Narnia. And it was — if Narnia was also a debauched mess.
That first night, during a moment when I was by myself, a girl sat down next to me on the patio — the first girl to ever hit on me at a bar. She pointed to Jon and Lee and said, "I think they're falling in love right now." She was right. They were together for three years. That girl has been one of my closest friends since.
On the drive home, I felt like I had started this new chapter in my life. I fell asleep in the backseat of the car listening to my best friend sing along to the Hedwig and the Angry Inch soundtrack. This was the new normal.
When I moved to Orlando that summer, we went every week — Wednesdays and Saturdays. We had our routine. We'd buy Four Lokos and cigarettes. None of us smoked, but we'd stand out on the patio and ask for a light as a way to introduce ourselves to the people we wanted to flirt with.
We'd arrive at the club, underage, and the door guy would mark our hands with hearts in place of the usual X's. We'd make a lap through the circular floor plan to see who was there before we committed to a location, usually the patio, where we'd make eyes at strangers and say hi to friends until we felt drunk enough to dance.
No matter what your identity was outside of being gay, you went to Pulse. This made for some of the most diverse social groups I have ever been a part of. It also meant that the musical mix could be eclectic — where the Yeah Yeah Yeahs' "Heads Will Roll" might transition into Miley Cyrus's "Party in the USA" without missing a beat.
The last song played at 2:30 a.m., when the DJ would usually put on Donna Summer's "Last Dance" or Glee's version of "Don't Stop Believing" and we would drunkenly cling to each other, shouting the lyrics, until the lights turned on.
We'd all make our way to IHOP, dubbed Gayhop, where the booths were full of every variation on the gender spectrum. We'd linger for as long as possible.
This week, there are millions of people who have never been to Pulse talking about the place. Newscasters, politicians, my co-workers. The president of the United States made a speech about the gay bar that I spent my entire college life in, the place where I came into my own. A lot of people who have never been to Pulse talk about it as a sanctuary and a haven for the LGBTQ community — a place of celebration and pride. Pulse was all of those things, and I hope it still will be, but it was also a place that was sweaty and shirtless, where people in their underwear sold jello shots, where we made mistakes, where we learned from them.
I was the best and the worst versions of myself at Pulse. It was the backdrop for so many of my firsts. The first time that I truly felt confident and secure. The first time I met so many of the people that I love. The first time that I made out with a stranger, cried at a bar, was unexpectedly propositioned for a threesome, fought with a girlfriend, broke a heart, rebounded from a breakup.
I can think of what happened as a personal tragedy or I can think of it as a national tragedy, but I have trouble putting them both in the same sphere. I can't place "largest mass shooting in American history" inside of that place. It just doesn't add up for me.
The most beautiful thing about Pulse is that it's a place full of people who were just trying to figure it all out. Nobody should ever be able to take that away.