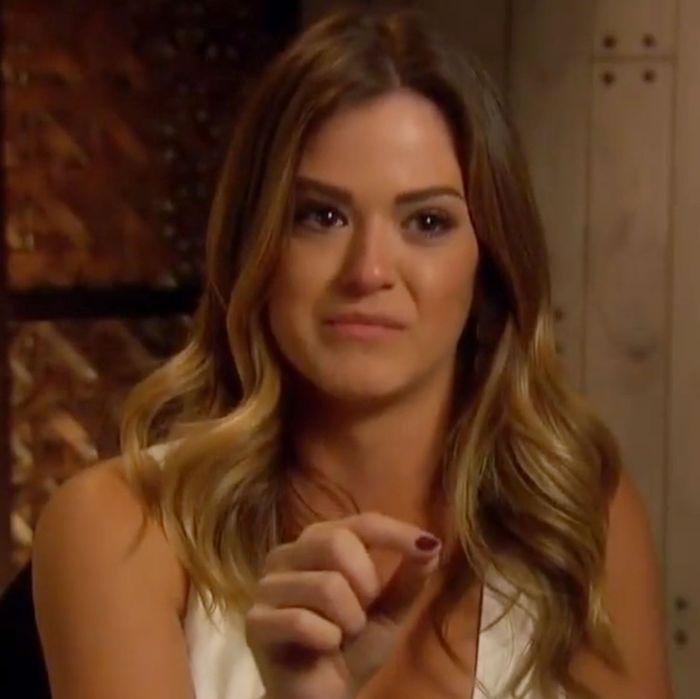 JoJo cries over Chad (the other one).
Photo: ABC
Welcome to Douche of the Week, where tortured Bachelorette viewers Anna Silman and Allie Jones take turns awarding male contestants on the show the honor of … Douche of the Week. 
During Monday night's episode of The Bachelorette, JoJo contended with a panoply of douches. There was our supervillain Chad, who finally left the show, and previous Douche of the Week (Damn) Daniel, who argued that JoJo didn't pay enough attention to his good looks ("If this was based solely on looks, there's a good chance I would still be here," he said as he made his exit), and Vinny, who wore a fedora for most of the episode. The real Douche of the Week, however, was offscreen. And his name was … also Chad.
Thanks to obvious producer interference on last night's episode, Vinny and some of the other men "discovered" an article in In Touch magazine in which JoJo's ex-boyfriend Chad Rookstool says some really douchey things about JoJo. This Chad claimed he and JoJo got back together when she returned from The Bachelor, and that she only went on the show to be famous. From the March 23 issue:
"As soon as she got home, we started hanging out every day and being intimate again," Chad … exclusively reveals. "We were sneaking around the whole time The Bachelor was airing because she wasn't allowed to be seen with me … JoJo said, 'I don't know if I'm the next Bachelorette, but let's just have a conversation as if I am,'" Chad says.
Also:
Chad is convinced JoJo went on The Bachelor solely for career purposes, revealing that she nabbed a spot on the ABC series because her big brother Ben Patton (who appeared on Eva Longoria's short-lived dating show, Ready for Love) is friendly with one of the producers.
After a Bachelorette producer forced JoJo to read the interview on-camera and "address the issue" with the other guys, she began to sob. "I … haaate him," she cried.
Chad (below on the left) is a hairstylist in JoJo's hometown of Dallas. And he's our Douche of the Week!
Meanwhile, The Bachelorette villain Chad appeared on Jimmy Kimmel Live! last night to discuss his recent exploits, which include hooking up with another Bachelorette contestant's ex-girlfriend and then posting about it on Instagram. That's our Chads.