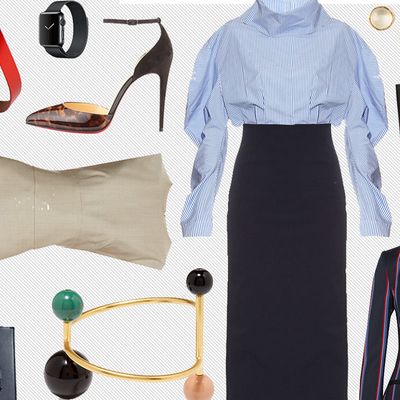 Job hunting is a long process. You're sending out résumé after résumé until you finally get that email or phone call to come in for an interview. After the initial rush of joy comes the panic about what to wear. That's okay! Everyone knows that first impressions count for a lot, but don't go on an impulse shopping spree.
Whether you're up for your first internship or you're at a point where you're ready to be the boss, there's a smarter way to buy the right clothes to project confidence and responsibility. Going in for an internship at a corporate gig? Time to get your first suit. Looking to make the big leap in a creative industry? Think about spending more on a quality dress and chic shoes. Scroll ahead for what to wear to an interview.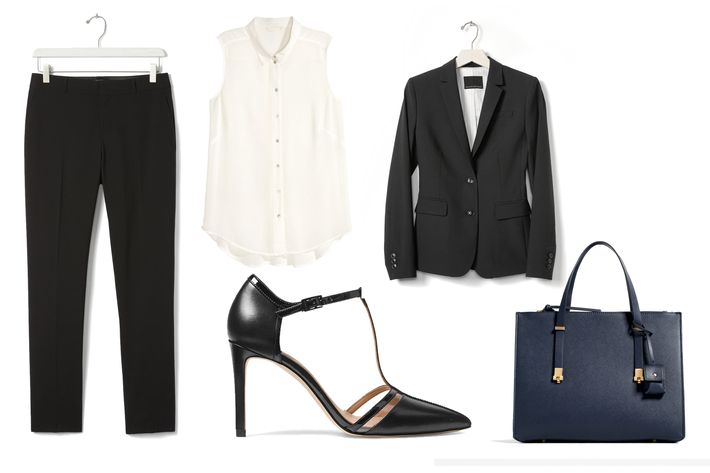 So you need to buy your first proper suit and you don't have a ton of disposable income? Look to the patron saint of all entry-level employees, Banana Republic, and opt for a classic black style you can wear for the next few years. Then it's just a matter of swapping out your shirts. Buy a lightweight sleeveless one for the summer and add in a long-sleeved style for winter.
Banana Republic lightweight wool blazer, $198, Banana Republic; Banana Republic lightweight wool pants, $98, Banana Republic; H&M sleeveless chiffon blouse, $9.99, H&M; MICHAEL Michael Kors Samantha T-strap pumps, $130, Lord & Taylor; Zara city bag, $69.90, Zara
Your First Internship: Creative Work Environment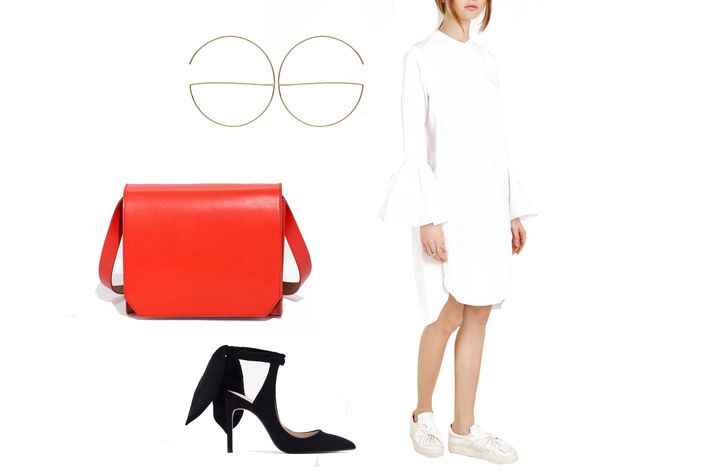 What you lack in fancy, designer clothes you can make up with ingenuity. Good styling that still reads as professional is not a skill every intern has. The trick is to keep it simple while still hitting on some of the major trends. Case in point: a sleek shirtdress with bell sleeves and sharp black heels that tie in the back. Add on some hoops plus a clean red bag to pull it together.
White bell-sleeved shirt dress, $97, Pixie Market; Zara slingback high heels with bow, $59.90, Zara; Whistles large wire hoop earrings, $30, Whistles; & Other Stories structured leather bag, $135, & Other Stories
Your First Job: Corporate Work Environment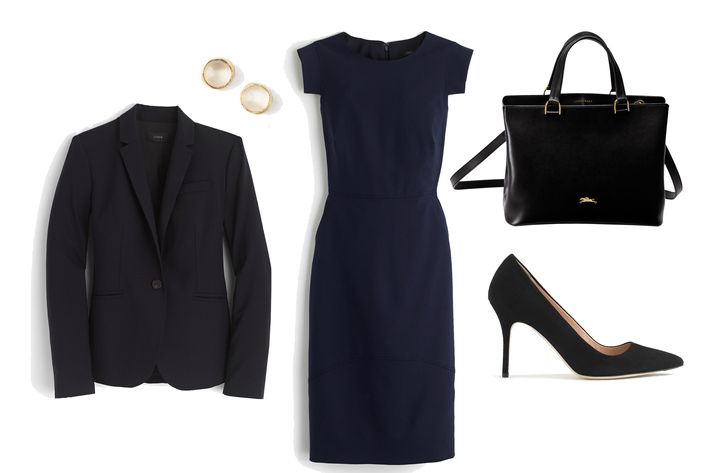 Congratulations, you're finally done with school and now you're ready to officially start your career. While your internship clothes are still good to work into your wardrobe once you land the job, think of getting something nicer for the interview. The appropriately named Big Meeting dress by J.Crew is a smart starter piece. Splurge for the matching jacket as well — it's that extra attention to detail that really makes an outfit appear expensive and well thought-out.
J.Crew Campbell blazer, $288, J.Crew; J.Crew Big Meeting dress, $188, J.Crew; J.Crew Elsie pumps, $245, J.Crew; Odette New York Aura studs, $112, Steven Alan; Longchamp Roseau tote, $455, Longchamp
Your First Job: Creative Work Environment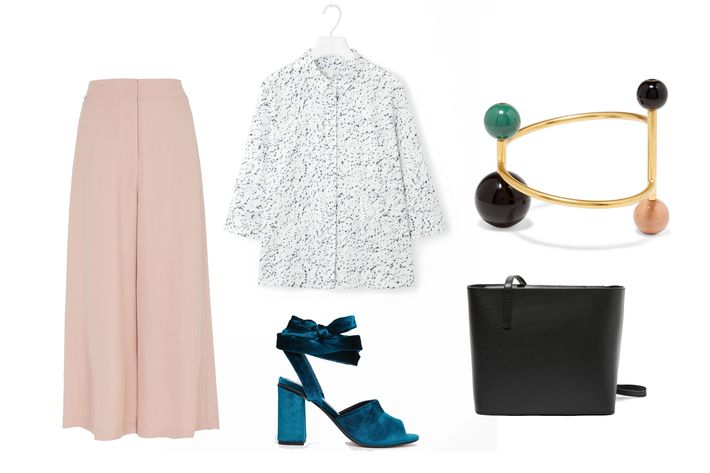 Much like how you dressed for internship interviews, interesting styling is important, especially since you're still on a tight budget. Pick and choose what to spend more on — the printed shirt and peacock-blue mules are both under $100, so you can go for the more expensive pants and statement cuff. And don't think you have to own a brand-name bag when a well-designed one that's under $500 will do.
COS printed A-line shirt, $99, COS; Whistles flared cropped trousers, $270, Whistles; ASOS Hitch a Ride lace-up mules, $73, ASOS; Marni gold-plated resin cuff, $290, Net-a-Porter; LOQ Isa Grande bag, $300, Need Supply
Your Big Promotion: Corporate Work Environment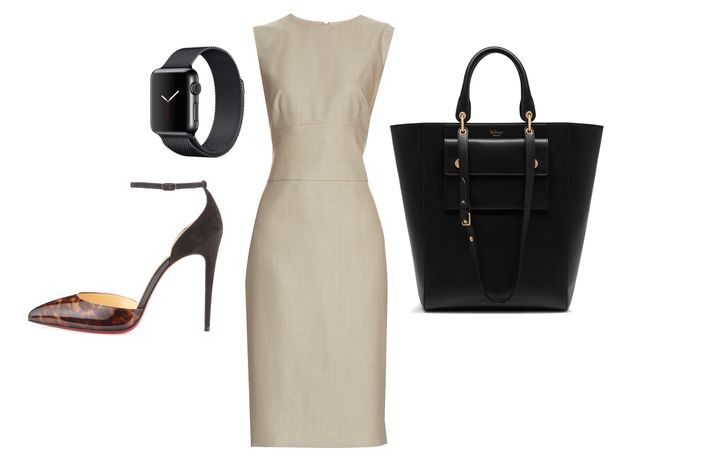 After a few years of working your way up the ranks, you're finally ready for the big jump into a high-level role. If you're going to get that vice-president job, dress like you already have it. Upgrade to a chic Max Mara sheath and spring for the designer pumps as well as a sleek tote. You don't need much in the form of jewelry, though nothing says "I have my shit together" than an Apple Watch on a mesh black band.
Max Mara Gang dress, $795, Matchesfashion; Christian Louboutin Uptown d'Orsay pumps, $845, Bergdorf Goodman; Mulberry Maple tote, $1,250, Mulberry; Apple Watch, $699, Apple
Your Big Promotion: Creative Work Environment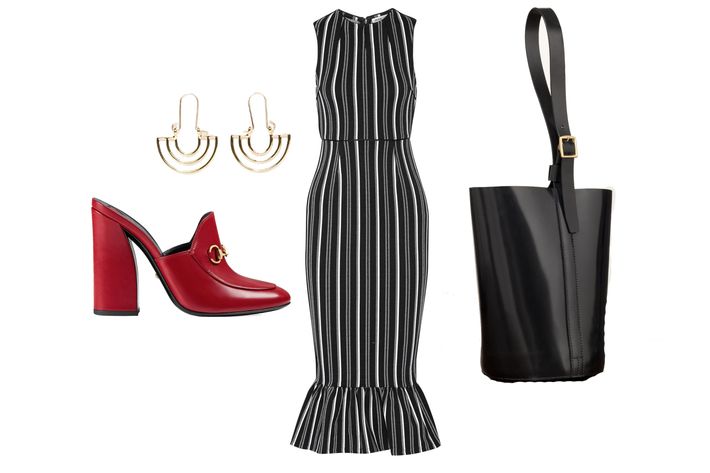 Those first few years at any creative job are hard, but what you're not making in dollars, you're gaining in a ton of experience. Then one day you finally get the chance to leap ahead and earn a real paycheck. Fast fashion won't cut it here — think about finding an interesting dress and shoes that you show you're keeping up with the current aesthetic trends.
Opening Ceremony Lotus striped dress, $475, Net-a-Porter; Trademark bucket bag, $528, Trademark; Gucci Princetown leather mule, $695, Gucci; Arc earrings, $22, Need Supply
You'd Be the Boss: Corporate Work Environment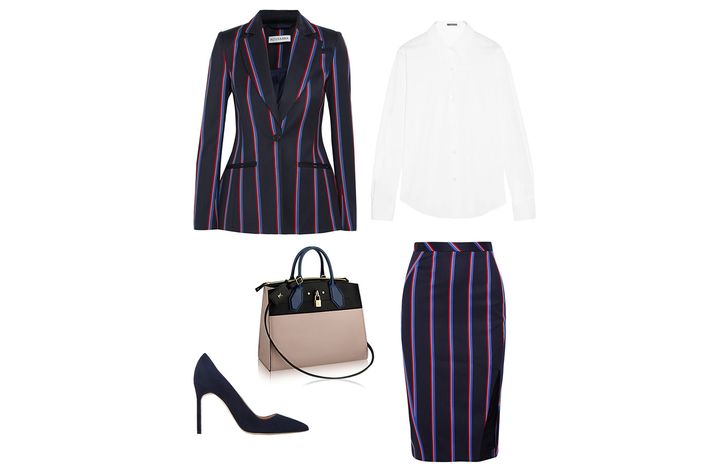 At this point, your work speaks for itself, so you don't have to play it as conservative. Try this Altuzarra navy suit that features red-and-blue stripes with a tailored white shirt and classic black pumps. And does anything say "power bag" like a Louis Vuitton? Nope.
Altuzarra Acacia striped wool blazer, $1,795, Net-a-Porter; Altuzarra striped pencil skirt, $950, Net-a-Porter; Theory Tenia shirt, $245, Net-a-Porter; Manolo Blahnik BB pumps, $595, Barneys New York; Louis Vuitton City Steamer MM, $3,850, Louis Vuitton locations
You'd Be the Boss: Creative Work Environment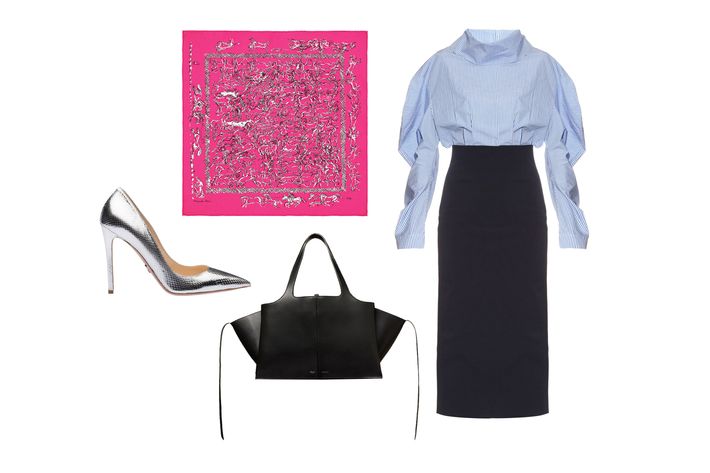 Anyone can buy a head-to-toe designer look but you didn't get this far by being lazy. This dress is by a lesser-known designer, so you appear ahead of the trends, while an Hermès scarf knotted at the neck adds another layer of color and interest. Then it's a matter of mixing shapes and texture in the form of silver pumps and a unusually shaped tote.
A.W.A.K.E. preppy collar funnel-neck dress, $1,395, Matchesfashion; Hermès silk bandanna, $185, Hermès; Céline tri-fold bag, $3,100, Céline locations; Prada silver pumps, $790, Prada