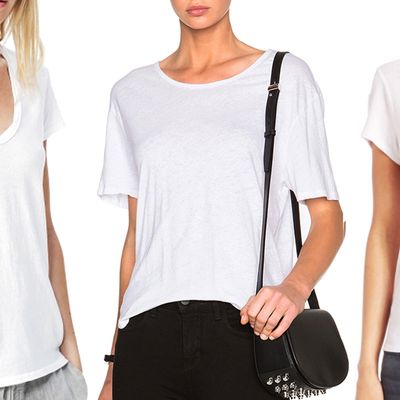 Last month, we asked nine men to name their favorite white T-shirts, and the consensus was loud and clear: Hanes, be it V-neck, crewneck, tagless, or ComfortBlend. Now, we've asked 12 stylish women to muse on their favorite white tees: not too sheer, not too tight, anything but cap sleeves — and not a Hanes in sight.
For dressing up: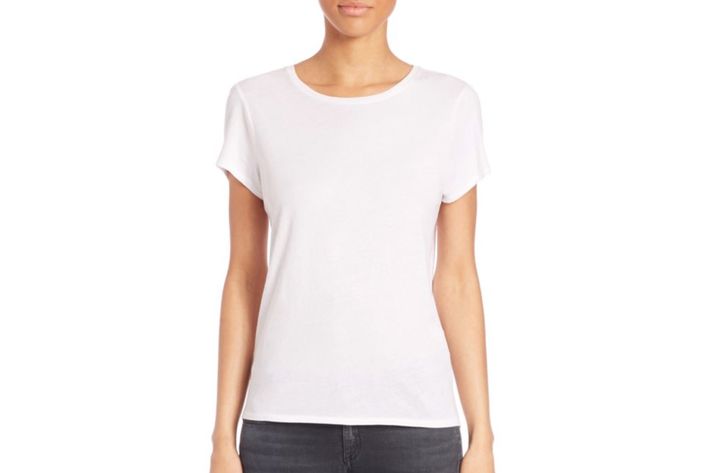 Rag & Bone Base Tee
"I like the Rag & Bone Base Tee because of the fit and feel. I'm tall so I like the T-shirt to hit below my waist. It also has a little sheer look — not solid white — so it makes it a bit dressier and more feminine." —Lindsey Boyd, co-owner of the Laundress
Buy it: $85 at Saks Fifth Avenue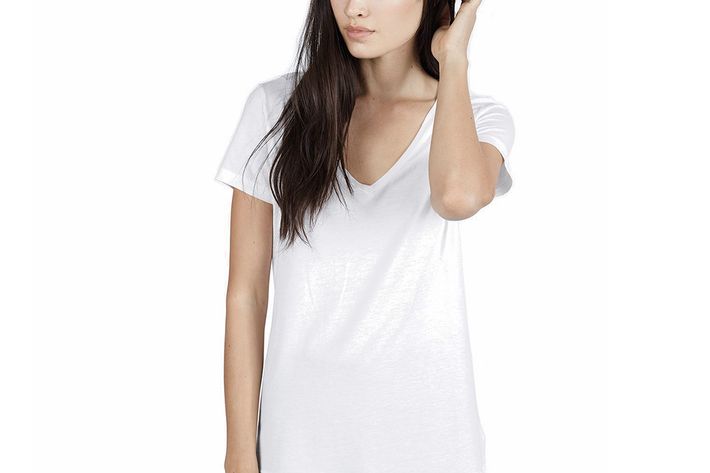 Everlane Cotton V
"I like the Everlane V-neck because of the company's transparency. It's an ethical issue — I like to know where the clothing is made. And I like this specific shirt because I wear a lot of necklaces, so the depth of this V shows them." —Elizabeth Rose, server at Café Gitane
Buy it: $15 at Everlane
For wearing with an army jacket: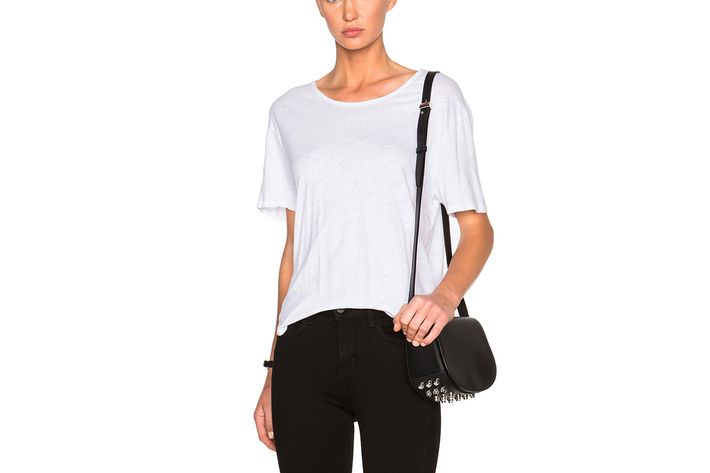 James Perse Relaxed Linen Cotton Tee
"I love my slub-linen-and-cotton tee from James Perse. It's pretty much an essential white T-shirt and slots seamlessly with most outfits. The cut is a pretty loose fit, and I like its semi-sheer vibes. I usually wear my white tees with sweatpants or yoga pants, maybe with an Army-green jacket. Also on the beach over swimsuits." —Maya Jankelowitz, owner of Jack's Wife Freda
Buy it: $115 at Forward
For tucking in to high-waisted shorts: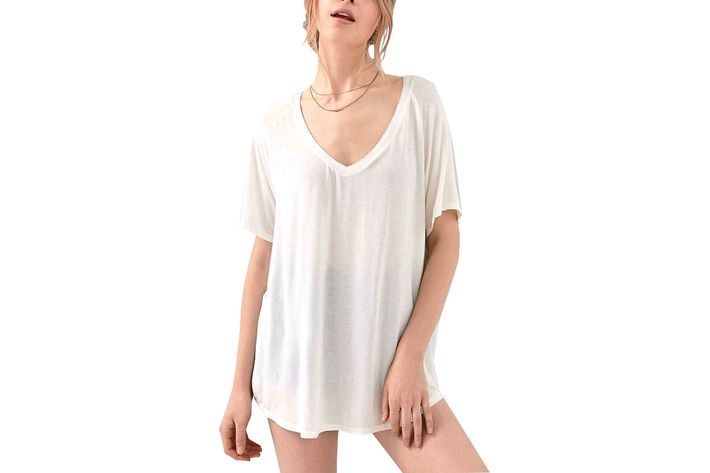 Project Social T Austin Tee
"I like a white shirt to feel like an occasion, something that only needs my well-moisturized skin and a few gold necklaces to set off. Lately, I've been really into the Project Social T because it has enough weight and length to give it a dramatic slouch and a good silhouette that flatters my curves. It is also incredibly versatile. I can wear it tucked in to a pair of high-waisted shorts or ripped boyfriend jeans or over leggings with a blazer for meetings. It's sexy without being overly femme, which is important to my current aesthetic." —Jenna Wortham, staff writer for The New York Times Magazine
Buy it: $39 at Urban Outfitters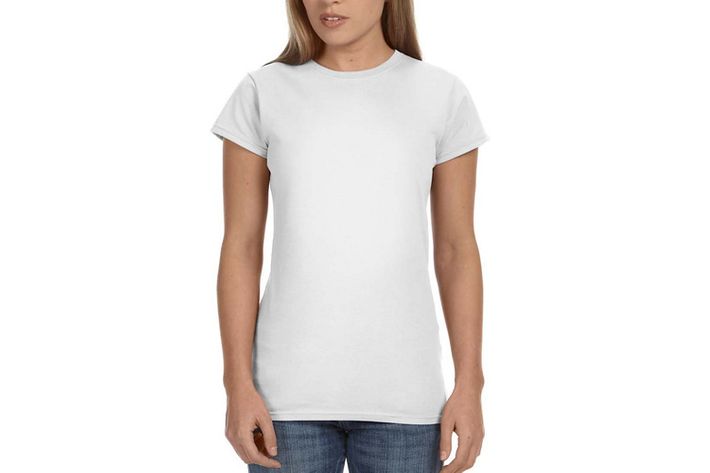 Gildan Soft Style 64000
"My shirt is a Gildan Soft Style 64000. I play a lot of our shows in it because I always feel comfortable in it. And I love the feeling this shirt gets when you've worn it for a long time — loose but fitting, with a stretched-out collar. I cut a few inches off the bottom, so it barely meets the waist of my jeans." —Jane Penny, singer, TOPS
Buy it: from $3 at Amazon
For wearing with low-rise pants: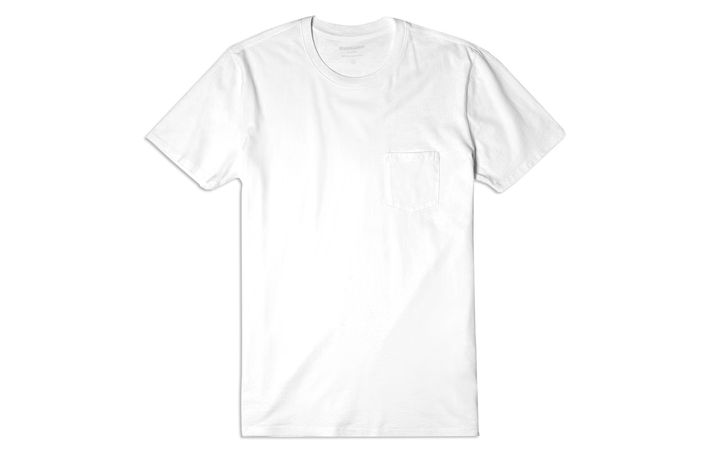 Everlane Men's Cotton Pocket
"A great white T-shirt is soft, works tucked and not, and strikes the perfect balance between loose and snug. I like the Everlane Men's Cotton Pocket because it hangs nicely with low-waist pants." —Anna Gray, writer and editor of Things I Would Buy If I Didn't Have to Pay Rent newsletter
Buy it: $15 at Everlane
James Perse Casual T-shirt
"My face is round so my T-shirt has to have a round neck. It's a very light, not sensitive fabric. In the summer I wear them with linen — under an open linen shirt, or with linen pants." —Minnie Min, tailor and owner of Grand Cleaners
Buy it: $50 at James Perse
For a mock-neck vibe: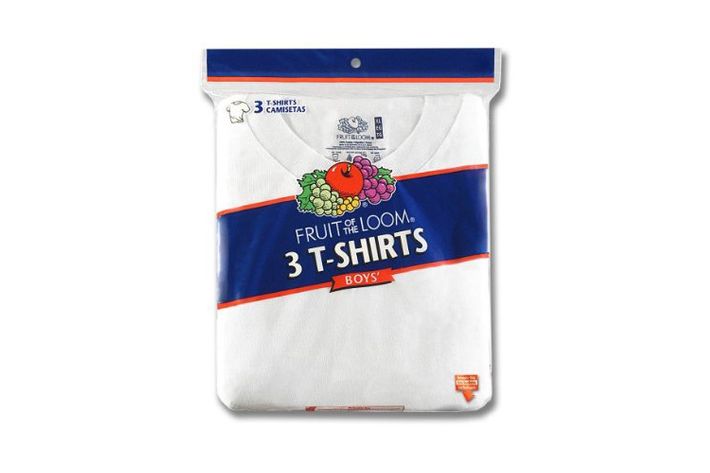 Fruit of the Loom Boys Three-Pack Crewneck Tee
"The most crucial detail to my favorite white T is a high and tight-ribbed crewneck. I've found the best ones to be assorted among the boys' classics. I like an early-2000s Fruit of the Loom boys three-pack crew. The packaging must feature the classic dark-blue stripe and saturated fruits. Mock neck look is guaranteed." —Mellany Sanchez, stylist
Buy it: from $5 at Amazon
For bringing to friends in Europe: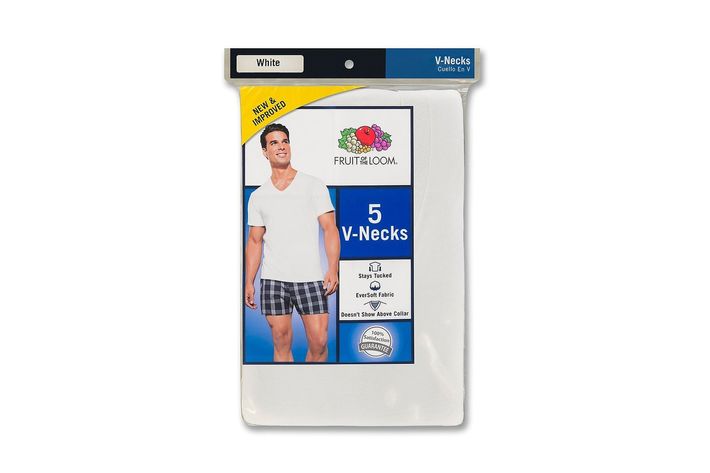 Fruit of the Loom Men's White V-necks
"Whenever I go to Europe it's what my friends want me to bring for them. It's because of the fit — they are very straight and sit flat along the chest. I even keep one here in the store, just in case." —Rosemary Matovu, owner of Madame Matovu vintage store
Buy it: from $10 for a five-pack at Amazon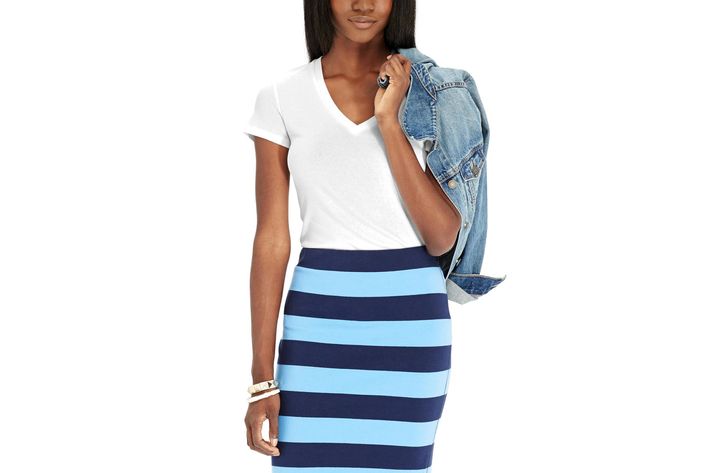 Old Navy Perfect V-Neck Tee
"My favorite white T-shirt is the perfect V-neck short-sleeve from Old Navy. For me, a lot of it has to do with comfort. I'm on the bustier side and crewneck T-shirts make me and 'the ladies' feel like I'm choking. V-necks give me some room to breathe while giving it a little bit of a flirty flair. Also, because I work in the restaurant industry, affordability is super-important. And the material is actually not that bad. It lasts for more than one wash!" —Sunnie Park, pastry chef at Charlie Palmer at the Knick
Buy it: $6 at Old Navy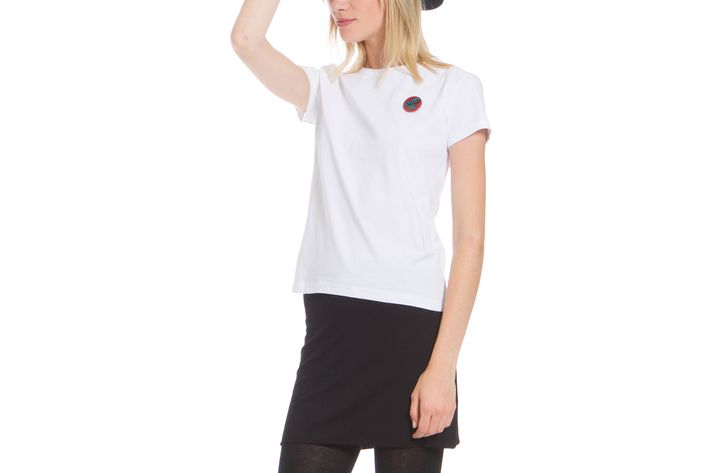 Agnès B. Brando T-Shirt
"I like a boxier cut with a shorter length and shorter sleeves — but not cap sleeves, which visually add two or three inches to the circumference of your arms. I have an e-Bay alert for vintage Agnès B. thick-ribbed T-shirts, but their current Brando style is nice. It has good weight to it and I like the tight cut of the neckband and where the shoulder seams hit." —Annie Kreighbaum, executive editor, Glossier
Buy it: $65 at Agnès B.
For an off-the-shoulder look: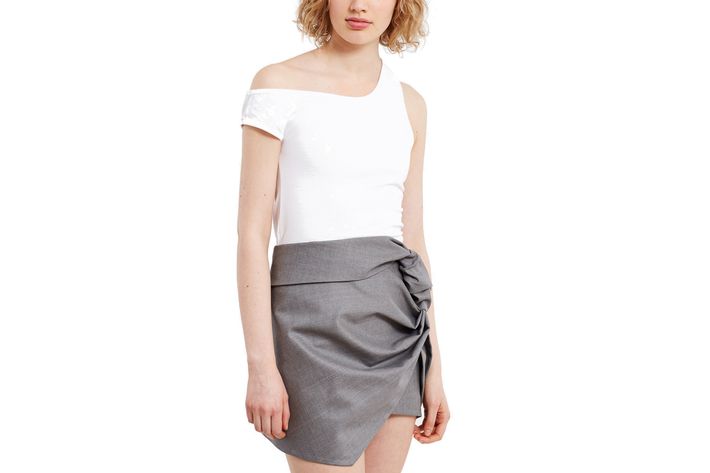 Jacquemus's Le Marcel Qui Tombe Shirt
"I love this T-shirt so much is because it's so special — it's off-the-shoulder on one side. Having a white shirt that is off-the-shoulder on one side transforms a classic white shirt into something much more unique and feminine." —Maryam Nassir Zadeh, designer and owner of Maryam Nassir Zadeh
Buy it: $57 at Opening Ceremony