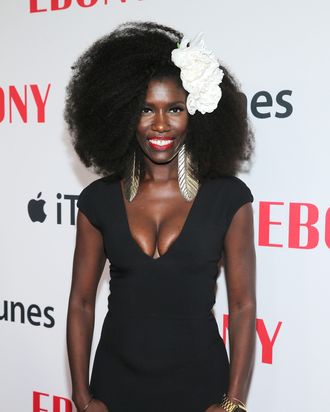 Bozoma Saint John
Photo: J. Countess/Getty Images
At Apple's Worldwide Development Conference yesterday, executives debuted new emoji features, a puzzling "bubble"animation within texts, handwritten notes, blah, blah, blah. Look, the conference's main attraction was Bozoma Saint John, one of the first black women to ever appear onstage at WWDC. Heading Apple Music's Global Consumer Marketing division, Saint John commanded a rapt audience as she goaded attendees to sing along to "Rapper's Delight" and then artfully mocked the crowd of developers when they clapped like a pack of sea lions. So who is this marketing savant? Below, 13 facts about Bozoma Saint John.
1. She's Ghanaian, but she moved to Colorado when she was 14.
2. Remember the greatest Apple Music commercial of all time — with Taraji P. Henson, Mary J. Blige, and Kerry Washington? You can thank Bozoma for that.
3. Her resume is padded with stints at Spike Lee's advertising agency, Pepsico, and Beats Music before it transitioned to Apple Music in 2014.
4. Beyoncé's blackout super bowl performance was arranged by Bozoma in 2013.
5. Her taste in music is exemplary. (What else would you expect?)
6. Lael, her daughter, is the cutest.
7. Billboard named her a "Top Woman in Music."
8. Going against her parent's wishes, Saint John majored in English and African-American Studies at Wesleyan University.
9. When she ran for student council in the tenth grade, her campaign slogan was "Nuthin but a Boz thang."
10. She's been inducted into the American Advertising Federation's Advertising Hall of Achievement.
11. If you don't call her Boz, then you're not her friend.
12. Andra Day serenaded Bozoma at a gala held in her honor.
13. Her selfies are better than yours.