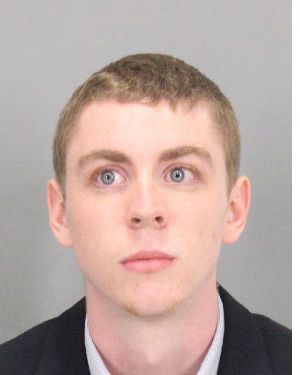 Brock Turner's mugshot
Photo: Courtesy of the Santa Clara County Sheriff
In March, 20-year-old Stanford swimmer Brock Turner was convicted of three counts of felony sexual assault and found himself facing up to ten years in prison after he was discovered assaulting an unconscious and intoxicated woman behind a dumpster. But last Thursday, Judge Aaron Persky handed down a lenient sentence of six months in jail, saying, "A prison sentence would have a severe impact on him. I think he will not be a danger to others." (Turner will also have to register as a sex offender.)
Since then, there's been a massive amount of public outcry over how this rape case played out, with many pointing to Turner's privileged position as a white man and an all-American athlete at an elite university as one of the main reasons why he received such a light sentence.
As to whether it was an unusually light sentence, Michelle Anderson, the dean of the City University of New York School of Law and a prolific scholar and specialist on the subject of rape law, told the Cut that "sexual assault cases not infrequently result in very lenient sentences. Often the sentence and the sense of culpability that people have is heavily influenced by the assessment of both the defendant and the victim in ways that are somewhat more acute in these kinds of cases than they are in non-sexual-assault cases."
"What I'll say is that race and class often affect these kinds of cases, both at the guilt phase and at the sentencing phase," Anderson added. "The fact that this defendant has been called a 'star athlete' or an 'all-American' swimmer repeatedly in the media reflects the importance that many people place on the fact that he was a student, an athlete, and someone who went to a prestigious institution."
That this was a campus rape was also likely influential on the sentencing. Anderson points to what she calls the "he had a bright future argument" that's often prevalent when attempting to prosecute student rapists — an argument that often makes it more difficult to do so.
"Our perception of the gravity of the offense and therefore the appropriate punishment varies often with the sympathy people have for the defendant. And often that sympathy or lack of sympathy is based on constructs: the assumption that rape happens between strangers, the assumption that it happens with defendants who are uneducated, that there are weapons present, and that the victim fights back at the maximum amount of her capacity," Anderson says. "All of these are stereotypes we have, social constructs that we have about what rape looks like. And when something violates those social constructs, people tend to be more suspicious about the gravity of the offense or if it even occurred. And if it did occur, how and if it should be punished." 
The presence of alcohol and drugs tend to make the sentencing even more difficult in these cases, said Gloria Allred, a discrimination attorney who's been practicing for more than 40 years and has worked on some of the most high-profile sexual-assault cases in America, including representing many of the women who accused Bill Cosby of sexual assault. "Often it's treated as though, well, she was intoxicated, he was intoxicated, so that's kind of equal conduct in the sentence," she said. "That's not fair, that's not right, that's not the law because if a victim is incapacitated she cannot consent."
There is currently a petition circulating to get Judge Persky removed from the bench, though Anderson says, "Realistically, there is very little to no chance that the judge will recuse or that this case will be resentenced."
Allred expressed a similar sentiment, saying, "It's very rare for a judge to be recalled. All I can say is that people can express their feelings at the ballot box."
Whether the outcry over this case symbolizes a turning point in how campus sexual assaults are prosecuted has yet to be seen. But, Allred said, "I think that the victim herself has accomplished a great deal and really should be commended for what appeared to be a very honest and a very powerful and a very moving victim impact statement which really helped many people to understand what it's like to have to suffer the kind of sexual assault that she did. I think she's done a great service to the community to have been very courageous and to have put forth what happened to her in such powerful detail."