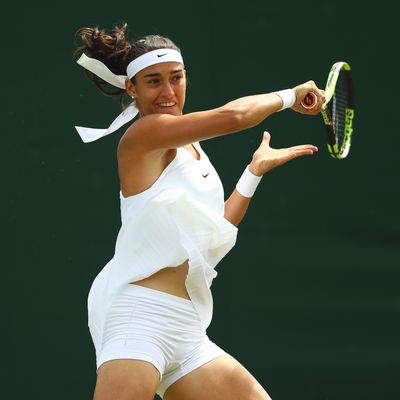 Cagla Buyukakcay.
Photo: Julian Finney/Getty Images
It's been over 40 years since female tennis players were granted the same prize money as their male counterparts at some of the top tournaments, but that doesn't mean there's nothing for elite female athletes to worry about. In March, it was idiot men saying women didn't deserve equal pay; this month, it's poorly cut dresses that make it hard to play.
Nike, which has deals with some of Wimbledon's players to wear their apparel during play, designed a dress-code appropriate dress for the tournament that several female tennis players have said literally gets in the way. Its cut is akin to a babydoll dress — loose and one big sheet of fabric — and it runs so short that some players have opted to wear leggings underneath it instead. Who at Nike thought a billowy, formless dress would make playing tennis any easier? The dresses were taken in for last-minute alterations, sewing up the slits on each side to give the dress a little more form, but even then some women decided to opt for something else.
Roberta Vinci told the Times that when Nike offered the women players the option to switch to a skirt and top instead, she did so immediately. "It was too short I think, and now we have a skirt and normal shirt," she said. "Nice and comfortable, and everything is now going to be okay for the players, I think." Daria Kasatkina agreed. "If something is bothering you all the time, no. I tried the dress during a practice, and I didn't like it so much. It was always going up, so you can see the stomach, everything. It's not very nice," she told the Times.
The only person this doesn't affect? Serena Williams, who gets custom-designed outfits from Nike. Pays to be the queen.