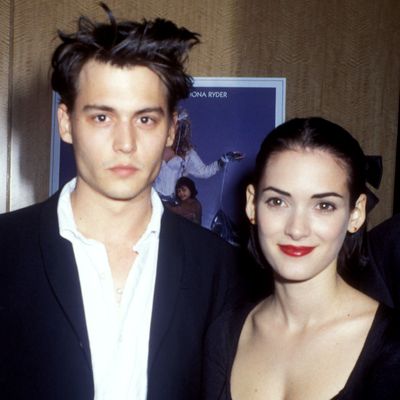 Johnny Depp and Winona Ryder.
Photo: Barry King/Getty Images
Shortly after Amber Heard filed for divorce from Johnny Depp, she also filed for a restraining order, claiming Depp verbally and physically abused her throughout their marriage. Photos and texts that documented Depp's alleged abuse have been released, friends have spoken up in solidarity, and Heard and her friends are all willing to testify under oath at upcoming hearings.
Depp also has his supporters. Soon after the allegations broke, daughter Lily-Rose Depp posted an Instagram of the two of them together when she was a baby, with the caption, "My dad is the sweetest, most loving person I know, he's been nothing but a wonderful father to my little brother and I, and everyone who knows him would say the same." Depp's friend, comedian Doug Stanhope, said Heard is "blackmailing" her estranged husband. And, in a new interview with Time, Depp's ex Winona Ryder was asked about the allegations against Depp.
She calls the thought "unimaginable."

"I can only speak from my own experience, which was wildly different than what is being said," Ryder says. "He was never, never that way towards me. Never abusive at all towards me. I only know him as a really good, loving, caring guy who is very, very protective of the people that he loves."

"I wasn't there. I don't know what happened. I'm not calling anyone a liar. I'm just saying, it's difficult and upsetting for me to wrap my head around it. Look, it was a long time ago, but we were together for four years, and it was a big relationship for me," she says. "Imagine if someone you dated when you were—I was 17 when I met him—was accused of that. It's just shocking. I have never seen him be violent toward a person before."
While perpetrators of domestic violence do often engage in patterns of abuse, that's not always the case. Depp may not have laid his hands on Ryder when they dated from 1989 to 1993, but in no way does that indicate his innocence in the current case with Heard.
Ryder's support of Depp — in particular, the language she used to describe him — brings to mind the recent case of Brock Turner. Turner, a former Stanford swimmer, was convicted of three counts of felony sexual assault after he was found attacking an unconscious woman behind a dumpster; he ultimately only received a sentence of six months in jail, partially because the judge was so swayed by the letters written in Turner's support. Court records reveal that these letters — from Turner's mother, father, friends, and even his guidance counselor — all echo the same sentiments: He was always sweet, he was always kind, and it was unimaginable that he could ever do something so heinous. Yet, that's exactly what he did.