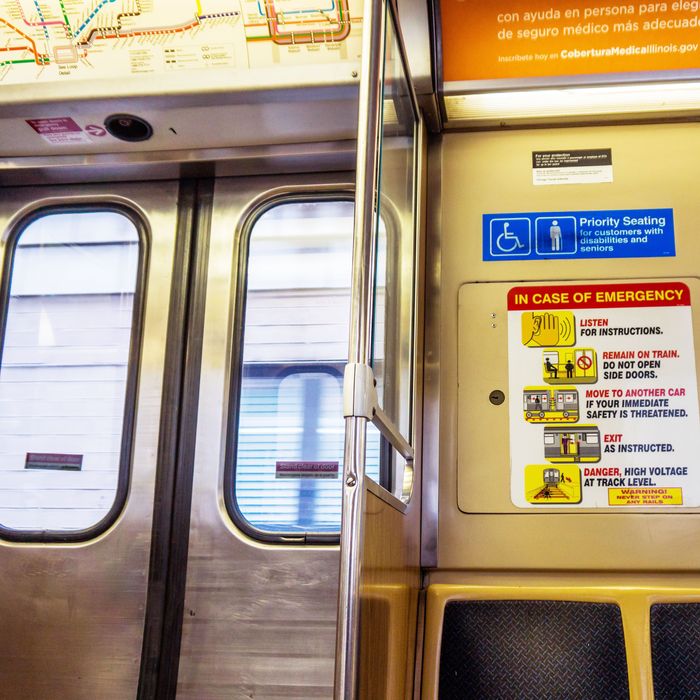 Photo: Joseph DeSantis/Getty Images
A Chicago woman was stabbed to death on an afternoon subway train by a man she was dating — and now her family is begging for viral videos of the assault on social media to be taken down.
On Thursday at 12:35 p.m., 25-year-old Jessica Hampton was sitting across from a man with whom she apparently had a relationship on a Red Line train traveling through Chicago's South Side. He asked her a question about a child (or about having children; reports are unclear) and she argued with him, reportedly refusing his advances. He stood up and started stabbing her. She apparently fought back, screaming, "Help me, help me!" before falling to her knees. He grabbed her neck, slit her throat, and torso, and said something while standing over her body, according to police. A few male passengers reportedly tried to help her, but couldn't safely get past the man's knife.
"As the doors opened on the train, he walked off, stepped over her body and walked off like nothing happened," a witness told the Chicago Tribune. Passengers fled the train, screaming, and calling the police. A police officer on the platform caught the man without a struggle, and Hampton was found dead at the scene. The man was taken into custody and to a hospital for stitches to his own wounds.
Hampton leaves behind a 5-year-old daughter, who had lived in foster care while her mother recovered at a halfway house after problems with staying sober. Her family said they had only recently met the man — they had seen him at the halfway house. They're now pleading for people to remove violent videos of the attack, which have gone viral on social media.
"I'm asking Facebook and all social media to pull the IP address of anyone that's posting this, because it's an insult to the family," a community activist told ABC7 Eyewitness News. While investigators examine surveillance video of what they say is a definite domestic assault, he hasn't yet been charged.