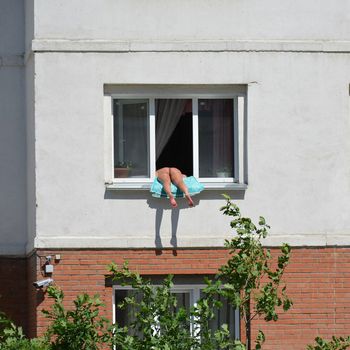 Our intrepid sunbather
Photo: Courtesy of news.ngs.ru
Summer is fleeting — one day you're sipping rosé on a rooftop bar, then the next thing you know, you're bundling up in five layers before leaving the house — so it's crucial to take full advantage of the season while it's here. But nobody in history embodies the spirit of summer quite like this woman, whose claim to fame is precariously hanging half her body out of her window so that she can sunbathe her butt.  
According to Meduza, this resident of Novosibirsk, Russia (and her butt), can be found lounging in the same position from 10 a.m. to 1 p.m. every single day, "weather permitting."
Her neighbors have complained — even going so far as to bring a petition against the sunbather to the building administrators and the local police — to no avail. She will not be unbowed in her quest to have a perfectly tanned butt. 
May her resilience and fortitude be an inspiration for having your best summer ever.