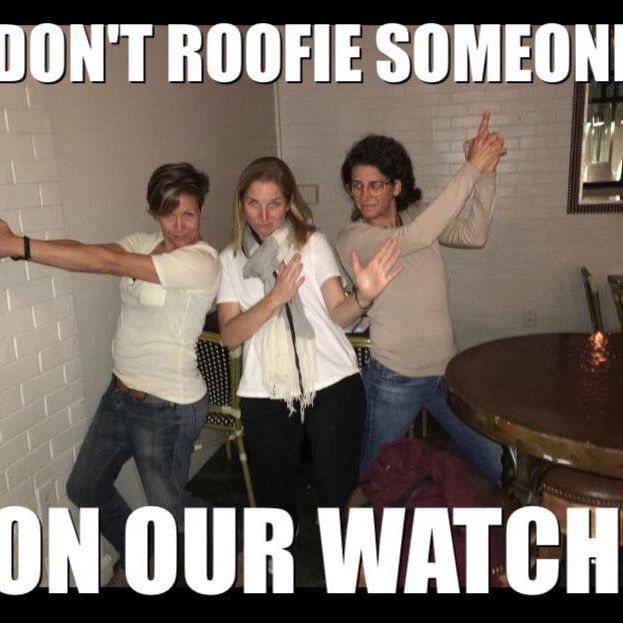 Photo: Courtesy of Facebook/Sonia Ulrich
Three women who reported a stranger allegedly being drugged by her dining companion and close friend have become heroes around the world after becoming an unlikely crime-stopping trio. And all they set out for that evening, according to a Facebook post published by one of the women, was some charcuterie and fancy cheeses.
The drama unfolded on Thursday when the three women were enjoying happy hour at a Santa Monica restaurant. One of the women, Monica Kenyon, reported spotting a man at a nearby table pull out a black vial and drop the contents into his date's wine glass while she was in the restroom.
"Then he tried to play it cool, like checking his phone and hiding the vial in his hand and then trying to bring it back down slyly," Sonia Ulrich, another woman involved, wrote in a Facebook post that went viral the next day.
Ulrich followed the woman into the restroom to tell her what had happened. The woman was dumbstruck: The man was one of her best friends, she told Ulrich. (According to RAINN, the world's largest anti-sexual-assault organization, 47 percent of rapists are a friend or acquaintance, and about 80 percent of assaults are committed by someone who is known to the victim.)
After they returned from the bathroom, the woman sat with the man who was allegedly attempting to drug her for 40 minutes, according to Ulrich's post. He attempted to get her to drink several times in that period, she wrote. "Eventually, they finished up dinner," Ulrich continued. "There was a delay getting their bill 'The computer is down' is what the waiter kept saying to him. Then, in walks Santa Monica PD. They say 'Come with us' and he doesn't protest. Doesn't ask why. Doesn't seem surprised."
Ulrich added that the staff of the restaurant had reviewed a video of the events.
According to a news release issued by the Los Angeles County District Attorney, the suspect, 24-year-old Michael Roe Chien Hsu, was charged with two felonies May 31, including administering a drug and assault with intent to commit a sex crime. He faces a maximum sentence of six years in state prison.
Ulrich said that other diners came up to thank her after the police left, and to tell the women that similar events had happened to them or to people close to them.
"'It happened to my sister … I'm glad I was there to take her home.' 'It happened to my roommate at a producer's party. He's still messed up from it.' 'It happened to me. At a backyard barbecue.' 'It happened to me. At a bar I worked at,'" she wrote, describing what people told her.