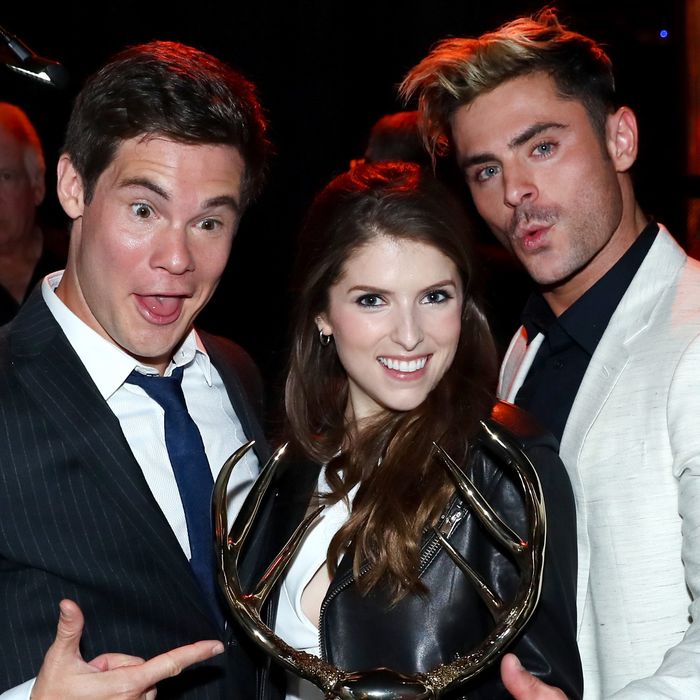 The star of the show, and two others.
Photo: Mark Davis/Getty Images
Spike TV isn't known for its progressive, gender-stereotype-busting programming, and its tenth-annual Guys' Choice awards (which filmed on Saturday at Sony Pictures Studios and will air Thursday at 9 p.m.), was a similarly testosterone-fueled celebration. Skimpily clad showgirls greeted guests (thanks to the night's Casino theme, in honor of the film's induction into the Guy Movie Hall of Fame), tigers lazily roamed within the glass-walled background, and Robin Thicke, sleazy singer of questionably rapey R&B tunes, was a featured performer. But amid all the braggadocio, women were the night's scene stealers.
Despite a mildly creepy introduction from Rob Riggle, who nearly hyperventilated over the sexiness of Our New Girlfriend award recipient Gigi Hadid, and a "let me give it to you" serenade from Thicke as she received her "mantlers," the supermodel managed to give a sweet speech. She said that when she called a friend that morning for advice, she suggested Hadid make a joke about something mean she did to a crush when she was younger, but it turns out there were no jokes to be made. "I was like, you know what? I've always been kind of a good girlfriend," she said. "Like, even in middle school when I had crushes, I've always been nice." She ended by thanking Muhammad Ali: "[He] has touched me so much in my life, I'm so grateful to have met him, so I just wanted to openly say, Rest in peace, Muhammad. You're the champ."
Charming-dude duo Zac Efron and Adam Devine, the night's Comedy MVP honorees, introduced Hot & Funny award winner Anna Kendrick with a bit about Devine thinking he and Kendrick's working relationship was actually a dating experience thanks to her beguiling charm. The Pitch Perfect actress began her speech by saying, "It's so wonderful to finally be recognized for being so physically perfect. For just being this specimen of beauty and lust …" When Devine and Efron interrupted her, wanting to make sure she knew that she was "funny, too," Kendrick responded with the bitingly sarcastic, "Guys, guys, it's a lot of work being funny all the time. Can I just be hot for once, with no skills and no talent?" eliciting a cheer from all the ladies. "Anna Kendrick, everybody, a hot piece of meat!" Devine then declared, to audience applause and exaggerated thanks from Kendrick — a meta-commentary on the night in general.
Julia Roberts got the most respectable intro of the night from her onscreen and IRL BFF Dermot Mulroney and her The Normal Heart co-star Matt Bomer, one befitting of the Woman of the Decade winner. The actress, who's been stealing hearts of all genders since 1988's Mystic Pizza, was welcomed to the stage by a gay men's choral group, singing an a cappella version of "I Say a Little Prayer," with lyrics like, "We are a gay chorus/ But there is one woman for us." After thanking the troops and her husband of 14 years, Danny Moder, she exclaimed, "It's so nice to be liked by guys now that I'm in my golden years!" Should we all be so lucky to have "golden years" such as Julia Roberts.
The last hurrah for women of the evening came from a man. Christian Slater introduced James Franco, winner of the Virtuoso award, handing him multiple "mantlers" for his many talents (including "poetry"). The mustachioed multi-hyphenate used his time onstage to extol female filmmakers:
"I was a part of a documentary last year, I don't know if this statistic is accurate, but they said that of all studio directors last year, only 1 or 2 percent were women. So I'm just gonna give a little love to the women tonight. I know it's the guys' night, but recently I've worked with some incredible female directors: granddaughter of the great Frances Coppola, Gia Coppola; one of my fellow film students, Pamela Romanowsky; great theater director Anna Shapiro; great showrunner Bridget Carpenter; and the awesome Michelle MacLaren from Breaking Bad and Game of Thrones. I couldn't have done the past couple of years without you, thank you so much."