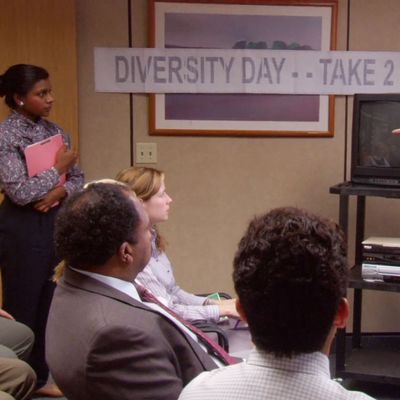 No more diversity days.
Photo: NBC
The subject of diversity at the workplace can trigger unintentional eye-rolls: What is "diversity" to a workplace that is not committed to sustaining it? While we've learned that people of color and women are penalized for speaking out about diversity, and white men are still upset about the fact that it should be something their companies consider, all of our recent investigating in the realm can be exhausting. Why? Because it turns out diversity programs at the workplace don't exactly work.
In the new July-August cover story for the Harvard Business Review, researchers aimed to discover what happens when companies institute diversity training. You may be surprised to learn that diversity programs and training can have the opposite intended impact.
Many firms see adverse effects. One reason is that three-quarters use negative messages in their training. By headlining the legal case for diversity and trotting out stories of huge settlements, they issue an implied threat: "Discriminate, and the company will pay the price." We understand the temptation — that's how we got your attention in the first paragraph — but threats, or "negative incentives," don't win converts.
Researchers Frank Dobbin and Alexandra Kalev looked at "three decades' worth of data from more than 800 U.S. firms" and "interviewed hundreds of line managers and executives at length" for their research. They found that the actual best approach to encouraging a diverse workplace was to encourage engagement, not to negatively incentivize sensitivity to inclusion: "A number of companies have gotten consistently positive results with tactics that don't focus on control. They apply three basic principles: engage managers in solving the problem, expose them to people from different groups, and encourage social accountability for change."
The full story and the rest of their findings can be read at the Harvard Business Review.