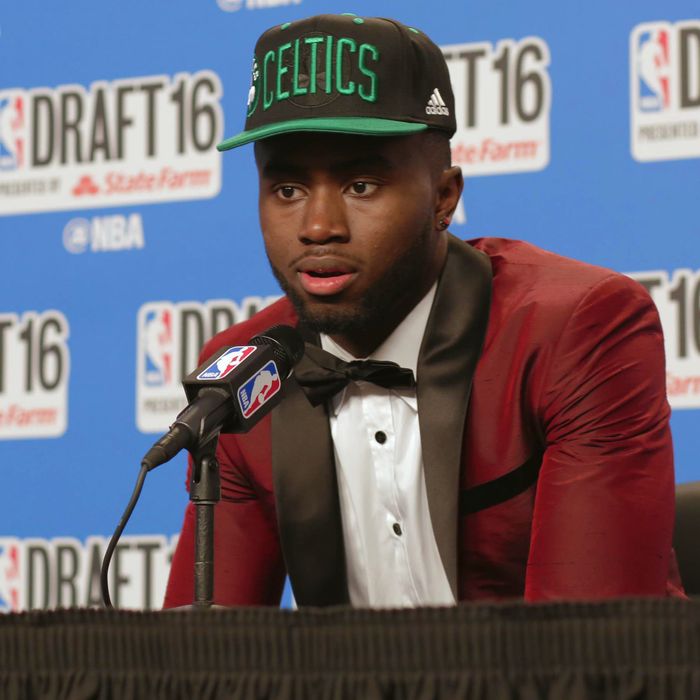 Photo: Amanda Westcott /NBAE via Getty Images
Yesterday, 60 college and overseas basketball players were drafted into the National Basketball Association. Most of them will never catch on in the long term with an NBA team, but those who do face a pretty profound psychological challenge as they transition to the pro level: At a time when they'll be facing the biggest and most skilled opponents they ever have, they'll also be under a level of scrutiny that will be unlike anything they've previously experienced.
Suffice it to say that this presents a psychological challenge. So it's no wonder that more and more players are, from an early age, not just working out and doing skills drills endlessly, but honing the mental side of their games as well. In Vice, Matthew Giles, a former New York Magazine staffer, has an interesting profile of Graham Betchart, a 38-year-old "mental-skills coach and one of the most influential, yet unknown, individuals working in college and the NBA."
Betchart, who helps young players stay focused and motivated and, perhaps most importantly, ignore the increasing noise all around them, has worked with players ranging from top-three picks last night Ben Simmons and Jaylen Brown to current NBA players like Zach LaVine, Marcus Smart, and Andre Drummond. Betchart describes himself as a good salesman, and he's now immersed in various NBA and college networks, which allows him to reach out to prospects and start advising them, for free, at a very young age — sometimes 15 or so. "A lot of my work involves planting the seed in these guys' heads, and then being available the moment they reach out," he told Giles. "It is not normalized for young men to reach out and be vulnerable, so I just want to be there when they are ready."
That's the interesting part: how new all this stuff is. Twenty or 30 years ago, someone like Betchart would have had a really uphill battle convincing young players they needed any sort of mental conditioning to go along with their physical training. But especially since Michael Jordan and Kobe Bryant started doing this sort of work, and were public about it, it's caught on among players looking for an edge in a league that's so hypercompetitive that even six-foot-eight athletic freaks of nature often aren't able to stick around for more than a year or two.
A good example of the sort of work Betchart does comes at the top of Giles's piece, where he talks about what what happened when Brown, who played a year at Cal before getting drafted by the Celtics last night, got his first taste of real criticism after coming up as a highly touted prospect:
The

NBA

circus was unlike anything the 19-year-old had experienced before. After spending an entire day in May interviewing with

NBA

teams in Chicago in an attempt to quell any doubts, he headed to Michael Jordan's Steakhouse to unwind with a late-night

dinner.

Brown wasn't dining alone. Over salmon, asparagus, and mashed potatoes, he met with [Betchart]. Betchart had advised Brown since he was 15 years old, and over their three-hour meal that night he stressed the same teachings that had helped the wing emerge as a

NBA

lottery selection in the first place.

"I told Jaylen, 'What do we control here?'" Betchart says. "Basketball is what you do, it's not who you are. Let everyone have their opinions about you. That's the deal."

It doesn't look like Graham has specialized training in psychology — not that that disqualifies him from advising athletes — and I can't vouch for his particular method, which based on Giles's gloss seems to draw from established areas like cognitive-behavioral therapy (Graham has recently launched an app for folks who want access to his style of training at home, and more in-depth $99.99-year memberships are available as well).
Again, though, what's most interesting here is that cultural shift: that Betchart can approach adolescent megajocks, pitch them the benefits of psychological training, and not get laughed out of the gym. It's an encouraging sign of how the times have changed when it comes to the way young men talk about mental health.