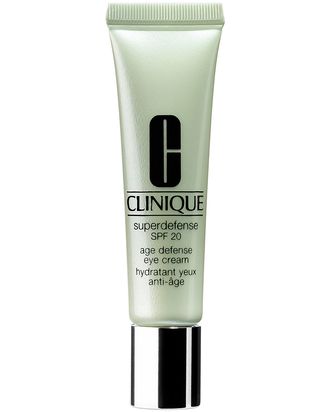 Clinique's combination eye cream and SPF.
Photo: Clinique
I love the sun, but countless dermatologists tell me that it does not love me back. Scared straight by roughly 3,654 hours of sun-protection presentations, I now love the sun from afar, under a veil of broad-spectrum SPF 30.
The newest addition to my SPF arsenal is this rare eye cream–sunscreen hybrid. The cream is rich without being cloying, and comes in a light pinky-nude color that contains the tiniest number of light reflectors, so you get a little bit of that Touche Éclat–like radiance. But the main draw is the sun protection. It's hard to find an eye cream with sunscreen that doesn't leave a white or gray cast on the skin, slide all over your face, or leave your under-eye area dry like toast. This avoids those problems, simply and easily, and allows me to enjoy the sun without disappointing my dermatologist. 
Clinique 'Superdefense' Age Defense Eye Cream Broad Spectrum SPF 20, $41