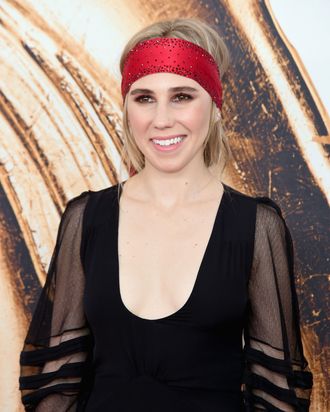 Zosia Mamet at the CFDA Awards.
Photo: Jamie McCarthy/Getty Images
Zosia Mamet wore a red, '70s-inspired Swarovski-studded headscarf by Gigi Burris to the CFDA Awards on Monday night. "When Gigi told me she wanted me to wear this I was so stoked because I do hot yoga, so my hair is always, like, disgusting when I do that," Mamet told the Cut.
In fact, Mamet has conquered sweaty yoga hair: "I put it up in a bun – I have all these fabulous scarves – and then I wrap 'em up, and it hides all the greasy hair underneath," she explained happily. (Mamet's hair was clean and shiny at the CFDAs, for the record.) "I wear hats, so I was talking to Gigi on the way over here, and I was like, 'When can I come pick out, like, five different hats from you to wear in all different seasons and occasions?'"
Mamet said she keeps her hat collection on display at home, hanging from antlers. As one does.