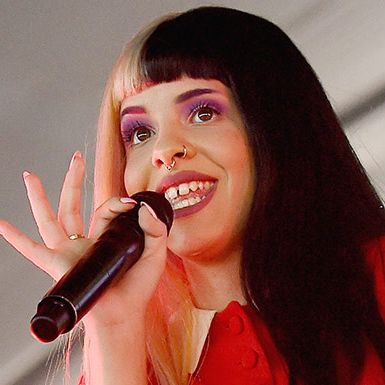 Women shook up this weekend's inaugural Panorama, New York City's answer to Coachella. Maybe the hair-braiding bar and surplus of photo booths had something to do with the festival's success, but the diverse female talent in the lineup stole the show. Brittany Howard of the Alabama Shakes and Sia took the main stage, while in the smaller tent, Grace Potter shredded barefoot and FKA Twigs facilitated a spiritual experience by dancing with a giant crystal.

For all the Grammy Award winners, the roster was full of new talent to keep an eye on, too. If you missed out, scroll down for a list of introductory tracks from a range of newcomers to catch on tour soon.
Melanie Martinez
You might recognize Melanie Martinez from her stint on The Voice, or from that haunting American Horror Story song "Carousel." She combines the eerie lullabies of CocoRosie with the theatrics of Marina and the Diamonds and the style of Japan's Lolitas.

AlunaGeorge
This dance-pop duo from London is already a hit in the U.K., but given frontwoman Aluna Francis's diva stage presence, it shouldn't take long for the U.S. to catch up. Single "I'm in Control," released earlier this year, has a perfect reggaeton-inspired summer rhythm.
SZA
The sultry R&B voice with effortless around-the-way-girl style has already appeared on tracks with Rihanna. Known in the hip-hop world for her high-profile support (Kendrick Lamar appeared on her first album), she's bound to become a star in her own right. "Ur" deserves a place on your slow-jam playlist for when it's too hot to move.
Tokimonsta
The first woman to join Flying Lotus's label, this L.A. DJ has been on the electronic music circuit for a while now. Tokimonsta released a beat-heavy album this spring. "Giving Up" is a prime example of the hip-hop undertones typical of her sound.
The Black Madonna
At Panorama, this DJ from Chicago made everyone forget it was only the middle of the day and led the party by dancing the hardest, while spinning. Get an idea of what you're in for during one of her disco-inspired sets with "Alright This Morning."