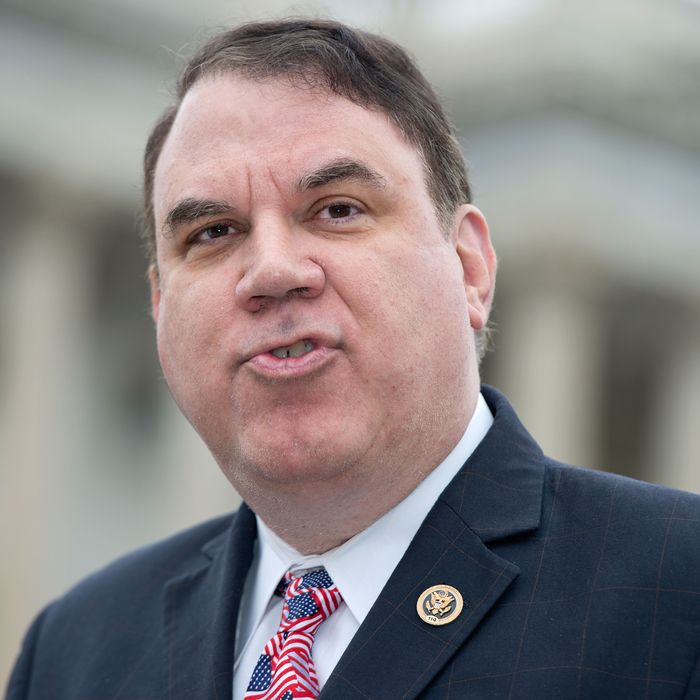 Representative Alan Grayson.
Photo: Tom Williams/Getty Images
Florida representative Alan Grayson's ongoing battle with his ex-wife, Lolita Grayson, has made headlines for years — in 2014, she accused him of shoving her outside their family home (an accusation he refuted), and their marriage was annulled last year when a judge found Lolita Grayson had not divorced her previous husband when she married Alan in 1990.
"You're getting in my way, my friend," Grayson told the reporter. "You're assaulting a member of Congress. You're pushing me. Have this guy escorted out, please."
"Do you seriously think that this is the proper way to conduct an interview?" Grayson asked, following the reporter into the hallway. "Now people know going forward that simply showing up to a public event means that you can come and hassle me." The two parted ways, with Grayson saying, "You know, I'm hoping that somebody comes here and arrests you."
Lolita Grayson said she came forward just as her ex-husband is competing in a tight senatorial race because, "I want the people to know my story so they know what kind of man Alan Grayson really is." She went on, "I requested the medical records and police records so people could read what doctors and police officers wrote." She reportedly produced documents for incidents in 1994 and 1999 in Fairfax, Virginia, and for 2005 and 2014 incidents in Orange County, Florida.
The 2014 incident has been previously reported, and the other incidents Lolita Grayson describes are similar — in 1994 she made a report to a police officer in Fairfax County, Virginia, and claimed Alan Grayson "hit her daily." The officer noted she had a "swollen left cheek, a cut on her right arm/wrist, and swollen feet." In 1999, Lolita Grayson told police her husband hit her in the back of the head with a book, and in 2005, she told officers Alan Grayson had threatened to kill her after a fight over a babysitter.
Alan Grayson has said her claims are a deliberate attempt to derail his political career. "Lolita is a disturbed woman. She has made one false allegation after another," Grayson's lawyer said in a statement. "There never has been a witness or any proof whatsoever of her claims, [which] have been so ridiculous that not one time has there even been enough probable cause to bring a charge or an arrest against Alan Grayson."