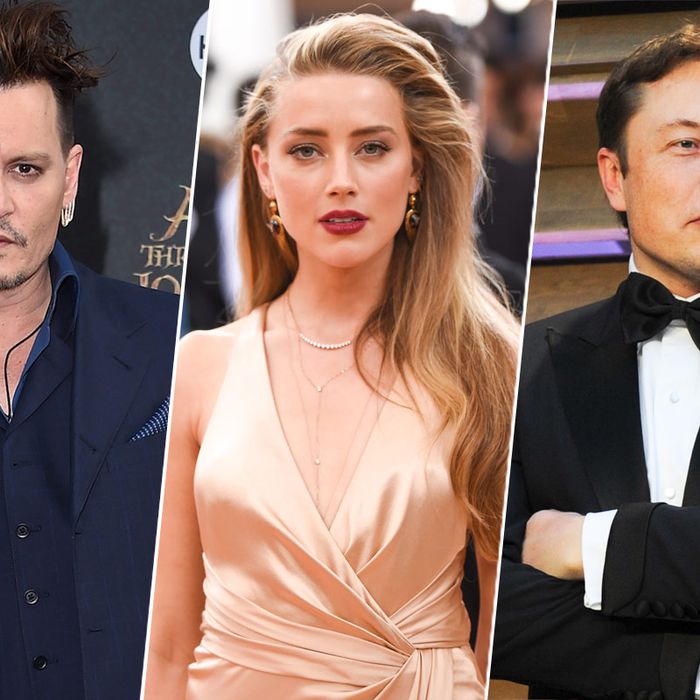 Johnny Depp, Amber Heard, and Elon Musk.
Photo: Getty Images; BFA
Last night, TMZ reported that Amber Heard, the estranged wife of Johnny Depp, is "hangin' a lot" with tech billionaire Elon Musk. An hour later, "Page Six" followed up with a similar report, claiming that Heard and Musk were both spotted last weekend at the same Miami hotel. Both outlets noted that Heard and Musk have been friends "for years," but the subtext of the stories are clear: Heard is totally banging a new rich guy.
TMZ's story, however, doesn't actually say that the two are dating. Here's the report:
"Our sources say Amber has known the Tesla inventor for several years, but in the last few months they've been spending a lot of time together.

Just last weekend Amber and her sister were hanging out in Elon's hotel bungalow in Miami. We're told she had a 1-on-1 dinner at his L.A. house 2 weeks ago. We're told she recently went to Elon's L.A. area office to spend time with him. And we're told he's paid several visits to her home."
So yes, Heard and Musk are probably hanging out, but nothing definitive has happened. Well-sourced tabloids like People and Us Weekly haven't reported anything on this story at all. So why would TMZ and "Page Six"? Well, it's inherently interesting, but it also paints both Depp and Heard in a specific light as they head into what will be protracted, dramatic divorce proceedings.
TMZ and "Page Six" are both generally "team guy" when it comes to celebrity breakups, and TMZ specifically has been Depp's PR voice throughout this whole ordeal. To determine what's really going on with the Heard/Musk story, consider which outlet reported it first.
When Heard filed for divorce in May, TMZ sided with Depp immediately, reporting that his family thought Heard was a gold digger all along. "We're told [Depp's] mom often told friends she thought Amber was using Johnny for his money and fame, and to boost her own career," the tabloid claimed. This mirrored Depp's attorney's first statement to the press. "Given the brevity of this marriage and the most recent and tragic loss of his mother, Johnny will not respond to any of the salacious false stories, gossip, misinformation and lies about his personal life," his lawyer said. "Hopefully the dissolution of this short marriage will be resolved quickly." The implication there was that since the marriage was short (15 months, to be exact), Heard should not be entitled to Depp's fortune, an estimated $400 million. 
Then Heard fired back, accusing Depp of spousal abuse in court. This obviously complicated Depp's "gold digger" narrative, but TMZ stayed faithful to him at every turn, painting Heard as a liar whose stories don't add up.
And now we have this report about Heard and Musk, who is, as TMZ put it, "a guy who makes Johnny look like a pauper." TMZ simply wants you to know that in the wake of a brutal divorce and alleged abuse, Amber Heard has already moved on to a bigger, better rich guy. I bet that Johnny Depp wants you to know that, too.