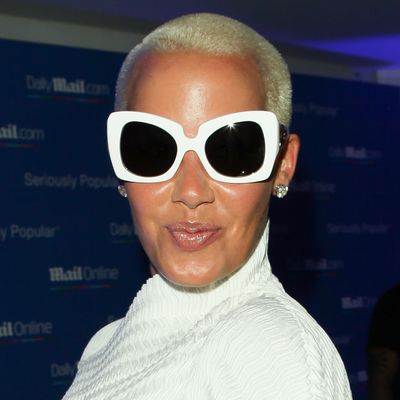 Amber Rose knows what it's like to be part of a high-profile breakup, and she also knows how to have fun when she's single and ready to mingle. And, as a future talk show host, she knows how to give advice! Naturally, Rose's thoughts turned to Iggy Azalea in the wake of the rapper/musician/whatever's messy breakup with fiancé Nick Young.
Rose turned to Instagram to share her feelings. She posted a photo of Azaela full of choice suggestions, such as:
"Let all the hate go in one ear and out the other…. Trust me I deal with just as much hate if not more."
True! More importantly, it's time for Azalea to play the field and enjoy a summer fling or two (or more).
"The great thing is it's the beginning of the summer and now you can be a hoe! Lol Date a bunch of hot guys and give yourself some new cool options. #NoCuffingSeason"
Cuffing season doesn't typically start until fall, when the approaching chill of winter makes even the most lascivious among us long for someone with whom we can share our couches and snacks. Speaking of snacks, a good litmus test for a first date is Target; hey, it worked for Azalea and Young once upon a time.
Despite it all, Rose remains a romantic at heart, and encourages Azalea to get back together with Young if her heart and gut lead her back to him. "Fucking do it!!! And Fuck what the world gotta say!"
Remember, Iggy. Just like Taylor Swift, you don't have to give things a rest! Get out there and have fun!