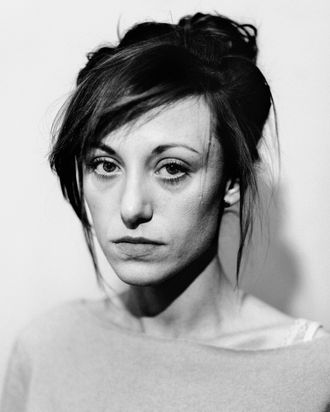 On Abortion Tourism, Marta (Krakow, 29).
Photo: Courtesy of Laia Abril/Rencontres Arles
In a recent Amy Schumer sketch, she is idly waiting for a Pap smear when four men barge into her examination room, blustering that they're from the House Committee on Women's Health. Schumer bristles at their bullying: "Aren't there any women on the women's-health committee?!" she snaps. "That'd be like the lions running the zoo!" they crow in response. It's comedy, but it's not far from reality: If the public arbitration of female reproductive health isn't a zoo, exactly, it's certainly a circus, and a nightmare.
With an intrepid eye and a matter-of-fact approach, Laia Abril's photo series "On Abortion" addresses what is likely the most regulated of women's-health topics. The Spanish-born photographer began the project in August 2015, and is debuting it this week at Rencontres d'Arles in France, one of the largest international photography festivals. Focusing on "the repercussions of the lack of access to abortion," Abril highlights the obstacles women face, and the role that politics and religion have in maintaining this status quo.
"On Abortion" is part one of an ongoing, ambitious umbrella project titled "A History of Misogyny," which uses chapters as an organizing principle — akin to the taxonomies employed by American photographer Taryn Simon. Trained as a journalist, Abril has taken a documentary approach to previous projects, such as "Femme Love," a study of a lesbian couple in New York, and a multiphase project on eating disorders, including a photo book called The Epilogue, about a bulimic girl's life and the aftermath of her death, and an examination of the pro-anorexia community called Thinspiration. Her work unflinchingly examines the kind of female narratives that are often overlooked — a valiant task, not only because these topics are wreathed in stigma, but also because these phenomena are often intangible and hard to depict.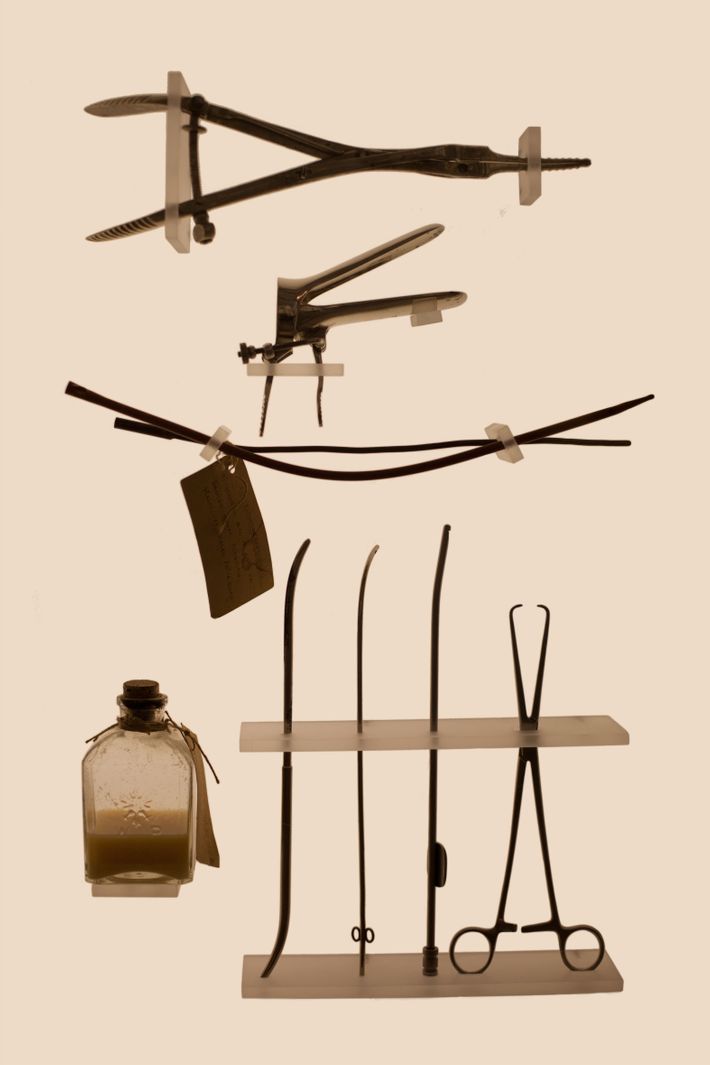 For her latest project, Abril went to Vienna's Museum of Contraception and Abortion to photograph and chronicle its archives. She paired other images with the transcribed testimonies of women from Poland and South American countries, where seeking an abortion is truly dangerous; these narratives are especially vexing to take in. The Arles exhibition features a lot of text, but "it's the least amount I could put in," Abril says. "There is so much injustice around abortion." Abril tried to make the exhibition "appealing — but not appealing in a 'beautiful' way." It is raw but straightforward, so viewers can still digest the information. Otherwise, she says, "I was afraid it would be unbearable."
Abril shows that differences between the past and present of reproductive rights are often marginal. In El Salvador, abortion is illegal even when the pregnant woman's life is in danger. This law dates from 1998, making it as startlingly recent as it is antediluvian. Abril also collected pro-life posters and FBI "wanted" signs of anti-abortion terrorists who have killed doctors — all from the 1990s. The exhibition includes a telephone; when you pick up the receiver, you hear a threat that was directed at an abortion clinic in Florida. It is undated. The timeline warps: Archaic, violent attitudes toward women, as well as toward the practitioners who help them, remain current.
While Abril mostly used a research-based methodology, her remaining fieldwork was strenuous. For the women who gave her their testimony, the danger was not just the strong stigma surrounding abortion, but the legal jeopardy they had to put themselves in — "because they could end up in jail, or shunned by their society, or worse," Abril says. "The amount of work I did to get as far as I got is insane."
One particularly grueling example: Abril wanted to investigate what happened when a pregnant child was not allowed to have an abortion. "I got one story, in Nicaragua, of a girl who was nine years old. She was raped, she was pregnant, and she had to have the child, because in Nicaragua, it's completely forbidden to have an abortion, on any grounds." Abril wanted to tell the girl's story through her sonograms. "I called the doctor for around seven months, maybe more. Every. Single. Day. And every day, he would say, 'I'll send it tomorrow.'" The sonogram, finally, is mounted on a light box in the exhibition.

Abril also turned to what she calls "reconstruction" to represent situations she did not witness, but which are widely known to happen, such as the use of desperate DIY methods for self-inflicted abortions: wire hangers, contorted grapevines, scalding baths, herbs, and poisons from the black market. Her image of an incubator is a haunting stand-in for a woman in Ireland who became brain-dead while pregnant, but was kept on life support only for the sake of the 18-week-old fetus inside her; her family had to go to court to be allowed to disconnect her, because Irish law gives an unborn fetus the same rights as its mother. "It's impossible to be specific," Abril says of these cases, "but they're very important stories."
The cultural and political forces whose clutches thwart women's agency over their own bodies seem to tighten rather than dissolve. Abril consulted with one of the most well-known international abortion activists: Rebecca Gomperts, founder of Women on Waves, a Dutch organization that mobilizes abortion services in countries where it is difficult to access or straight-up illegal. "I asked her what she thinks will happen in the future. She said that human rights are always used by those in power to control and manipulate society, so it's always going to be a danger," Abril sighs. "I'm a little more positive that it will be better — but we have many examples that it won't."
"A History Of Misogyny, Chapter One: On Abortion" is on view at Rencontres d'Arles, in Arles, France, through September 25. The accompanying book, published by Dewi Lewis, will be released at the beginning of 2017.