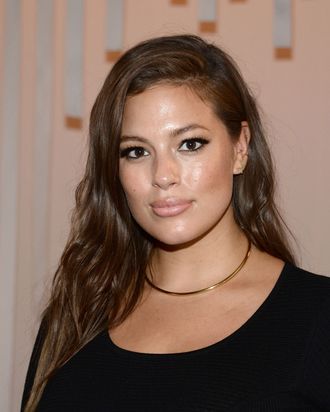 Photo: Ben Gabbe/Getty Images
Ashley Graham is the cover girl of Cosmopolitan's August issue. And in the cover story, the outspoken, curvy model has quite a few thoughts on what it means to be "plus-size."
But first, Graham took a minute to call out Amy Schumer for her comments and reluctance to embrace the label "plus-size," after Glamour featured her as one of a few inspiring plus-size women.
"I can see both sides, but Amy talks about being a big girl in the industry," Graham told Cosmopolitan. "You thrive on being a big girl, but when you're grouped in with us, you're not happy about it? That, to me, felt like a double standard."
First, a little context: Ask any "plus-size" model what she thinks about the term "plus-size," and you're bound to get a mishmash of answers.
Some are all for it, leading campaigns that fully embrace it (à la Lane Bryant's "Plus Is Equal") and others who champion doing away with the term altogether (à la "Drop the Plus").
And where you draw the line at what does, indeed, constitute "plus-size" differs greatly between the "real world" and the fashion industry.
Schumer's comments on Instagram back in April illustrate that gap and difference in definitions between what someone thinks of as "plus-size."
"Plus size is considered size 16 in America," Schumer wrote in the caption to her Instagram post. "I go between a size 6 and an 8.@glamourmag put me in their plus size only issue without asking or letting me know and it doesn't feel right to me."
Graham, for her part, refers to herself as a model (sans the "plus"). But that doesn't mean she isn't representing women who are "plus-size," she told Glamour.
She told the magazine:
Just because I'm not calling myself plus-size doesn't mean I'm not representing a woman who is … I'm giving curvy women a seat at a table that we've never been invited to before —a table with high-end fashion people who have never considered us beautiful.
Schumer quickly responded to Graham's comments with a simple tweet.
Looks like there's no hard feelings between the two.