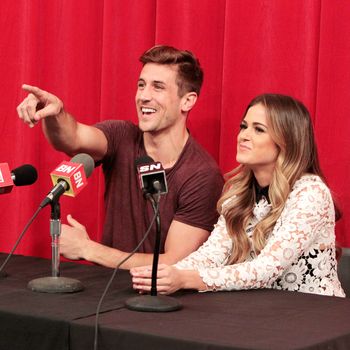 JoJo Fletcher and Jordan Rodgers on The Bachelorette
Photo: Rick Rowell/ABC
Welcome to Douche of the Week, where tortured Bachelorette viewers Anna Silman and Allie Jones take turns awarding male contestants on the show with the honor of … Douche of the Week.
Last week, I speculated about exactly what sort of douchebag Jordan Rodgers could be. There were many clues, like his inability to hold steady eye contact for more than three seconds, suggesting that the Bachelorette front-runner might have ulterior motives beyond finding true love while snuggling on the rump of an Argentinian polo horse. But this week, we learned that Jordan is no steroidal rage-douche like Chad, nor a Canadian meme-douche like Daniel. Nay: Jordan is a sad-douche.
Since day one, the specter of Jordan's very famous NFL-quarterback brother, Aaron Rodgers, has loomed over the show. Jordan's fellow contestants have rightly speculated that they have no chance against a guy who looked like a Snapchat face-swap of them but had way more money, fame, and influence. "You have, you know, box seats to the Super Bowl every year or something; automatically you're the front-runner," mused Luke. Yet on his one-on-one date with JoJo last night, Jordan revealed that he and his brother haven't had a relationship in years, and that all of us hoping to see Aaron and wife Olivia Munn pop up on the hometown date have been watching this show for all the wrong reasons.
After hyping up his "really funny" oldest brother (sure!), Jordan mumbled that his "middle brother" won't be there. "And that's … Aaron?" said JoJo, doing a convincing impression of someone who hasn't been planning a mani-pedi date with Olivia Munn ever since Jordan stepped off that limo.
"Me and Aaron don't really have that much of a relationship. It's just kind of how he's chosen to do life," said Jordan, marking the second time he's chosen to couch an important emotional reveal with the phrase "do life."
"So … you guys don't talk at all," JoJo said, her vision of her and Olivia Munn brushing each others' hair in matching pajamas disappearing before her eyes. "I'm sorry."
Honestly, I was reticent to crown Jordan douche of the week, because being estranged from your sibling is sad! But these lifelong feelings of inadequacy are best handled with years of talk therapy, not with minutes of cathartic yet ultimately hollow public shaming on reality television.
"At every step of my life I was just kind of a disappointment," said sad-Jordan, revealing that his towering hair tuft is merely a mask for his gaping inferiority complex. "No matter what I did, it was never good enough for a coach or for a teammate, because I was being compared to someone who did it the best … Football didn't define me. And not having a great relationship with my brother Aaron didn't define me."
Aww. Well, if we've one thing we've learned, the only thing that defines you is the way you do life, and more importantly, how you do your time on the Bachelorette. Congrats, Jordan: You're not just Aaron Rodgers' less successful brother. You're also our Douche Of The Week.
Runner up: James Taylor, 1950s time-traveler, who criticizes Robbie for having a "wandering eye."