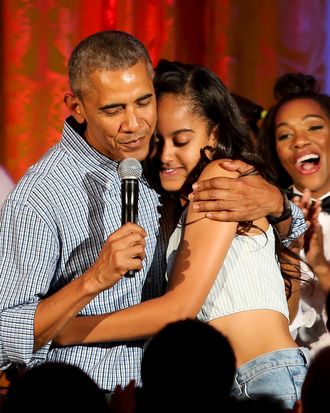 During his last Fourth of July celebration at the White House, President Barack Obama had a few shout-outs to give.
He thanked the military and their families for their support and service. He thanked the night's performers, Kendrick Lamar and Janelle Monáe, for their commitment to important causes.
And he also had one last, big, personal shout-out to give: "And just because it's a job of a father to embarrass his daughters, I've got one last job," Obama said, before leading everyone in a big ol' rendition of "Happy Birthday" to his daughter, Malia.
Malia, after all, was turning 18, and just so happens to share a birthday with the nation's day of independence. Obama only has a few more months left in office and Malia will be taking a gap year before heading off to Harvard. So this is the last time that the president gets to serenade his eldest daughter with a full audience at the White House.
For her part, Malia didn't seem to mind it one bit. She went up and gave Dad a nice hug at the end of it.