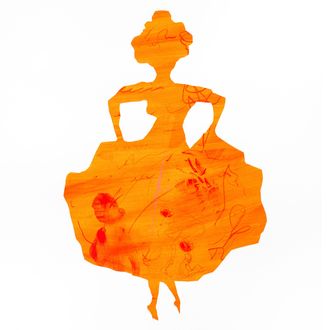 The German-born, Hamptons-based multimedia artist Bastienne Schmidt is known for mixing nationalities, cultures, and artistic trends in her artwork, which has drawn on Japanese woodcuts, traditional fairy tales, and American pop culture. In "Typology of Women," she parodies historically female archetypes in the form of hand-painted figures reminiscent of Matisse's cutouts or Kara Walker's silhouettes.
United by a tangerine-tinted background, each cutout questions the vague "type" of woman it depicts while examining her reduction to a stereotypical role: back-bending gymnast, full-skirted can-can dancer, 1950s fashion model. On the one hand, each minimalistic piece is restricted to a woman's visual stereotype, her inner features blotted out by the hazy orange filling. On the other hand, she is boldly defined by Schmidt's vivid brushstrokes.
In an exhibit that also served as a book launch for Schmidt's Bastienne Schmidt: Typology of Women (released in April), "Typology of Women" is currently on view until August 19 at the Ricco/Maresca Gallery. Click ahead to preview of the artist's delicate silhouettes.