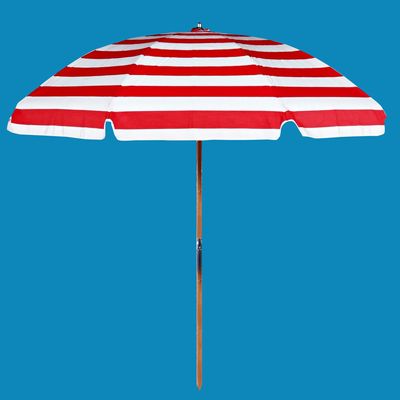 The problem with most beach umbrellas is that they don't last. You might remember to buy one for, say, $30 as you pass a boardwalk store on your way to the beach, but it'll blow away and impale your neighbor or the cheap flimsy pole will snap in half or it'll rust. Actually, you'll probably be annoyed enough that you'll just throw it out on your way home, before it even gets to that point. "If an umbrella lasts more than two summers, you're getting the most out of it," says Eytan Benzeno, who founded one of the first online beach outlets back in 1999, beachstore.com. "It usually doesn't."
But there is one unusual case. It's called the Frankford and it has become the go-to umbrella for shade-loving beachgoers. Let's take a look at its bona fides: It's the official umbrella for the entire city of North Myrtle Beach and Virginia Beach and Chicago. They use a version of the Frankford when you rent an umbrella at the Ritz Carlton in Miami as well as the Delano, the Fontainebleau, and the Eden Roc. The umbrella was first made for beach concessionaires after World War II and then redesigned a few years ago for public use. Its 8-foot pole is fashioned out of flexible long-grain ashwood, the same wood used for making baseball bats, so it won't snap or rust; the skeleton is a bendable fiberglass, so it won't break off in the wind; and the 9-ounce marine-grade fabric, which comes in solid bright colors or in soothing stripes, is the same material used in most awnings, so it won't fade. Plus, it blocks both UV and  UB rays.
You can buy it with a carry bag, and you definitely should, because all that durability makes it a hefty 12-ish pounds (about the weight of your average pug). And while the price might scare you away, it really shouldn't. If you're looking for the best in long-lasting beach umbrellas, this is the only one, and you won't have to think about buying another for the next 10 years.
Buy: From $170 at Amazon
And if you just can't bring yourself to spend that much, here are two other very good options: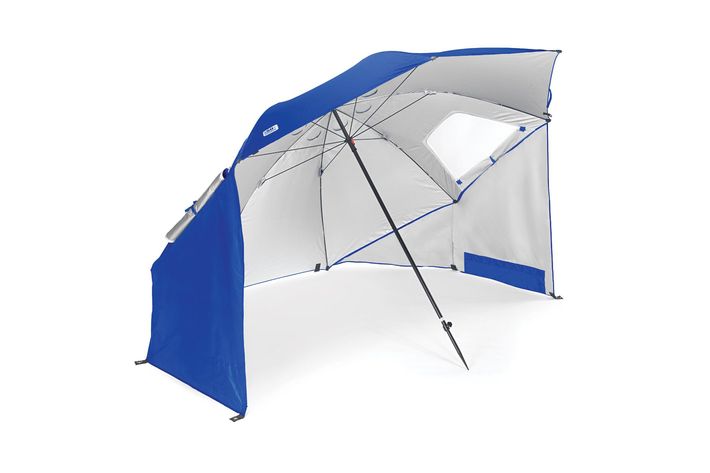 Sport-Brella Umbrella
One of the newest features in beach-umbrella technology is the telescoping pole, which stands at about a 45-degree angle, much like a telescope pointing towards the stars. The result is a hybrid tent-umbrella with two side flaps that also anchor into the sand, creating a mini-cabana. The most effective of these is the Sport-Brella, which can comfortably fit three adults and comes with a side window, a flap for ventilation, and a pocket to hold your keys and phone. Most impressively, the Sport-Brella has over 1,800 Amazon reviews and still averages a 4.4 rating. It's the ultimate crowd-pleaser.
Buy It: From $56 on Amazon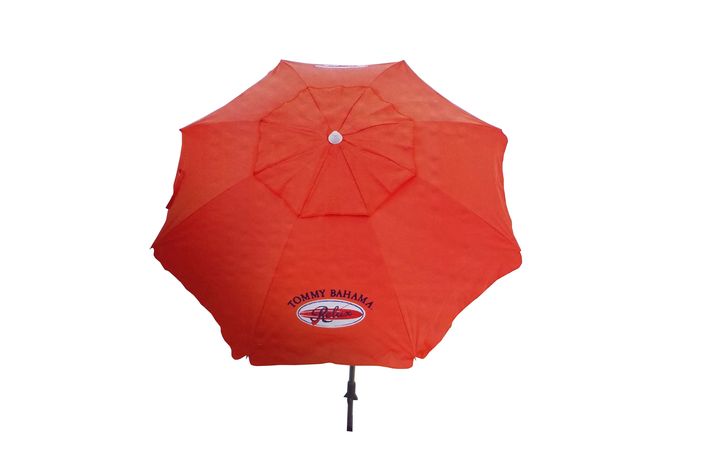 Tommy Bahama Sand Anchor 7-Foot Beach Umbrella
To be honest, nothing about this umbrella is sexy. Not only is it made by Tommy Bahama, but it's branded with a giant Tommy Bahama logo (even if the online picture doesn't have the logo, be warned, it will arrive with the logo). But you'll soon get over all this when you realize this umbrella will never fly away. That's thanks to the built-in sand anchor, which is like a corkscrew that helps you crank down the pole and secure the umbrella deep into the sand. There's also a hinge in the middle of the pole so you can tilt just the top of the umbrella to meet the sun without having to dig it out and adjust entire base. Meanwhile, an aluminum undercoating helps block the dangerous rays, while also keeping you cool. And in some places, you won't even have to worry about that tacky logo. According to Liz Gumbinner of Cool Mom Picks, everyone at Long Beach Island has one.
Buy It: From $44 on Amazon
The Strategist is a series of smart, obsessive shopping guides from the New York Magazine section of the same name. We've scoured the web to bring you the best of the best. Some of our latest conquests include rolling luggage, umbrellas, beach tents, incense, white T-shirts, nail clippers, and yoga mats. If you buy something through our links, we may earn an affiliate commission.