Take that summer heat.
Photo: Bobby Doherty/New York Magazine
The Goal: Find a powerful apartment fan that won't look hideous. We ruled out the clunky, plastic-encased versions that reminded us of college, along with high-tech models (like Dyson's bladeless design) that seem best suited for Elon Musk's Palo Alto hideout. Then we scoured the design market.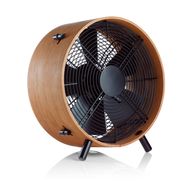 The Verdict: To solve the problem of the ugly fan, Swiss brand Stadler Form brought in artist and designer Carlo Borer, who created the Otto ($200 at amazon.com or bloomingdales.com). Each bamboo frame, not too much bigger than a watermelon, is handcrafted into a circle over a 21-hour process. The matte-black steel blades can be set to three speeds with a satisfying click of the knob (though the highest might be a little louder than you'd prefer to sleep next to). The legs are adjustable — changing the fan's angle by ten degrees, depending on where you want the most airflow — and the back panel is removable for cleaning.
*This article appears in the July 25, 2016 issue of New York Magazine