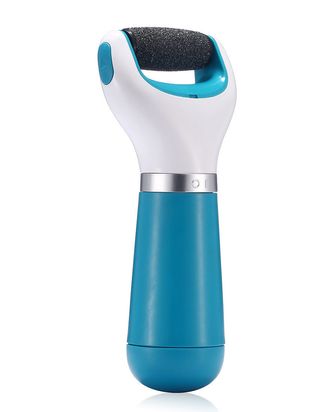 Smooth feet aren't just cosmetically gratifying — they are practical. Nothing makes slipping into a pair of leggings easier, and nothing complements a pretty pair of sandals better (no, not even polish).
Up until ten years ago, pumice stones and foot files were the smoothers of choice. The handy PedEgg, when it arrived, usurped both with ease. And now Amopé's Pedi Perfect is attempting to stake a claim in the foot-smoothing market.
Amopé is a baby of a company — it launched just last year — and at one point its hallmark rotating foot file got Chrissy Teigen to open up about her appreciation of the tool. Speaking of that rotating foot file: It's a winner. The device is outfitted with a cylinder with a texture not unlike sandpaper, and a flick of a switch rockets the electronic foot file to a gentle rotation. To make calluses and scale-y heels disappear, grab the file's handle and roll it along feet. The tool is foolproof, and in about five minutes the roughest of feet can be transformed into buttery-soft morsels.
If you apply too much pressure on skin, it automatically shuts off. Unlike the PedEgg (which is really fantastic in its own right), the superfine abrasives in Pedi Perfect aid in crafting soft and especially smooth feet (smoother than the PedEgg). The brand would probably attribute this to bits of diamonds embedded on the rotating file, but since it clocks in at just under $40, how much diamond dust could be in the thing, really?
Its one drawback is that, while filing, dry dead-skin cells go flying. To make the most of this, I say file your feet over the bathtub for an easy cleanup. And even though the motorized file most definitely sounds like a vibrator, I still love it anyway. Not to mention the replaceable head seems to last and last (I've had mine for almost a year).
Amopé Pedi Perfect, $35 at Amazon.