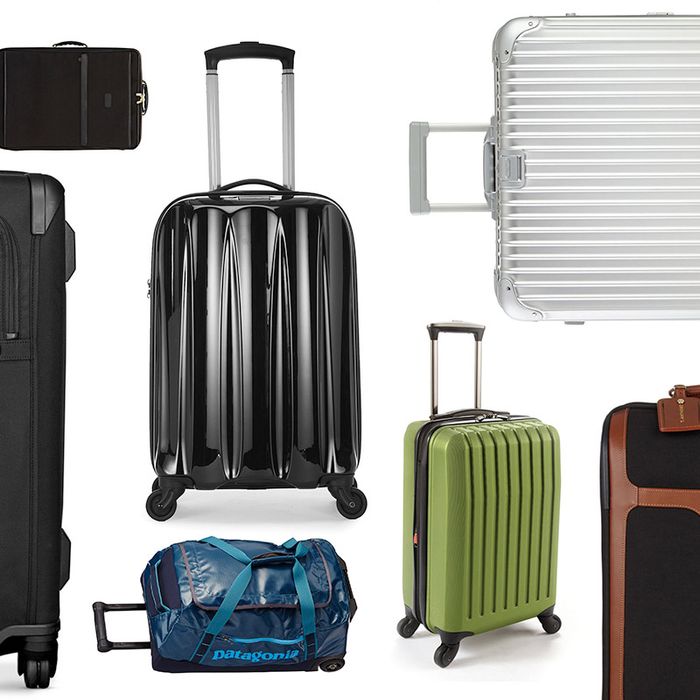 I resisted rolling luggage for as long as I possibly could — it always reminded me of pharmaceutical reps, or the dorkiest kid in middle school. But the Ghurka-knockoff weekend duffel bag I'd been carrying around for three years was doing a number on my posture, and quite frankly it didn't fit very much either. So when I read about 102-year-old British luggage-maker Antler while traveling in Europe five years ago, I decided to order one as soon as I got home: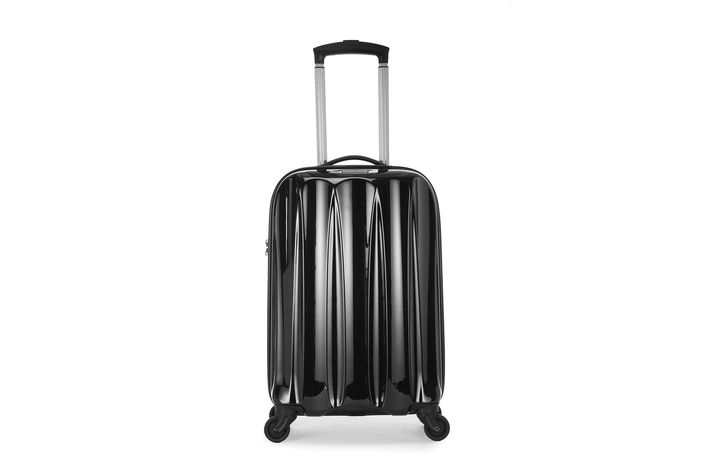 Antler Tiber Cabin Case
The Tiber B1 Cabin Suitcase glides on four precision-made Hinomoto wheels (a company which, according to obsessive fliers, is a standard-bearer of quality caster-making). The thing is extraordinarily light at 6.8 pounds (the Rimowa analogue tips the scales at 7.1), but feels shockingly sturdy; I thought the scalloped polycarbonate shell was just for handsome looks, but it was built to combat and conceal obvious (but inevitable) scratches. The suitcase also has a handy built-in lock, and indestructible hard casing. But what I really love about it is how much I can fit into the thing. Despite its tiny dimensions, which always fit into an overhead, I've been able to cram in a week's worth of clothes for a winter trip in Asia (thanks to clever folding), or enough for ten summery days in LA. It's really the clown car of carry-on luggage.
Buy it: $259 at Amazon
But one person's go-to suitcase could be another's nightmare — regular travelers tend to be obsessive and particular about their luggage — and price points for these things vary drastically. So I called upon frequent fliers I know and asked them to muse on their favorite rollies.
Tasha Green Spice, fashion stylist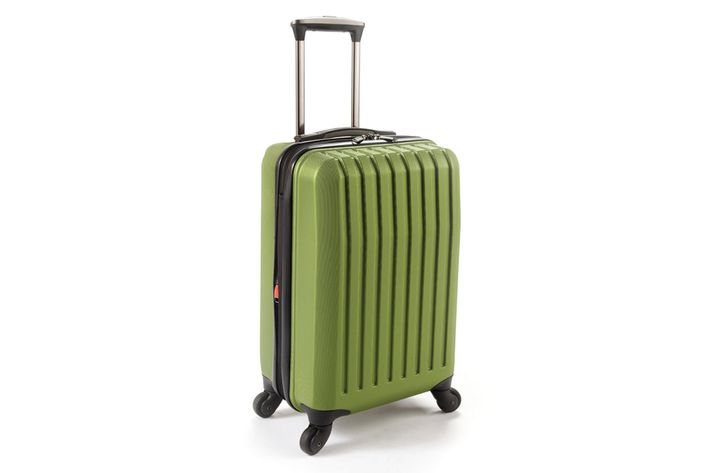 Brookstone Dash 4-Wheeled Expandable Carry-On
"I saw a chartreuse version (they call it 'Asparagus,' but ugh) in a Brookstone store window once, and that color is my weakness, so I went in to check it out. The salesperson threw the suitcase across the room to demonstrate how indestructible it was. That made the sale. I took that suitcase twice a year to the men's collections in Milan when I was fashion editor at Departures and The Wall Street Journal, and it was able to accommodate many an outfit plus shoes for those trips. Now that I live in Portland, I'm still able to get a lot of mileage out of it, with trips back to the East Coast to see family and friends. It's great when picking up your luggage at baggage claim to recognize it immediately (chartreuse!) in a sea of black nylon. The size is Goldilocks-perfec — not too big, not too small. And the expandable aspect helps fit things I've bought for the return trip, too."
Buy it: $100 at Amazon
Damien Nunes, global director, men's trend and concept, Gap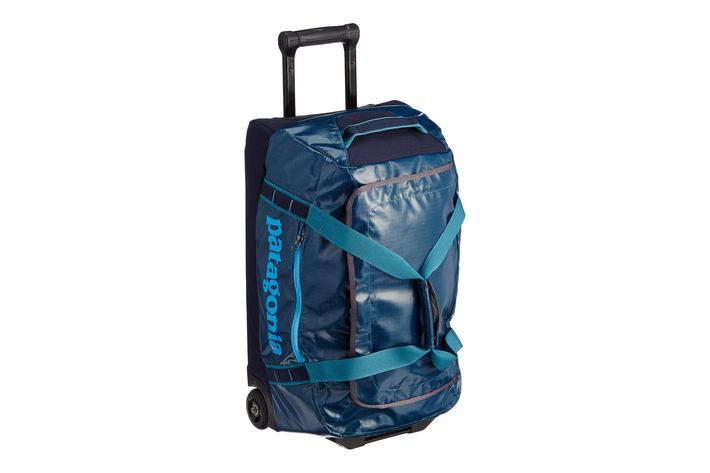 Patagonia Black Hole Wheeled Duffel 45L
"I travel pretty much monthly between the East Coast and LA, Austin, and Seattle, or internationally to London and Paris. I had a previous generation of the slightly smaller model for 12 years, until it was finally beyond repair. This bag has to be checked, which is fine with me because it's super-weather-resistant, has smooth, strong wheels, and a great handle. What I love is that it's just a huge volume of space, without lots of useless pockets and compartments. What's also great is it has a zipped bottom lining that I can shove stinky, dirty clothes under during a trip."
Buy it: from $295 on Amazon
Joe Zee, editor-in-chief of Yahoo Style and co-host of FABLife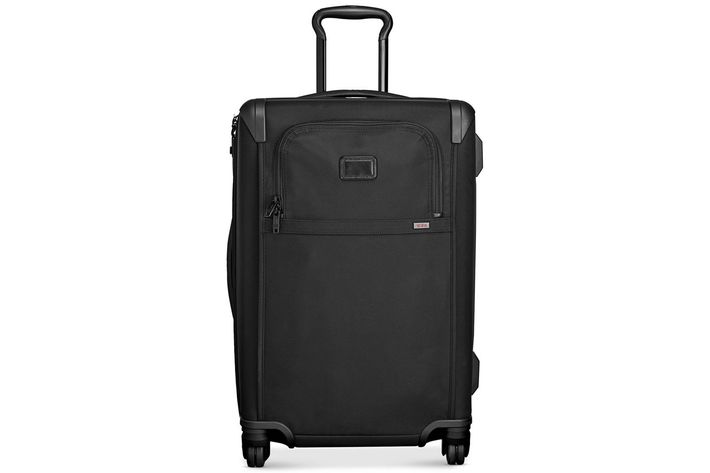 Tumi Short Trip Expandable Packing Case
"For most of my trips, I'll use this. The last Tumi I had I used for over ten years for shoots, bringing it with me on every shoot — that one was so old, it only had two wheels! It's just super-durable. Of course, no baggage carousel treats luggage well, but this has always held up and fits everywhere. When I was traveling on shoots a lot for Elle, I'd bring books for reference, which now of course I can just look up on my phone. I find that I still need the big bag, though, for all of my personal stuff. I travel with a lot of tech: two laptops and the iPad, and I have chargers for everything, and portable chargers in case they run out of juice on the go. The interior of the bag is really easy too: It just has a separate compartment for dirty laundry, and there are clips for a garment bag on the interior. The only thing is that it's such a basic color. When I was buying it, I kept being like, 'Are there any other colors?' Unfortunately not." 
Buy it: $795 at Macy's 
Madeline Weinrib, carpet and furniture designer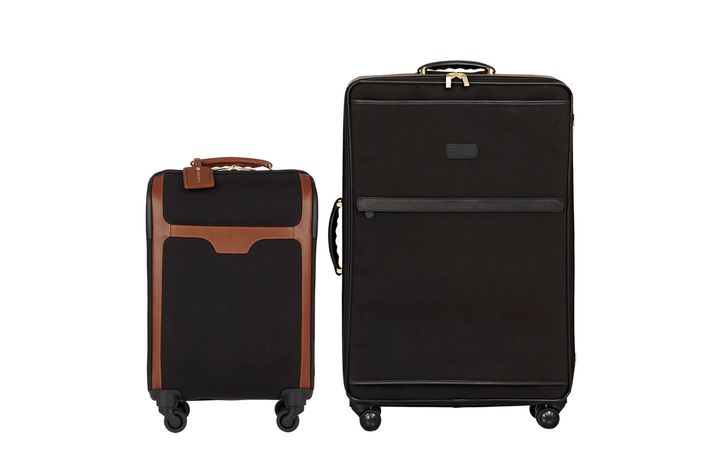 T. Anthony 21-inch Carry-On and 31-inch Packing Case
"I use the T. Anthony roller in both the carry-on and checked sizes. I'm always going to Europe or Morocco or Africa, so I generally bring a lot and usually do have to check a bag. I have found that no suitcase really takes the beating of airport baggage-handling well — even the steel one — so I appreciate that, with my T. Anthony, if the wheel falls off or the zipper breaks, the company will repair it for free. My attachment to the brand is also really aesthetic. They're elegant and chic, especially the black-with-tan-trim versions I own. The contrast makes them easy to spot on the carousel, too. My mother introduced me to the brand, so I like the tradition and history, too."
Buy it: $695 for the carry-on and $850 for the packing case, both at Barneys
Eugenia Gonzalez de Henn, contributing editor, Condé Nast Traveler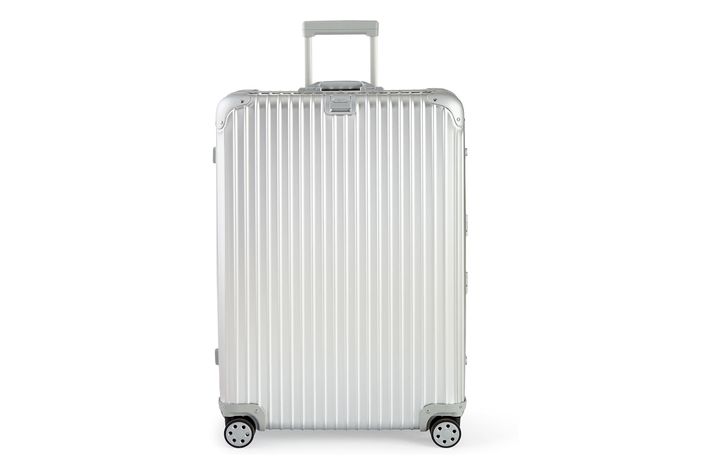 Rimowa Topas Silver 32-inch Multiwheel
"My absolute favorite bag is the Rimowa aluminum Topas. I discovered them three years ago through my husband, a perfectionist German architect who swears by their design and practicality. I've been a convert ever since. I actually don't own my own yet, I just steal his every time I can! I love how light they are, how when they open the weight is evenly divided down the middle, and these very handy blue dividers that hold your clothing down so nothing moves, wrinkles, or unfolds when you open and close your bag. You can tighten and loosen them, so everything stays in its place. The bag also rolls so smoothly, it feels like it can walk on its own. I love the built-in lock system for security too, so you don't need to worry about losing the key."
Buy it: $1,190 at Bergdorf Goodman 
The Strategist is a series of smart, obsessive shopping guides from the New York Magazine section of the same name. We've scoured the web to bring you the best of the best. Some of our latest conquests include umbrellas, beach tents, white T-shirts, nail clippers, and yoga mats. If you buy something through our links, we may earn an affiliate commission.