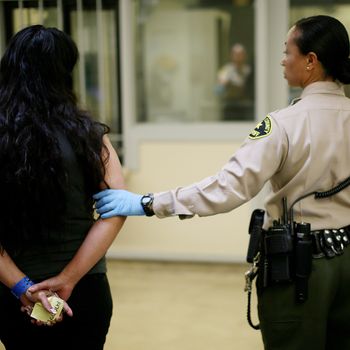 A female inmate who is not the woman in this story.
Photo: Sandy Huffaker/Corbis/Getty Images
A bipolar rape survivor was jailed for nearly a month in Houston after she broke down while testifying against her rapist. In jail, she was allegedly abused and mistaken as a sex offender. Now she's suing the prosecutor who sent her to jail, a jail guard who allegedly hit her, and others.
The 25-year-old woman, known as Jane Doe, was the key witness in the trial of serial rapist Keith Hendricks, who received two life sentences for raping multiple women. In court last December, she broke down during questioning and ran from the courtroom, screaming that she'd never return.
She was hospitalized and then jailed because court officials feared she would not return to finish her testimony. Doe's mom had been told her daughter would be treated in a mental health facility, but instead she was imprisoned for 28 days at Houston's Harris County Jail, where she stayed in the general living quarters.
The woman's lawyer, Sean Buckley, said a jail guard punched her in the face after she hit the guard (assault charges filed against her were later dropped) and that another inmate gave her a black eye. The complaint states an inmate "repeatedly slammed her head into the concrete floor" and she "was forced to drink from a spigot attached to a dirty metal toilet," according to the Washington Post. Some jail staff mistakenly thought she was an offender from her jail record, which wrongly listed her charges as "Arrested for aggravated sexual assault," according to local station KPRC's investigation. After the woman testified against Hendricks again in January, she had to wait three more days in jail before she was released on January 14, in case she was asked to give more testimony.
Prosecutors had petitioned a judge for a "witness bond," which by Texas state law allows a witness to be held without bail to make sure they arrive in court to testify. But a former Harris County prosecutor, a legal analyst, and other attorneys told local station KPRC they'd never heard of a witness bond being used to hold a rape victim.
Buckley filed the woman's lawsuit against Harris County, the sheriff, the jail guard who hit her, and the prosecutor who asked her to be jailed. In a statement, District Attorney Devon Anderson supported the prosecutor's decision, though as Jezebel noted, it seemed to suggest the woman's family agreed to the witness bond while mistakenly thinking she would receive care in a proper facility. Anderson said:
Because the DA's Office has been notified that a lawsuit is imminent, we cannot go into details about this case… However, witness bonds are a common tool used by prosecutors and defense attorneys when the lawyer has reason to believe that the witness will be unavailable or make him or herself unavailable for trial. A judge must approve a witness bond. In this case the judge and family agreed with the decision to obtain a witness bond.
KPRC's legal analyst Brian Wice noted perhaps the most tragic result of this case: "At the end of the day she received less due process, less protection than the rapist did."