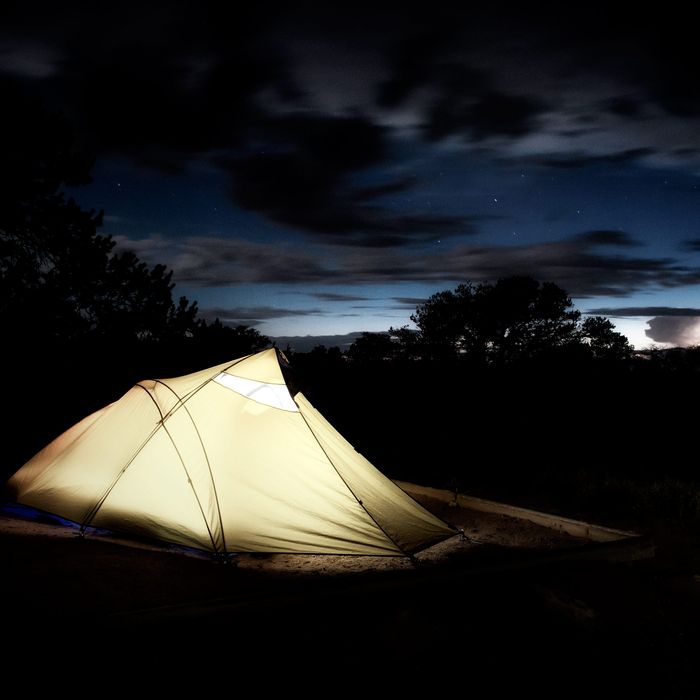 New York's Sex Diaries series asks anonymous city dwellers to record a week in their sex lives — with comic, tragic, often sexy, and always revealing results. This week, a 27-year-old comedian who goes camping and takes a trip home to Wisconsin: single, female, bisexual, 27, Brooklyn.  
DAY ONE
12:01 a.m. I'm on a camping trip with 15 people. I only know one person, Tim, and I only met him once, during a catering shift. Tim grouped me with Ash on the drive up, and we bonded. We all take ecstasy in Tim's tent. Most of my recent experiences with women have been in threesomes while I'm on ecstasy, and going down on women is really improved for me by the drugs.
12:30 a.m. Tim convinces me to perform my two short stand-up sets in front of everyone, after I mention that I've been going to open mics. Everyone laughs and claps — I wish doing stand-up were always like this.
2:30 a.m. Ash and I are staying in Tim's tent, since neither of us brought our own. As soon as the zipper of the tent is closed, I say, "Wanna have a threesome?" It mainly turns into me going down on Ash until she comes.
As far as my sexuality: My high school had a strangely large number of lesbians and bisexuals, so I never had to hide that part of me. I initially developed a crush on one of my lesbian friends and asked her to prom. After her, I dated another woman in college and started identifying as a lesbian. But being a femme who likes femmes is really hard, and I'm forced to play a more aggressive role than I'd like (although in college I got pretty good at picking women up). So after a couple years, I started dating men again and identifying as bisexual. Lately I've really preferred men.
Speaking of which, Tim starts fucking me — but then the dynamic breaks down. I'm pretty sure it's my fault, because I get a little demanding of Tim. I tell him to go down on me. He gets mad and says he wants to sleep. I take sleeping pills and do the same.
3:00 p.m. I was worried that I had messed things up, but Tim is acting normal. Ash makes a little joke about how we could never date because I thrashed too much in my sleep and it kept her up (I've heard this many times, but I think it only happens when I drink).
10:00 p.m. Tim's friend Doc and I start talking by the fire. He brings me a beer and we sorta stay close for the rest of the night.
11:30 p.m. Everyone heads to bed and I follow Doc to the guest house to pee. We're at Tim's family's place; Doc is close with them, and he's staying inside while the rest of us sleep in tents. I ask if I can sleep with him in the bed and promise I won't sexually assault him. He pulls me in and says, "You can do both." As we get into bed, I say something to gauge whether he knows that I slept with Tim, but his response is unclear. He goes down on me right away, and the whole experience is very intimate. He is very caring and looks me in the eyes while staying assertive. Doc has a big dick, and we go from missionary to doggy. Afterward, he answers all my annoying questions, such as how many women he's slept with, and then I go down on him and we have sex again.
DAY TWO
8:00 a.m. I wake up so happy to be in the comfy bed, and I can hear Doc in the little kitchen making something. Then I see that he's left our used condoms on the floor. I shoot him a dirty look through the wall and pick them up with some tissues and take them to the bathroom for disposal.
9:00 a.m. Everyone meets at the big house for breakfast. I wonder how obvious it is that I've slept with Doc. I can't tell what these people know or how they think of me.
10:00 a.m. As Doc leaves for home, he hugs everyone. I'm the last one he hugs. He says softly in my ear, "It was good to meet you." I feel really good about my time with him.
12:00 p.m. Ash and I drive back to the city and decompress and complain about everyone. She hadn't realized that I'd slept with Doc. She says Tim tried to have sex with her while I was with Doc, but they were so close to another tent that they could hear breathing, so she refused.
4:30 p.m. I shower and watch New Girl. I'm so happy to be alone.
6:45 p.m. I walk to improv class and see Caleb, who interns for the improv company in exchange for free classes. We chat, and afterward I realize that I have spent the whole time focusing on untangling my headphone cords instead of having a real moment with him. This is a problem I have during unexpected encounters with people. I'd like to sleep with Caleb, but I have a hard time getting a read on him, so I haven't made any kind of a move.
DAY THREE
10:30 p.m. This is the only day I'll be at the office this week. I work part time in marketing for a small U.S. branch of a giant Chinese social-media company. All of my co-workers are Chinese and I get free food every day and I love my job.
4:00 p.m. I also work as an assistant to a couple. When I get to their house today, my colleague Chad is waiting for me on the curb, sweating in the sun, prepared to help me out with some work stuff. Chad is probably my closest friend here, and we've also been sleeping together for a few months. Even though he is attractive, I have a hard time compartmentalizing the sex from our very non-romantic friendship. It's been getting harder and harder to enjoy sex with him.
8:00 p.m. I'm in a recreational sports league that plays a different sport every week. I noticed this guy Carson for the first time last week. I smile at him a lot and let my arm touch his and chat with him. He is receptive. We don't openly hit on each other or exchange numbers, but we don't have to since we know we will see each other again multiple times. I am sure that the groundwork has been laid for a future encounter. It's like I once told Chad:  "You gotta plant the seeds so that the seeds can grow into trees and those trees can fuck you."
11:30 p.m. Now I'm at the airport waiting for a late flight out to Wisconsin to see family. I am a little drunk and eating Cheez-Its, and it's making the airport easier to deal with. I text my Wisconsin friend Nigel: "Paradise tomorrow?" That's our bar.
DAY FOUR
8:00 a.m. After landing in Madison, I wait at the airport for my friend Michelle to pick me up and take me to her place, where I nap while she works. I have such a history with Michelle that I can't ever stop being friends with her. Her bedroom looks like hell.
8:45 p.m. We take an Uber to Paradise. I feel like I'm home. I search through the little crowd at the back of the narrow bar where the pool table is and find Nigel, just like I've done so many times before. He smiles when he sees me walk up, and we hug for a long time. I am incredibly relieved to be near him.
I've never been more attracted to anyone than I've been to Nigel, and even though he has gained weight, it's somehow reassuring to find that my feelings haven't changed. Mike is there, too. Mike and I have had multiple threesomes together. He's very sweet even though he comes off as a grumpy alcoholic.
10:15 p.m. I've brought molly. Michelle, Nigel, and I take some. Nigel and I go out the back to smoke a cigarette and talk for a long time. Nigel tells me I was always one of the boys, which is exactly what I desperately wanted to be when I lived here. I tell him about my experience of being in love with him and moving and falling out of love with him and how that somehow felt even lonelier. He tells me that we just didn't feel right to him, even though we should've because everything was right about us. I tell him that I used to pop up places where I expected him to be, hoping to run into him. Nigel accepts all of this about me, and I know he loves me in a complicated way.
12:30 a.m. Nigel starts rubbing my leg and holding my hand, which is so strange and has never happened before. Suddenly he jumps up and announces, "Let's go." I'm confused, but I say okay. The sex is good, but the whole time I feel like I'm not drunk enough. I'm distracted. As he fucks me, I say, "You've never loved as much as I love you before." He tells me to shut up but gently. Nigel is the first person to get me to lick his butthole by pushing me further down during head. I kinda like it.
2:30 a.m. When he leaves, I'm flooded with feelings — neither positive or negative. I just feel so disoriented. I realize that he wanted to leave the bar early so that he could still get home at bar time so his girlfriend won't know. I search the house twice for any drop of alcohol but can't find any, so instead I shower, take a couple sleeping pills, and fall asleep.
DAY FIVE
1:30 p.m. We sit on my friend Chase's porch, one of my favorite activities ever. We drink beer with his roommates until he heads to his shift as a line cook.
9:00 p.m. Michelle and I go to a bar where Nigel is working. Nigel asks if I slept last night, because he didn't. He is wearing a uniform vest that shows where his stomach has grown. Again, I'm glad to be near him, even though we don't interact much.
12:00 a.m. Nigel finishes his shift and tells me that he needs to go home and sleep. I nod, and he hugs me goodnight and leaves. I debate running out after him, because I want to talk to him, and I know I might not see him again. We finish our drinks and head to another bar.
DAY SIX
8:00 a.m. My stepdad calls and wakes me up; he is on his way to pick me up.
9:00 a.m. I immediately feel stressed out at home: We're preparing for my brother's high-school-graduation party, everyone is tense, and I have to keep telling them to relax.
My ex-boyfriend Jason is supposed to come by with his new girlfriend. Jason was my longest and best relationship. We broke up when I was 18 because he had moved a couple hours away and I wanted to start dating girls.
4:00 p.m. During the party, my mom and I are both inside preparing, and I tell her that I saw Nigel. She sighs and asks why.
DAY SEVEN
11:00 a.m. My mom and brother and I have lunch while the clouds cover the sky. We go for a walk by the beach. I'm anxious to see Nigel, which I feel guilty about.
2:00 p.m. They drop me off at Paradise, where Nigel is finishing up his shift. He has a beer with me and then tells me he has his motorcycle there and asks if I want to go for a ride. I say yes immediately.
2:30 p.m. We ride past growing fields for hours. I'm overwhelmed by the beauty of the place where I'm from.
3:00 p.m. We go for a walk in the nature reserve. Nigel looks over his shoulder and says, "Want to fool around?" We search for a clearing and find a little spot down by a stream. He finishes pretty quickly and comes on my lower stomach. I ask him to go down on me. "Now?" he asks. I nod. "Well, we're already here," he says and lies down on the ground and starts. I get really, really close to coming, but I don't. I wonder if it means anything or if it's just because I always have a hard time coming with partners. Also, Nigel came too fast so it all felt stupid and it did nothing to satisfy me. Also, I was lying on a forest floor.
4:30 p.m. Nigel drops me off at Paradise and gives me a long hug. "You're the best," he says. I eat cheese curds and a chicken sandwich and drink PBR until Michelle comes to pick me up for the airport.
Want to submit a sex diary? Email sexdiaries@nymag.com and tell us a little about yourself.