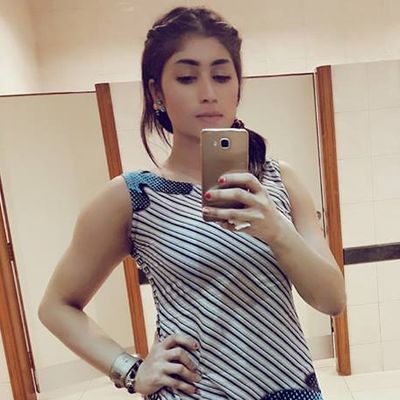 Photo: Qandeel Baloch/Facebook
The brother of Pakistani social-media star, Qandeel Baloch, has confessed to her murder. He was arrested in Dera Ghazi Khan, Pakistan, on Saturday night.
Waseem, 25, is charged with an honor killing. During a press conference with police, he stated, "She brought dishonor to the Baloch name," citing a recent incident when Qandeel had posed for selfies with Muslim cleric Mufti Qavi. Waseem drugged and strangled Qandeel while their parents were sleeping on the rooftop of their home in Multan. He claimed, "She wasn't aware I was killing her."
According to The Express Tribune (via BuzzFeed), Waseem said,
I am a drug addict but I was in my senses when I murdered her and I accept it with pride. Now everybody will remember me with honor that I have provided relief to my parents and brothers who were suffering for the last two decades because of her. Girls are born only to stay at home and to bring honor to the family by following family traditions but Qandeel had never done that. My friends used to send me videos and pictures on my mobile and everyone in the mobile market was sharing pictures and videos of her with me. Murdering her was better than committing suicide so I went with the former plan."
Waseem also said, "I am not ashamed. We are Baloch and as Baloch we cannot tolerate [this]."
Their father, Muhammad Azeem, had said that Waseem was encouraged by his and Qandeel's brother Mohammad Aslam Shaheen to commit the murder. The police are searching for two men who accompanied Waseem after he fled Multan.
Baloch's funeral was held Sunday.
Update: This post has been updated with additional information from the press conference.