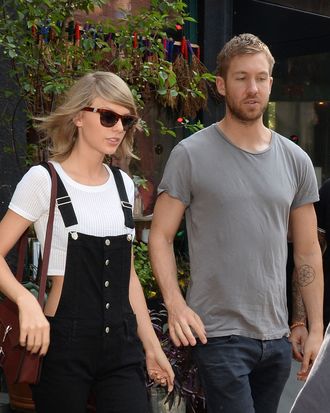 Taylor Swift and Calvin Harris.
Photo: Raymond Hall/Getty Images
Calvin Harris's Lemonade is coming! (If Lemonade was one whiny song written by a professional DJ.) (Calvin Harris is a professional DJ.) TMZ reports that Harris will drop "Ole," a track about Taylor Swift allegedly cheating on him, this week. The online tabloid, which has been promoting Harris's side of the story since the two broke up last month, has an exclusive look at some of the lyrics, sung on the track by John Newman. Harris apparently wrote it from the perspective of Tom Hiddleston, Swift's new boyfriend:
One lyric goes, "I see online that you begun to be a good girl and take trips with your boyfriend. Being attentive, continue to pretend …" 

If that wasn't clear enough, the song goes on … "You've hidden my name in your phone so you can call me to tell me you've been going through hell. Left him alone and you booked in a hotel." 

And, using Tom's famous 'Thor' character, Loki, the song goes on, "Low key you won't tell none of your friends about me."
Okay.
Swift and Hiddleston, meanwhile, are not done traveling the world together. This morning, they popped up in Los Angeles, wearing matching navy outerwear.