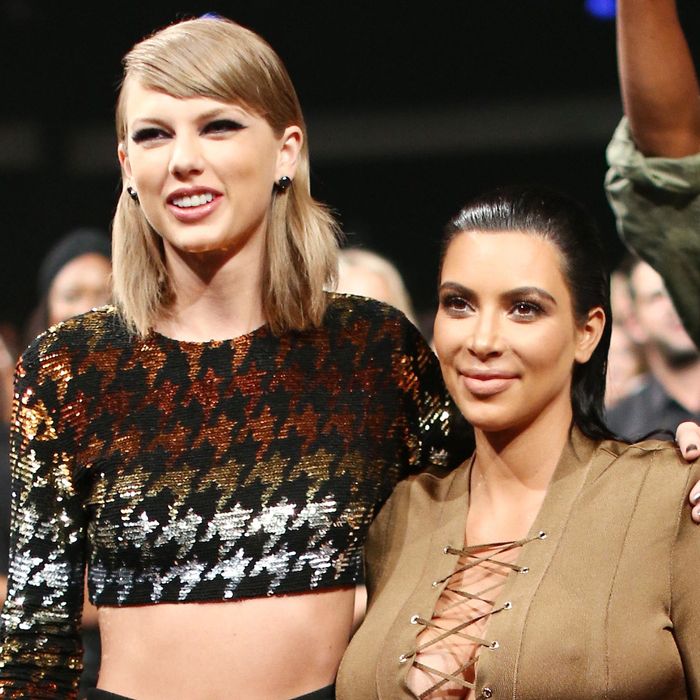 Taylor Swift and Kim Kardashian.
Photo: Christopher Polk/MTV1415/Getty Images
Last night, Kim Kardashian seemingly exposed Taylor Swift as a liar by posting on Snapchat video of a now-infamous phone call between Swift and Kanye West. In the video, it's clear that Swift approved West's song "Famous," which runs counter to the narrative she pushed after the song's release. Swift responded to the life-ruining Snapchats on Instagram, and now tangentially related famous people are responding to the story on Twitter. This is the social-media life cycle of a celebrity feud. So, who's on whose side?
Taylor Swift's "squad"
Though the Fourth of July brought rumors of a mini-feud between Swift and longtime friend Selena Gomez, Gomez was one of the first people to speak up for Swift last night.
Lesser-known squad members like model Martha Hunt echoed Gomez's line of (sort of) thought, indicating that this is the defense Swift wants out there.
Then the dreaded Chloë Grace Moretz, a teen actress known primarily for criticizing Kim Kardashian at every turn, tweeted a similar response. Note: Moretz is not officially in the "squad," but she officially dislikes Kardashian.
Which brings us to …
Kim Kardashian's "family"
Khloé Kardashian snapped right back at Moretz, giving us the Khloé-Chloë feud that's been written in the stars for years. Unfortunately, Khloé took it too far immediately, tweeting a photo of a woman's butt with the caption "Is this the a hole you're referring to @ChloeGMoretz ???"
This prompted the following response from Chloë …
… and another response from lesser Swift squad member Ruby Rose.
Kourtney Kardashian offered support and prayers for the whole family.
The squad scorned
Not every teen and 20-something famous woman is a fan of Swift. Demi Lovato, for example, pledged allegiance to Kardashian last night by liking a tweet that said, "I love Kim Kardashian."
And Zendaya, who appeared in Swift's "Bad Blood" video but did not appear at her Fourth of July party this year, allegedly "liked" and then "un-liked" the following tweets.
Longtime Swift enemy Katy Perry, who negged Swift on Twitter last week, now wants us to #RISE above it all and buy her new song.
Justin Bieber
The guru speaks.
Responses pending
The celebs are most certainly not done reacting. Expect a tweet or at least some kind of impenetrable Instagram from Calvin Harris, Lena Dunham, Karlie Kloss, Kris Jenner, Kanye West, Tom Hiddleston, Ariel Winter, Blake Lively, one or more Haim sisters, and God himself. We will update this post as necessary.