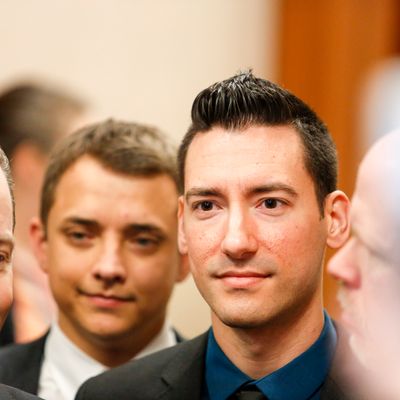 David Daleiden was cleared in Texas.
Photo: Eric Kayne/Getty Images
A Texas judge just dismissed the final charge against David Daleiden and Sandra Merritt, the two anti-abortion activists who secretly filmed staged meetings with a Planned Parenthood official pertaining to the illegal sale of fetal tissue.
Planned Parenthood was investigated in several states and the videos' claims were proven false, but a Houston grand jury took things a step further and indicted Daleiden and Merritt for tampering with a governmental record, using falsified driver's licenses, and attempting to purchase human organs (Daleiden posed as a salesman for a fetal-tissue-procurement company to make the videos). 
But in June, the charge of attempting to purchase human organs was dropped thanks to a technicality, and on Tuesday, the same judge dismissed the tampering-with-government-records charge "upon the request of the Harris County prosecutor's office," the Dallas Morning News reports. If they'd been convicted of the charge, the pair would've faced up to 20 years in prison.
Although both charges in Texas have been dismissed, Planned Parenthood filed a lawsuit in San Francisco against the Center for Medical Progress — the anti-abortion group Daleiden founded. Hidden-camera videos are illegal in California.